Domeniche da Tiffany
Tutti i formati dell'opera
Acquistalo
Sinossi
Jane è una bambina solitaria e sensibile: sua madre non ha tempo per lei e il padre solo saltuariamente si fa vivo. Ma per fortuna c'è Michael: bello, comprensivo, affettuoso, sempre disponibile ad accompagnare Jane a scuola, a portarla a fare merenda al lussuoso Astor Court del St. Regis Hotel, a rimboccarle le coperte la sera. Solo che... Solo che Michael è un amico immaginario, e il compito degli amici immaginari è quello di accudire i bambini fino ai nove anni di età. Dopo dovranno cavarsela da soli. Per fortuna la loro scomparsa non lascia traccia nella memoria. Ma Jane è diversa da tutti gli altri e non ha dimenticato. A trent'anni ancora pensa con rimpianto a Michael. Lavora per la casa di produzione di Vivienne, è sempre lievemente sovrappeso, è sempre sensibile e solitaria, nonostante un bellissimo fidanzato che sta con lei solo per far carriera. E poi un giorno accade l'impensabile: Jane e Michael si incontrano casualmente a New York. Sono passati più di vent'anni, ma lui è identico, perfetto, non è invecchiato di un giorno. Jane pensa di essere impazzita: Michael esiste? È un uomo? Un angelo? In fondo ha importanza? Quel che conta è che Jane è innamorata e che Michael è l'uomo perfetto per lei...
ISBN: 8879729489
Casa Editrice: Corbaccio
Pagine: 265
Recensioni
"I miss you already." This light and lovely piece of fiction has more in common with Robert Nathan's tender stories from the 1930s and 1940s than it does modern day romances. It is a charming but nearly undefinable romantic novel which is light and breezy, yet touches the heart. I'm usually not a big Leggi tutto
GoodReads.com
OK, I finished. I didn't know I could roll my eyes that hard. I'm pretty sure a dude was watching me on the Metro as I closed the book multiple times, tried to refrain from making noises of disgust, and rolled my eyes at every paragraph. Seriously, they took a tolerable (if sort of creepy) book and
GoodReads.com
I thought "Sundays at Tiffany's" was a very sweet romance. The story itself is very simple and uncomplicated. I can easily see this book being made into a movie. 8 year old Jane Margaux feels like she doesn't live up to her extravagant mother's expectations. Vivienne, her successful broadway produce Leggi tutto
GoodReads.com
Picture this, you are an eight year old child and you have an adult imaginary friend of the opposite sex. When it is your ninth year birthday your imaginary friend tells you it's time for him/her to go and that you won't remember them tomorrow. Yet, you never forget your friend. One day you see him/ Leggi tutto
GoodReads.com
Let me start by saying I love romances with a supernatural twist, usually. Having had imaginary friends as a child I thought this book was right up my alley. I was sooooooooo mistaken. It was a little creepy. It was so syrupy sweet that I thought I was going to go into sugar shock. It was probably o Leggi tutto
GoodReads.com
I read this book for a book club that I recently joined and it just really wasn't my style. I have to admit that I was less than excited when I noticed the book was written by James Patterson. Whether accurate or not, I have always viewed him as more of a money-making book factory than a real storyt Leggi tutto
GoodReads.com
Love love love this book! Love the main characters, the romance, the feels!! The plot is a unique one: Girl has an imaginary friend. Imaginary friend leaves her. Girl grows up. Imaginary friend shows up. And here's the twist... everybody else can see him. That's a love story to tell the grandkids. I Leggi tutto
GoodReads.com
This was a fairly short and predictable read. I finished it in a matter of hours but that's just the way I go about reading any book I start. Unless I must put the book down, I'd rather try my best to keep reading (keep the movie reel spinning). I enjoyed the book for the idea behind it but I felt it Leggi tutto
GoodReads.com
Honestly speaking, I'm in two minds about this book. I started this book expecting to be a sweet, heart-warming holiday-ish read with a bit of a fantastical element. Granted, it indeed is a delightful, fantastical read to some extent, and I actually enjoyed reading this, but I cannot deny I was left Leggi tutto
GoodReads.com
How can I begin? Sundays at Tiffany's was delightful. It embodied everything I enjoy about reading James Patterson. His stories have such an incredible beat and flow to them. It is like reading a song. You get so caught up in the story that before you even realize it, you are three quarters of the w Leggi tutto
GoodReads.com
Aggiungi la tua recensione
Altri libri di James Patterson
Il Libraio per te
I libri scelti in base ai tuoi interessi
Il Libraio per te
Scopri i nostri suggerimenti di lettura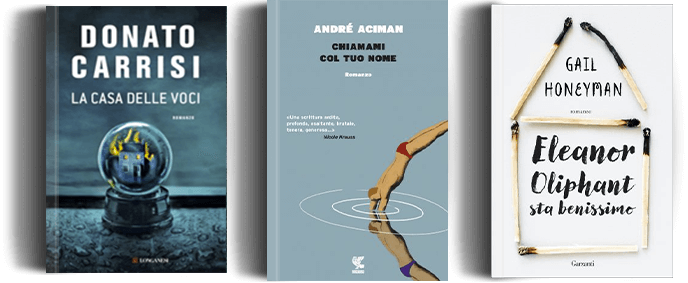 Ancora alla ricerca del libro perfetto?
Compila uno o più campi e lo troverai