 Personal
Tutti i formati dell'opera
Acquistalo
Sinossi
Jack Reacher deve tornare in servizio, richiamato dal dipartimento di Stato e dalla CIA. Qualcuno ha colpito il presidente francese mentre teneva un discorso a Parigi. Un solo colpo, sparato con estrema precisione da una distanza eccezionalmente lunga, un colpo che sarebbe stato letale se non l'avessero fermato le barriere protettive. E il proiettile... è americano. Quanti cecchini sono in grado di fare fuoco da quasi un chilometro con una tale sicurezza? Pochissimi, e tra loro c'è di certo John Kott, una vecchia conoscenza di Reacher, che quindici anni prima lo ha mandato in galera. Ora Kott è libero e, con il G8 in corso, non è affatto una buona notizia... La strada che Jack Reacher ha di fronte è disseminata di scelte difficili, spietati mafiosi, ex mercenari e soprattutto nessuna possibilità di chiedere aiuto. Ad affiancarlo nella sua caccia c'è Casey Nice, una giovanissima ma brillante (oltre che affascinante) analista. Ma entrare in azione con una donna al proprio fianco riporta Reacher all'ultima, drammatica occasione in cui ha lavorato in coppia, e alla fine tragica della sua partner. Non può permettere che accada di nuovo. Questa volta non può commettere nessun errore. È una questione personale...
ISBN: 8850250185
Casa Editrice: TEA
Pagine: 372
Recensioni
hmmmmm....what can I say? I love Jack Reacher. I love Lee Child. I've been a massive fan from the very start. I've recommended his books to dozens of people...probably hundreds! I've shared countless books with neighbors, co-workers and friends. I pour a cup of coffee and I think of Reacher. I buy a Leggi tutto
GoodReads.com
I see England, I see France, I see Reacher's underpants. No, only fooling. I've never seen Jack Reacher's undies, although I wouldn't mind doing so as long as it was the "real" Reacher and not the Tom Cruise midget H ack Reacher Hollywood version. Does Reacher even wear underwear? Has Lee Child ever Leggi tutto
GoodReads.com
Personal (Jack Reacher, #19), Lee Child Personal is the nineteenth book in the Jack Reacher series written by Lee Child, in the first person. The novel was published on 28 August 2014. The plot of the book revolves around Reacher's pursuit of a sniper who has attempted to assassinate the President of Leggi tutto
GoodReads.com
It all began with a personal advertisement in an Army publication. After a military official reaches out to him, Reacher is flown to DC, where he learns that a sniper he put away is free again, and may have been responsible for the attempted assassination of the President of France. Reacher joins th Leggi tutto
GoodReads.com
I see there is a lot of debate between Lee Child fans about whether this is a good book or not. I liked it four stars worth! Okay it was a bit different especially as the action takes place in Europe instead of America. I actually found that a refreshing change. And it does get a bit wordy in parts
GoodReads.com
I LOVE Jack Reacher and have read ALL Lee Child's Reacher books but this one (and the one before, I have found disappointing to say the least in fact I have closed the latest, after giving it a good chance, and will not finish it. The "edge" seems to have gone from the books with lots of wandering a Leggi tutto
GoodReads.com
I've read every Reacher novel Lee Child ever wrote. Some of them are good, and some of them are magnificent. Recently there have been a few substandard, but Personal is the worst Reacher novel I've ever read. It was even worse than the one where he was supposedly being held prisoner in a car, and it Leggi tutto
GoodReads.com
If you're into stuff like this, you can read the full review. I've one rule when it comes to reading. Never read thrillers, but as always I ended up reading the latest Jack Reacher… Always coming back to the Jack Reacher novels reminds me why thrillers are such an engaging reading experience (maybe t Leggi tutto
GoodReads.com
A page turner filled with action, thrills and violence aplenty. However it feels like something is missing that exists in the other Jack Reacher books. I don't think Jack being the narrator helps as it seems to spoil the action having everything explained, often beforehand. Enjoyable and a quick rea Leggi tutto
GoodReads.com
A solid Jack Reacher novel by Lee Child. A sniper is wild ... trying to assassinate a G8 leader in the G8 summit in the UK. The sniper and Jack Reacher got a history. Jack Reacher had put him in jail 16 years ago and how he is released... A solid page turner and full of blood and guts ... bullets an Leggi tutto
GoodReads.com
Aggiungi la tua recensione
Il Libraio per te
I libri scelti in base ai tuoi interessi
Il Libraio per te
Scopri i nostri suggerimenti di lettura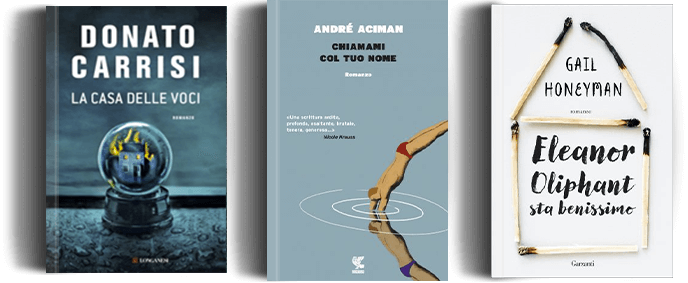 Ancora alla ricerca del libro perfetto?
Compila uno o più campi e lo troverai