Agatha Raisin e la casa infestata
Tutti i formati dell'opera
Acquistalo
Sinossi
Delusioni sentimentali che si susseguono; drastiche decisioni di ignorare gli uomini; periodi tetri, che più tetri non si può; nuovi incontri e il destino sembra ricorrere... ma davvero si ripeterà? Davvero è quella la sorte di Agatha? La calura estiva sembra rendere apatica Agatha, che non si incuriosisce nemmeno per l'arrivo del nuovo vicino, Paul Chatterton. Tuttavia, quando lui le propone di partecipare alla caccia a un fantasma nel cottage di una vecchia signora, Agatha accetta, ma non fa bella figura quando scappa dalla dimora infestata per aver visto la padrona di casa uscire da camera sua con una maschera (di bellezza!) verde sul viso... Con la coda tra le gambe accetta un lavoretto a Londra e durante la sua assenza la vecchia signora viene assassinata. Come può Agatha resistere a un nuovo caso?
ISBN: 8898713371
Casa Editrice: astoria
Pagine: 272
Recensioni
She must have redone her makeup fifty times. The author forgot that she'd already told us about the new thinner Charles. Also, I thought his children where a fake - wife never actually had been pregnant. Suddenly, a few months later, "they are little aliens refusing to speak English?" I realize the
GoodReads.com
Any hint of the supernatural was debunked far too quickly for my tastes, leaving a rather by-the-numbers murder mystery in its place. The ending was good but it was a case of too little too late by that point.
GoodReads.com
This is the first Agatha Raisin novel that I have rated below 3 stars. She was so preoccupied with men, that the amateur detective could barely solve the case. I rolled my eyes so many times at her romantic fixation on her handsome "barely married" neighbor. Usually I like Agatha's personality, but
GoodReads.com
I absolutely love the Agatha Raisin series of books, they are quick easy fun reads. They keep hold of my attention really easily and I have to admit I rarely figure out who the killer is , the books always keep me on my toes keeps my mind working to figure out who it could be. The characters that fea Leggi tutto
GoodReads.com
It's difficult to divide a visit with old friends and the strength of this book in the Agatha Raisin series. Agatha is again mesmerized with the latest man living next door while she pines under it all for the goofy James Lacey. Her aging comes out well when she can't get up out of a lawn chair grac Leggi tutto
GoodReads.com
3.5 stars. I have read most of the Agatha Raisin books and enjoyed them. This one was no exception. Agatha gets drawn into a mystery about what looks like a haunted house but quickly turns into murder. She has a new sidekick in the shape of her new neighbour, Paul, but is still her usual bumbling self Leggi tutto
GoodReads.com
The small town of Carsley is once again hit with a brand new mystery. An old woman reports that her home is haunted and she needs a ghost hunter. Feeling bored, Agatha Raisin volunteers and this time she's accompanied by her handsome new neighbor, Paul Chatterton. It's not long before they discover Leggi tutto
GoodReads.com
Agatha Raisin and the Haunted House (#14) by MC Beaton - average at best Not sure why I keep reading these. The formula is pretty standard. Agatha returns from some London assignment to find a new man moved in next door. She immediately imagines some 'happy ever after' with him and obsesses about her Leggi tutto
GoodReads.com
Agatha Raisin and the Haunted House by M.C.Beaton is the 14th book in the Agatha Raisin mystery series. Agatha's new neighbour, Paul Chatterton asks Agatha to help him investigate a supposedly haunted house but when the owner is killed, they find themselves in the middle of a murder investigation wi Leggi tutto
GoodReads.com
I love Agatha Raisin and all her imperfections. These books are funny, cozy, and beautifully British. They are a form of therapy for me during tough times.
GoodReads.com
Aggiungi la tua recensione
Altri libri di M.C. Beaton
Il Libraio per te
Scopri i nostri suggerimenti di lettura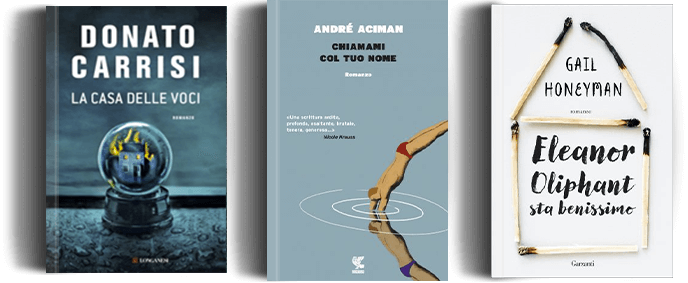 Ancora alla ricerca del libro perfetto?
Compila uno o più campi e lo troverai