Rory & Ita
Tutti i formati dell'opera
Acquistalo
Sinossi
Roddy Doyle mette il suo talento narrativo al servizio dei ricordi, trascrivendo parole e memorie dei suoi genitori. Si dipana così il racconto della loro vita matrimoniale lunga e felice, di un'esistenza trascorsa nella semplicità, fra casa, lavoro e figli. Rory e Ita ci parlano della fatica di ogni giorno, delle piccole gioie assaporate. E dagli episodi narrati, dai ritratti di persone e amici con cui hanno condiviso una parte del cammino, viene delineandosi un affresco dell'Irlanda lungo i decenni: un paese un tempo essenzialmente contadino, insidiato dalla povertà, isolato dall'Europa, che oggi ha conquistato la ricchezza e il benessere.
ISBN: 8882465713
Casa Editrice: Guanda
Pagine: 336
Recensioni
An interesting account of the lives of two ordinary people during the 20 Century which covers the emergence of the Republic of Ireland as an independent state. It would be of interest to social historians.
GoodReads.com
These are a very cordial 3 stars - I liked this book a lot but the fact of it being a near verbatim memoir meant that it didn't have a great arc or drive or anything that made it a fantastic book. Furthermore, the life of a regular lady and guy over the course of 20th century Ireland is not a subjec Leggi tutto
GoodReads.com
This was an interesting book that described the mundane quotidian details of an Irish couple coming of age in the post war years. There is not a plot and there is nothing earth shattering that occurs in their lives. The book sounds quite boring, and many will find that it is, but if you are part of
GoodReads.com
I enjoyed the book. Chapter to chapter went between Rory's memory of events and Ita's memory of many of the same events or time. That said, if you don't have a basic understanding of the landscape of Ireland and it's towns, it may leave you a bit lost. I suppose if you are picking the book up, you
GoodReads.com
Roddy Doyle is a much beloved Irish writer and this is the story of his parents as told by his parents. There is almost no mention of the writer or his siblings, so mostly this loving account focuses in alternating his and hers chapters on their youth, upbringing, courtship, marriage, and extended f Leggi tutto
GoodReads.com
An interesting story about two people who grew up in Dublin in days gone by. Interesting to see what childhood and young adulthood were like, and then what average married life was life.
GoodReads.com
The story of the lives of Rory and Ita Doyle born in Ireland of 1920s, and parents of Roddy Doyle. This book is very different from Roddy Doyle's other books. In fact this book is more Rory and Ita's book than Roddy's, since most of the book is told in Rory and Ita's own words, which makes the style Leggi tutto
GoodReads.com
Roddy Doyle shares his folks stories from the time they lived as children in their respective Irish villages near Dublin, until retirement and memories rule the day. Much of their upbringing and adult life is similar to the changes in America during the same century, the 20th. What was strikingly di Leggi tutto
GoodReads.com
This is the stroy of Rory and Ita, the parents of Roddy Doyle. The tales of life in Ireland pre- and post- war. The hardships, the way of life, are described using the colloquialisms of those who lived it - in Ireland. It is as if I am sitting listening to my own grandparents tell their tales. I wis Leggi tutto
GoodReads.com
My grandfather lent me this book a long time ago. I read a few chapters and kept putting it down and forgetting about it. I finally finished this story about Rory and Ita Doyle from Ireland. I really enjoyed he last half when they talked about their lives together and the way things changed as their Leggi tutto
GoodReads.com
Aggiungi la tua recensione
Altri libri di Roddy Doyle
Il Libraio per te
Scopri i nostri suggerimenti di lettura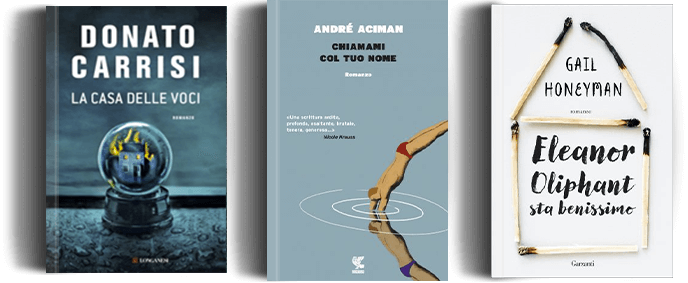 Ancora alla ricerca del libro perfetto?
Compila uno o più campi e lo troverai