Figli del Nilo
Tutti i formati dell'opera
Acquistalo
Sinossi
La saga senza tempo del mago Taita
Dopo la morte del saggio e glorioso faraone Tamose, l'intera civiltà egizia rischia di venire annientata dalla guerra contro gli hyksos e dall'ambizione di individui crudeli e spietati come Naja, l'odioso reggente. C'è solo un uomo, da tempo ormai ritirato nel deserto ad affinare le sue conoscenze, che può sventare il rischio mortale: Taita, il saggio eunuco, il custode di mille segreti, il mago. Soltanto sotto la sua guida, infatti, il giovane principe Nefer potrà veder compiere il proprio destino di faraone. E ci sarà sempre il grande fiume, il Nilo, maestoso e immutabile, a vegliare sui suoi figli…
ISBN: 8850246072
Casa Editrice: TEA
Pagine: 512
Recensioni
This book is a cross between an ancient Egyptian bodice-ripper and "The Return of the Jedi," with a little Marquis de Sade thrown in for good measure. I had read the first two books in the series, "River God" and "The Seventh Scroll," and had found them interesting enough to carry on to the third, b Leggi tutto
GoodReads.com
Well, damn...All of you guys are saying you read the first two books, and that this one was horrible, basically. But i haven't read the other two book, this is my first time reading a book by Wilbur Smith, and i LOVED it. As far as I'm concerned, this was a well-written thought out book, couldn't ha Leggi tutto
GoodReads.com
My God, this is hilariously bad writing. How do I loathe thee? Let me count the ways. Obi wan Taita is so ridiculously overpowered I never felt like the "Good Guys" could fail. Yes, he did do the "These are not the droids you're looking for" scene. He also managed to call up a sandstorm, fake someone Leggi tutto
GoodReads.com
If my memory serves me right, this return to ancient Egypt is rather a let down after the adventure of The Seventh Scroll. We shall see... Later: yes, Taita is just too capable to bear. Solid 3* adventuring though, and so onto the 4th book Summer 2013 Egyptian Encounters: Cleopatra (1963) 3* The Mummy C Leggi tutto
GoodReads.com
The third in a series of books about ancient Egypt, WARLOCK returns to Taita, an eunuch slave who has served several pharaohs. Readers who met Taita in the first books of this series will love being able to read about him again in his latest mission. After getting a vision from the deceased Lostris, Leggi tutto
GoodReads.com
I love Wilbur Smith. He manages to write a book that espouses adventure, history, friendship and romance all at once. The central character Taita; though a eunuch, is a dashing "romantic" lead with his on-going love for Queen Lostris. In this world and time, it is refreshing to read of love beyond t Leggi tutto
GoodReads.com
There is a new magician to be added to the pantheon where the likes of Merlin and Gandalf reside: his name is Taita, a former eunuch slave, who is now the mighty and much-feared warlock of ancient Egypt. Wilbur Smith, bestselling author from South Africa, brings us his compelling sequel to River God, Leggi tutto
GoodReads.com
I wish this could be made into a movie!!!
GoodReads.com
Warlocks have held great sway in ancient civilizations and this book shows why. The show of miracle and authority as displayed by a slave turned magus Taita is simply astounding. In the first installation of this book, Taita is seen as an underwhelming character and he has transformed into a legend
GoodReads.com
No wonder Wilbur Smith was my mother's favorite writer, he is just awesome! Once you start reading any of his books, you can't put it down. And that is what happened to me with this book. I read the two previous books of this saga long ago, and because one of my nephew gave me as a present, wonderful Leggi tutto
GoodReads.com
Aggiungi la tua recensione
Altri libri di Wilbur Smith
Il Libraio per te
Scopri i nostri suggerimenti di lettura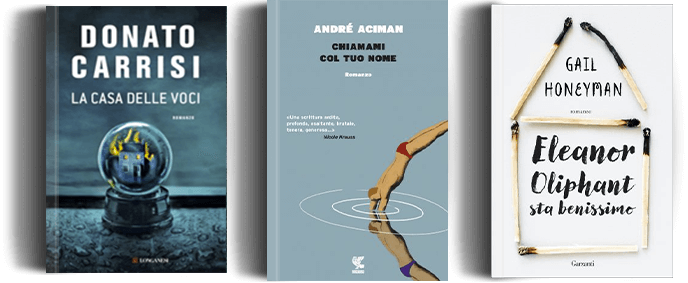 Ancora alla ricerca del libro perfetto?
Compila uno o più campi e lo troverai