Gli eredi dell'Eden
Tutti i formati dell'opera
Acquistalo
Sinossi
Mark Anders torna a casa. Non è più un ragazzo, ora è un uomo che è sopravvissuto all'inferno della Grande Guerra per ritrovare la sua terra devastata: l'Andersland, la tenuta del nonno nel cuore del Sudafrica, dove mark è cresciuto libero e felice. Ora la fattoria è abbandonata, la foresta è stata distrutta e i pascoli immensi sono pronti per essere coltivati; il nonno ' gli dicono ' ha venduto tutto prima di morire in un incidente di caccia. Mark non può crederci e lancia la sua sfida. E al suo fianco avrà un amico: Sean, capo incontrastato e potente della potente famiglia dei Courteney. È un'altra guerra quella cui è chiamato Mark, nuovi sono i nemici e nuove le armi, ma l'ideale per cui battersi è lo stesso: la salvezza di una terra minacciata.
ISBN: 8830400815
Casa Editrice: Longanesi
Pagine: 460
Recensioni
About ten years after writing The Sound Of Thunder, Smith returns to the Courtney family saga with this book, published in 1977. We begin again with Sean Courtney four years after the end of The Sound Of Thunder. Now we are in France, in the trenches of World War I. Sean is a general and is on a sur Leggi tutto
GoodReads.com
Maybe it was a mistake to read three novels by Wilbur Smith in a short period, which is what I have just done. By doing so, I began to recognise the tricks that the author employs to achieve his incredibly exciting style of story-telling. This story, which begins in the trenches in France during the Leggi tutto
GoodReads.com
My 200th posted review for 2015! In this, the concluding novel in the Sean Courtney collection, Smith moves the powerful man aside and offers the reader a new focus in the young Mark Anders. Serving under Courtney in the Great War, Anders survives in the trenches and returns to his family homestead, Leggi tutto
GoodReads.com
The 5 star rating is for the entertainment value. The style of writing is somewhat dated, but nevertheless manages to keep a firm grip on the reader. The characters are vibrant and you either hate or love them.The plot is on fire sucking the reader into a series of exciting events that are constantl Leggi tutto
GoodReads.com
Smith shows a vast knowledge of South African and World War I through his description and naming of props and settings. Therefore the world he creates is very believable and intriguing. For that I would give him four stars. His weakness is in characters and how unbelievable they are. The hero, Mark
GoodReads.com
This is the outstanding final chapter of Wilbur Smith's initial Courtney trilogy that began with WHEN THE LION FEEDS. With the story of Sean and Garry virtually tied up at the end of A SOUND OF THUNDER, the previous instalment, the plot in this one introduces a new central protagonist who brings fre Leggi tutto
GoodReads.com
I love ALL of Wilbur Smith's books, but of-course I like some better than others. This book wasn't in the top echelon of his writing, in my opinion. The plot is as Wilbur Smithesque as you could want: the grown up estranged son of the powerful and wealthy Sean Courtney returns mysteriously rich and re Leggi tutto
GoodReads.com
I really enjoyed this book. A Sparrow Falls follows on from The Sound of Thunder and because I did not relate to the later, i found myself hesitant to read A Sparrow Falls. For this reason, I struggled to get into the book. It was a terribly tragic ending, but was not predictable which is sometimes
GoodReads.com
Wilbur Smith never disappoints. In this 3rd book of the Courtney Series, two Courtney men go to war in France, but only one returns. The trip home aboard ship turns into a life and death struggle for the newest Courtney and we see parts of Africa I've never even heard of. All the characters are memo Leggi tutto
GoodReads.com
After reading the first two books in this series, I had high hopes for this one! But it was fairly disappointing. It continues the saga of the Courtney family, but the story line this time was quite predictable and a bit boring. I couldn't connect with any of the characters and only kept reading bec Leggi tutto
GoodReads.com
Aggiungi la tua recensione
Altri libri di Wilbur Smith
Il Libraio per te
I libri scelti in base ai tuoi interessi
Il Libraio per te
Scopri i nostri suggerimenti di lettura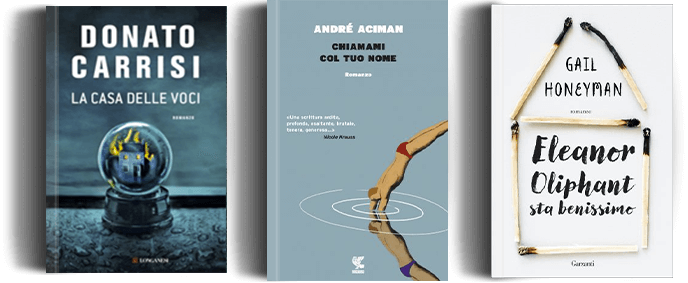 Ancora alla ricerca del libro perfetto?
Compila uno o più campi e lo troverai