Il dio del fiume
Tutti i formati dell'opera
Acquistalo
Sinossi
La saga senza tempo del mago Taita
Dopo secoli trascorsi in armonia con il ritmo maestoso del Nilo, sembra che un nuovo fiume, misterioso e maligno, di sangue e di morte, abbia preso ad attraversare la terra del divino faraone Mamose. Cinto d'assedio da nemici spietati e minato all'interno da feroci intrighi, l'Egitto affiderà il suo destino ai figli più generosi: a Tanus, il guerriero dai capelli di rame e dal braccio invincibile; a Lostris, saggia e affascinante, costretta ad accettare lo scettro di un regno cui volentieri rinuncerebbe per amore di Tanus; a Taita, lo scriba geniale ed enigmatico… E sarà ancora il dio del fiume, il grande Nilo, che segnerà la strada verso la pace.
ISBN: 8850246064
Casa Editrice: TEA
Pagine: 514
Recensioni
The mist clears, the clouds roll out and the fog lifts, looking down, the Nile appears. Its blue waters, dominate the desert land, like a Lion, over a savanna. And the hot sun, is always shining, bringing excruciating heat, which not even the Egyptians can tolerate too long. The scene, ancient Egypt Leggi tutto
GoodReads.com
How can you possibly resist a book about ancient Egyptians? River God was a pleasure to read. At over 600 pages it still managed to keep the action flowing right until the end and it doesn't hurt that Taita is one of the sweetest and most likable characters I've come to know in a long time. At first I Leggi tutto
GoodReads.com
This was so good, I stopped reading a Malazan book to focus on it... Higher praise was never given.
GoodReads.com
This book as written by Cecil B. DeMille. Enter TAITA, dark haired, gorgeous, excellent physique, good at everything. TAITA: I am a eunuch. but you can't tell, because i do weight-lifting every day. TAITA postures significantly. His expression is sombre, profound, behind his back the nile flows, a cro Leggi tutto
GoodReads.com
Ancient Egypt mesmerizes me and I loved Wilbur Smith 's River God . Taita is a very likable character and narrates the story. Not an everyday model hero for sure as a slave and a eunuch. But he's brilliant, spirited and above all loyal, even if a little vain; and I specifically like flawed heroes. I Leggi tutto
GoodReads.com
A decent story about life in egypt around 2000BC is marred by hamfisted writing. I didn't hate the book, but i sure hated parts of it. In general the story isn't bad, but the writing made me cringe at best, and annoyed or angry at worst. It is full of 2-dimensional characters who never change (or ch Leggi tutto
GoodReads.com
River God is one of those historical novels that broke open a whole new world to me. I have been to Ancient Egypt, lived, lost and triumphed there, and then resurfaced in my own time as if coming out of a vivid dream. The images are still with me, but what makes it truly wonderful is the main charac Leggi tutto
GoodReads.com
DNF Abandoned on page 312 of 530. It's getting frustrating and I don't see why I should kill myself with this series. Worse, I get annoyed. From the beginning, I was attracted by the use of words / expressions / concepts that have no place in 1780IdH (girlfriend, Willy-Nilly, miscarriage, couch introdu Leggi tutto
GoodReads.com
ONE OF THE BEST ADVENTURE NOVELS OF MODERN TIMES Only drawback; it's long, too long, but for sheer imaginative scope, Wilbur Smith's River God tops everything I've ever read. The story is narrated by the charming eunuch slave Taita, whose secret passion for queen Lostris surprises - until we learn T Leggi tutto
GoodReads.com
Ho riletto questo bellissimo romanzo dopo oltre vent'anni dalla sua uscita (era il 1993 e io comprai la prima edizione). Primo capitolo di un'avvincente serie di cinque romanzi incentrati sulla figura di Taita, uno schiavo eunuco che grazie alle sue abilità in fatto di medicina, pittura, ingegneria, Leggi tutto
GoodReads.com
Aggiungi la tua recensione
Altri libri di Wilbur Smith
Il Libraio per te
Scopri i nostri suggerimenti di lettura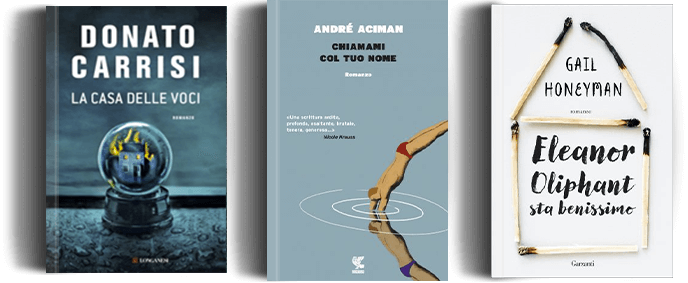 Ancora alla ricerca del libro perfetto?
Compila uno o più campi e lo troverai