La spiaggia infuocata
Tutti i formati dell'opera
Acquistalo
Il maestro mondiale del romanzo d'avventura.
la Repubblica
Sinossi
Centaine de Thiry non può dimenticare Michael Courteney. L'ha conosciuto in Francia, durante la guerra, quando il giovane pilota sudafricano imperversava contro l'aviazione tedesca; l'ha ammirato e lo ha amato, senza limiti. E quando l'ha perduto ha capito di dover raggiungere la sua terra. Ma l'Africa che, dopo una navigazione avventurosa, accoglie la giovane donna non è solo il continente abbagliante e fascinoso dei racconti di Michael, è anche una terra assetata, ostile, che respinge con la stessa forza con cui attira. Animata da un disperato coraggio, Centaine affronta a testa alta la drammatica avventura che la sorte le ha preparato, disposta a tutto pur di salvare la propria vita e quella che sta portando dentro di sé.
ISBN: 8850251149
Casa Editrice: TEA
Pagine: 438
Recensioni
I have always liked Wilbur Smith's books. They can be brutal, horrifyingly bloody, and almost excessively dramatic. But boy howdy, they are also rip-snorters of adventures that keep me up late at night turning pages, lost in Smith's world. I've only read four (now five) since joining GR, but I have
GoodReads.com
Returning to the Courtney series, Smith takes readers into the next generation of the family and their exploits. While fighting the Great War in Europe, Michael Courtney, illegitimate son of Sean Courtney, crosses paths with a young Frenchwoman, Centaine de Thiry. They soon fall in love and during a Leggi tutto
GoodReads.com
The beginning of a new Courtney saga, following on from the WHEN THE LION FEEDS trilogy. I found THE BURNING SHORE a bit of a slog to read, perhaps because Smith's previous novel, THE LEOPARD HUNTS IN DARKNESS, was an absolutely triumphant book and one of my favourite reads of all time; this one can Leggi tutto
GoodReads.com
This is a marvelous series and just keeps getting better.
GoodReads.com
Once more Wilbur Smith has written an excellent saga involving the Courtneys: from the French Chateau in the Great War - flying Ace Michael Courtney and his lovely French girlfriend Centaine to the German submarine and survival for Centaine and their son traveling back to Africa. Continuing interesti Leggi tutto
GoodReads.com
Centayne De Thiry è giovanissima e molto bella; la sua maturità, ancora in embrione, sboccia con l'incontro di Micheal Courtney, rampollo di una famiglia di facoltosi imprenditori, eroi di guerra, influenti e affermati, che non si sottrae ai suoi doveri quando scoppia una delle più sanguinose guerre Leggi tutto
GoodReads.com
I don't have words to express the praise for this piece. Also I am not in the regretful phase of finishing up this novel at a great pace because there are three more novels to be read on Courtney series pertaining to this. My review can't suffice to explain panoply of wonderful things I learnt. In t Leggi tutto
GoodReads.com
As ever, Smith weaves a beautifully gripping tale embracing the events of the era and using them to drive the lives of his characters and the Courtney family. This one does jump backwards a bit from where we left off at the end of A Sparrow Falls, heading back into the First World War as we are intr Leggi tutto
GoodReads.com
Sometimes, a good novel doesn't know when to stop. Gone With the Wind comes to mind, as Scarlett is crying for Rhett's departure and the reader is gnashing her teeth wondering what will happen when Scarlett "thinks about it tomorrow." Though The Burning Shores, by Wilbur Smith, isn't in the same cat Leggi tutto
GoodReads.com
This book was a bit tedious; one huge disaster after another for the young heroine (I forget her name). Within the span of 25 pages she loses her fiance, father, horse, estate/home and forced to endure hardship after hardship (while pregnant). The transport ship she is on heading for Africa is torpe Leggi tutto
GoodReads.com
Aggiungi la tua recensione
Altri libri di Wilbur Smith
Il Libraio per te
Scopri i nostri suggerimenti di lettura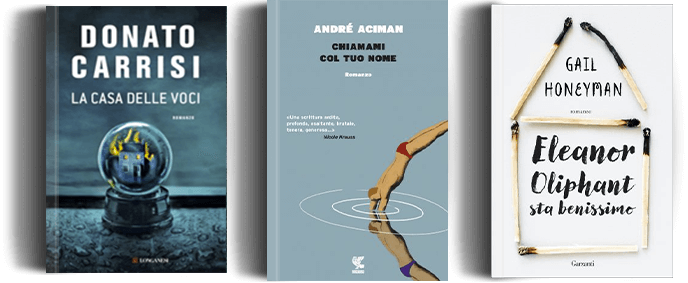 Ancora alla ricerca del libro perfetto?
Compila uno o più campi e lo troverai