Uccelli da preda
Tutti i formati dell'opera
Acquistalo
Sinossi
Wilbur Smith torna alla saga dei Courteney che lo ha reso celebre, ricostruendo le vicende degli antenati dei protagonisti del "Destino del Leone", della "Voce del tuono" e di tanti altri romanzi e narrando la loro lotta per conseguire la supremazia sui mari. Nel 1667, Sir Francis Courteney e suo figlio Henry si trovano su una caravella che staziona al largo di capo Agulhas, sulle coste del Sudafrica, in attesa di un galeone carico d'oro, proveniente dall'India... Comincia così un'avventura che porterà i due uomini a doppiare il capo di Buona Speranza e a dirigersi verso il Nordafrica, in un'epoca in cui le leggi del mare ammettevano quegli atti di pirateria, quei delitti e quei saccheggi che in terraferma erano punibili con la morte...
ISBN: 8830414093
Casa Editrice: Longanesi
Pagine: 579
Recensioni
Alas, I did not learn something essential or scholarly in any way by reading Birds of Prey . I might not have helped me understand history or comprehend anything fundamental to my life, but I would say that reading Birds of Prey was fun and allowed me hours of enjoyable and dashing adventure within W Leggi tutto
GoodReads.com
Rating: 3* of five Wilbur, Wilbur...yours isn't the stuff of literary legend, but usually you buckle a *mean* swash and cause images of Erroll Flynn to dash around your reader's head (thanks for that, BTW). In this book, Wilbur, you lost your way. I don't expect autheticity of language, and don't even Leggi tutto
GoodReads.com
The true beginning of the Courtney saga, even though it was written well after the other Courtney books. Swashbuckling adventure on the highs seas, moving to the African continent and escape from Dutch prison. A chase across South Africa and retribution against those who betrayed the family. I thought Leggi tutto
GoodReads.com
Please don't let the 3 stars fool you: I enjoyed this book. More specifically, I enjoyed the story. Wilbur Smith excels in performing perhaps the two most important elements of fiction─ creating likable characters and detestable villains. The trouble I had was with execution. Birds of Prey has an une Leggi tutto
GoodReads.com
At the beginning of the seventeenth century, the small country of The Netherlands spread its sails, to become a major world trade player. With the establishment of the Vereenigde Oost-Indische Compagnie, Holland was soon equal with England as king of the seas. This and other internal, external, and
GoodReads.com
A great pirate story set on east coast of Africa in the 16oo's. WS knows his sailing, his history, and as always is a world-class storyteller. What a crazy time that must have been, the age of colonial conquest. I may go back and re-read some of the others I have sitting around the house.
GoodReads.com
It's a book about pirates/privateers double-crossing each other, duking it out with each other on land and sea, and doing other fun stuff with healthy doses of kinky boning and horrid violence. What's not to like?! Seriously though, I was very impressed with my first book of Mr. Smith's. All of the Leggi tutto
GoodReads.com
I wasn't all that happy with this book. I bought it because I'd read River God a long time ago, and I remembered really loving everything about it. However, here. . .I found myself wondering if I'd been remembering the right author. Another reviewer mentioned that this book came very late in the ser Leggi tutto
GoodReads.com
Excellent, by far one the best reads I've had in awhile. Its amazing how this novel can cover so many genre's and still be cohesive. There is Piracy, War battles, Swordsmanship, A Historical aspect, Adventure on the seas and the continent, Romance, and even an Arthurian legend thrown in. Even a Happy Leggi tutto
GoodReads.com
Err, I don't even know what to say about this book. For starters, I didn't know this wasn't the first book of the saga, so clearly I kind of just jumped in the Courtney's party and was a bit confused. Second, I did not foresee the amount of smut this book runs with. Not bad smut, really, just, woah, Leggi tutto
GoodReads.com
Aggiungi la tua recensione
Altri libri di Wilbur Smith
Il Libraio per te
Scopri i nostri suggerimenti di lettura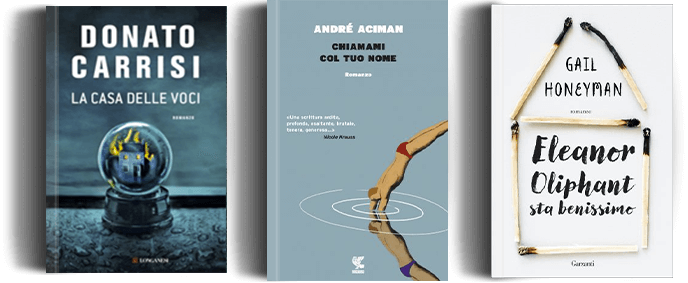 Ancora alla ricerca del libro perfetto?
Compila uno o più campi e lo troverai