La tempesta
Tutti i formati dell'opera
Acquistalo
Sinossi
Duca, mago, scienziato: è Prospero il demiurgo della Tempesta, ultimo capolavoro del poeta, forse il più personale dei drammi di Shakespeare. Spodestato dal ducato di Milano, dopo aver vissuto dodici anni in un'isola deserta con la figlia Miranda, con il "selvaggio" Caliban e lo spirito Ariel, usa i suoi poteri magici per scatenare una tempesta, far espiare al re di Napoli e al fratello Antonio le loro colpe e riacquistare il ducato perduto, non prima di aver propiziato il matrimonio della figlia con Ferdinando, figlio del re di Napoli. La tempesta è una favola pervasa da una visione rassegnata e insieme serena della vita. Sulla magica isola, fantasia e realtà si compongono in un mondo dove il dolore e la violenza sono presenti ma esorcizzati da grazia e saggezza, dove una natura animata da occulte presenze svia e ricongiunge i destini dei protagonisti sotto l'abile e benevola regia del vecchio duca. Alla fine Prospero rinuncerà alla magia per essere solo un uomo preparato a morire, cui il distacco dalle passioni e la perdita delle illusioni permettono «di comprendere molto e di accettare il resto».
ISBN: 8811810973
Casa Editrice: Garzanti
Pagine: 250
Recensioni
The Tempest, abridged. *or maybe not so abridged. But in my defense, this play is really fucking complicated* MIRANDA: So, um, Daddy, did you notice that huge-ass storm that just crashed a ship on the shore of our previously deserted island? PROSPERO: Wow, is it exposition time already? Okay, kiddo, Leggi tutto
GoodReads.com
Simple yet profound, The Tempest is a heartbreakingly sincere piece of elaborate theatrical artifice. Shakespeare is a magician at the height of his powers, so accomplished at his craft that he can reveal the mechanisms of his most marvelous tricks and still astonish us. This time through, I was stru Leggi tutto
GoodReads.com
****Spoiler alert. Which seems really funny to do with a play over 400 years old.**** "Our revels now are ended...These our actors, As I fortold you, were all spirits, andAre melted into air, into thin air,And, like the baseless fabric of this vision,The cloud-capped towers, the gorgeous palac
GoodReads.com
The Tempest, William Shakespeare The Tempest is a play by William Shakespeare, believed to have been written in 1610–1611, and thought by many critics to be the last play that Shakespeare wrote alone. It is set on a remote island, where the sorcerer Prospero, rightful Duke of Milan, plots to restore Leggi tutto
GoodReads.com
It's so easy to judge Caliban based upon his actions and his violent speech, but he does have some real problems that cause them. He tried to rape Miranda. This is, of course, an absolutely terrible thing; however, does Caliban actually know this? In his life he has only known two people prior to me Leggi tutto
GoodReads.com
The Tempest is one of Shakespeare's last plays, and somehow he probably knew this as he was writing and producing it. While I was rereading this book for the umpteenth time, I realised how strongly this particular play goes over and wraps up all the thirty-five plays that came before it. The plot is Leggi tutto
GoodReads.com
William Shakespeare's last play which he wrote every word of, the burnt-out but rich distinguished gentleman just wanted to go back to his little, quiet, pretty home town of Stratford-upon-Avon and relax, enjoy himself. After more than twenty strenuous, nevertheless productive years of writing for t Leggi tutto
GoodReads.com
الجحيم خاو..كل الشياطين هاهناماذا أردت أن تقول يا شكسبير بأخر مسرحياتك؟بأخر تلاعباتك في أقدار شخصيات مسرحياتك ك'بروسبيرو'؟أرسلت عاصفة تحطم سفينة بها أخيك،لحمك ودمك، لكنه نفيك وأراد أغراقك ليستولي علي حكموبها الملك الذي اشتراه اخيك بالمال ليبيعك..وأخيه الذي سيبيعه ايضا لأن علي الباغي تدور الدوائرلكنك Leggi tutto
GoodReads.com
" Our revels now are ended. These our actors,As I foretold you, were all spirits and Are melted into air, into thin air;"Prospero, (Act IV, Scene i) THE TEMPEST is my favorite of of all of William Shakespeare 's works. THE TEMPEST is a marvel on several levels chiefly among them is the playwright's ta Leggi tutto
GoodReads.com
William Shakespeare's The Tempest is interesting on so many levels. I especially like how it looks at both the economic benefits of colonialism along with its much uglier side, namely, exploitation and racism. In the play, Prospero, as banished duke of Milan, has taken control of a small island and Leggi tutto
GoodReads.com
Aggiungi la tua recensione
Altri libri di William Shakespeare
Il Libraio per te
I libri scelti in base ai tuoi interessi
Il Libraio per te
Scopri i nostri suggerimenti di lettura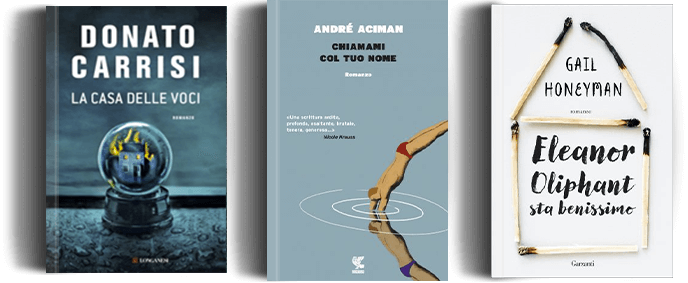 Ancora alla ricerca del libro perfetto?
Compila uno o più campi e lo troverai