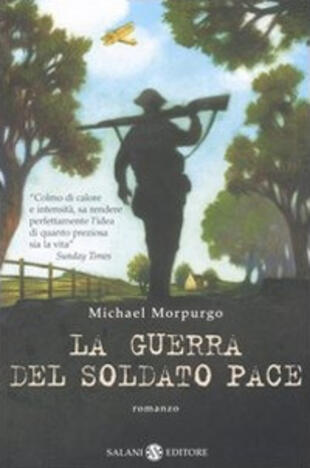 La guerra del soldato Pace
Tutti i formati dell'opera
Acquistalo
Sinossi
La storia di Thomas Peaceful e della sua famiglia è quella, vera e tragica, di centinaia di migliaia di soldati che, dalla miseria delle campagne, finirono nelle trincee della Prima guerra mondiale, affrontando la barbarie del conflitto e la crudele assurdità della disciplina, e pagando di persona per aver conservato, nonostante tutto, il rispetto per i valori dell'affetto, dell'amicizia, della solidarietà. Il libro, nato per i giovani lettori, può essere apprezzato da lettori di tutte le età.
ISBN: 8884514495
Casa Editrice: Salani
Pagine: 168
Recensioni
A bookclub read which I really enjoyed. Set against the backdrop of World War One, the story follows brothers Charlie and Tommo as they grow up and enlist in Britain's army to fight in the war. Each chapter begins sometime during a long night as Tommo recalls all the adventures and trials he and his Leggi tutto
GoodReads.com
Words can't even describe how much this book means to me. I would recommend it to anyone, especially to other history 'nerds' like me. As it is the type of book that lives on even after you turn the last page. No matter how many times I've read it, it never seems to lose my interest. It is a very pop Leggi tutto
GoodReads.com
The sadest book I have ever read. I would reccommend this to you all who like to cry over a book, but I warn you to have a tissue when your near the end, because you'll cry your heart out. This book is passionate and brings you deep, letting you know how the characthers feeling and wishing it could ch Leggi tutto
GoodReads.com
I always finish this boom with tears in my eyes and a lump in my throat. Definitely an all time favourite. The life of Tommy peaceful and his brother Charlie are documented in this 187 page book. It's a very quick read as well. I've read this many times throughout my life and will continue to do so Leggi tutto
GoodReads.com
This is the second book I have read of Michael Morpurgo and I loved it. I love it just like the first book. It has left a mark on me, a very deep that will stay with me forever. The writing was amazing and the plot was just so good. When reading this I felt all the feelings and I felt extremely attach Leggi tutto
GoodReads.com
• review also posted on Wordpress! • rating: 1.5 stars *warning: review contains spoilers!* Don't let my new rating system fool you: this is not an awful book. However, at times, I really disliked reading it. That's why I could only rate this one star. I had to read this for college, but didn't have t Leggi tutto
GoodReads.com
I am crying, you're crying, we're all crying
GoodReads.com
Adapted from the book jacket : Private Thomas Peaceful has lied about his age and left his family behind to follow his older brother, Charlie, to France to fight in the First World War. Now, Tommo has one almost unendurable night, alone, fighting sleep, to reflect on his life. As the minutes slowly t Leggi tutto
GoodReads.com
A British teenage boy follows his brother into the army during World War I and is sent to the trenches in France. Describes how men who broke under the stress of war were shot as deserters. Pair this with Marcus Sedgwick's The Foreshadowing for a grim picture of the realities of war.
GoodReads.com
I first read "Private Peaceful" when I was about ten years old and I remember that it had a great impression on me. I borrowed it from the school library without particularly high expectations. I had read some of Morpurgo's work before and although I had enjoyed it I recall thinking that this book l Leggi tutto
GoodReads.com
Aggiungi la tua recensione
Altri libri di Michael Morpurgo