Atlante dell'ignoto
Tutti i formati dell'opera
Acquistalo
Sinossi
Linno e Anju sono due sorelle cresciute in una cittadina del Kerala con il padre vedovo. Linno ha perso la mano destra in un drammatico incidente con i fuochi d'artificio, ma nonostante ciò continua a disegnare in maniera meravigliosa con la mano sinistra. Anju prosegue quegli studi abbandonati dalla sorella fino a vincere una borsa di studio per New York. Ma la borsa di studio prevede che il candidato abbia qualche abilità particolare, e Anju presenta come suoi i disegni della sorella. Quando la sua piccola truffa viene scoperta, la ragazza è espulsa dall'università e piena di vergogna fa perdere le sue tracce a New York, una città e una realtà che lei ha sempre vissuto come ostile, troppo lontana dal suo mondo. Sarà una fuga che finirà per intrecciarsi con il suo passato, con una persona molto vicina a sua madre, che potrà forse spiegarle tante cose...
ISBN: 8860883989
Casa Editrice: Guanda
Pagine: 431
Recensioni
Sometimes, just for a change of pace, I like to take a side trip into an author's back catalog. That's how I happened upon Atlas of Unknowns—it was an impulse, after I heard about James's latest novel, The Tusk That Did the Damage , which sounded quite good but not exactly what I was in the mood for. Leggi tutto
GoodReads.com
Atlas of Unknowns is one of those rare, perceptive books that effortlessly tackles a battery of issues ranging from the benign to the tragically consequential and still manages to keep a sense of humor. There is no one narrator. Instead the plot follows the lives and voices of the Vallara family fro Leggi tutto
GoodReads.com
I enjoyed this book well enough. We are following the Vallara family--a Christian family from Kerala, India. Was interesting to get that perspective of Christians interacting with the larger Hindu and Muslims communities. (Scant attention was paid to the limited amount of Jews, mostly when Anju was
GoodReads.com
The story opens on Christmas eve of 1995 in Kumarakom in the state of Kerala, India. Melvin the father, Linno, 13, and Anju, 9, the daughters and Ammachi the grandmother are the first characters the reader gets to meet. Gracie their mother had died when the girls were just 7 and 3. Linno took to her Leggi tutto
GoodReads.com
In Atlas of Unknowns, first time novelist Tania James, tells the funny and honest story of two sisters trying to find their places in this world amidst betrayal and haunting secrets. The older sister, Linno, is scarred by an unfortunate accident and the truth behind her mother's death. She's a gifte Leggi tutto
GoodReads.com
It is about the experience of Indians in India and in the U.S., and their perception of America, from the perspective of India, and when they are here. It is about the traumas that befall and connections that sustain family, the senses of responsibility and guilt for what we do to others in our fami Leggi tutto
GoodReads.com
I think, realistically, I would give this book about 4.3 stars, but because I got it from Poundland (yes, a POUND!) I have rounded it up on the basis of value-for-money. It was a lovely tale of sisterhood, coming of age, cultural differences, hardship, secrets, love and friendship. It was really wel Leggi tutto
GoodReads.com
This was a vey interesting story. The author understands both cultures extremely well and is very good at showing us the clashes between the two. These two sisters have such difficult lives (emotionally), which was very compelling to read.
GoodReads.com
What a great book to read as my 100th! I really enjoyed this book. It is a coming of age novel of two sisters, Linno and Anju. Linno and Anju are as close as any two sisters can be till fate leaves Linno in bucolic Kumarakom, Kerala while Anjuleaves for New York - by fair means or foul. From then on Leggi tutto
GoodReads.com
It's hard to believe that this is Tania James' debut novel. I loved the plot, and the writing was absolutely top-notch. Dark at times, downright funny in parts, on the whole, this is a wonderfully poignant story. Anju and Linno Vallara are sisters from Kumarakom in Kerala. Anju, the younger one, is a Leggi tutto
GoodReads.com
Aggiungi la tua recensione
Altri libri di Tania James
Il Libraio per te
Scopri i nostri suggerimenti di lettura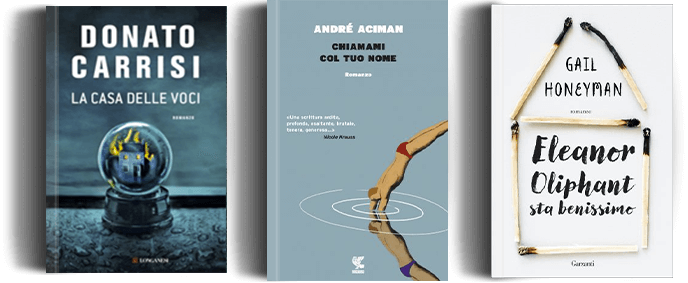 Ancora alla ricerca del libro perfetto?
Compila uno o più campi e lo troverai