Una musica costante
Tutti i formati dell'opera
Acquistalo
Sinossi
La ricerca di un raro quintetto per archi di Beethoven, un violino amato fino all'ossessione ma non posseduto, la vita nascosta dei musicisti professionisti: in eco, anzi in contrappunto, alla storia d'amore, questo romanzo di Vikram Seth è anche un libro sulla musica e su come la passione per la musica possa diventare il tema dominante e costante di tutta una vita.
ISBN: 8830416649
Casa Editrice: Longanesi
Pagine: 468
Recensioni
'An Equal Music' is indeed a musical story. The language is immensely beautiful. Throughout the book, one sees how much time human beings spend tuning 'things' so that they can live in harmony. In this story, the characters struggle with notes, compositions, and life. Both music and life demand the Leggi tutto
GoodReads.com
It's the weirdest thing, a quartet. I don't know what to compare it to. A marriage? a firm? a platoon under fire? a self-regarding, self-destructive priesthood? It has so many different tensions mixed in with its pleasures. I was absolutely enthralled with Seth's two novels "The Golden Gate" and Leggi tutto
GoodReads.com
Your words have given me life and taken sleep away. The park gates open at first light. Slate-grey and coral, dawn is reflected in the pool. The flowers have been turfed under in the sunken garden. The chack of a squirrel, the splash of a small duck, a blackbird hopping about beneath the thinned-
GoodReads.com
Seeing this much-lauded novel on one of my bookshelves yesterday reminded me to post a review. I read this several years ago, when it was being fêted by culturati luvvies the world over. "A masterpiece ... as clear, lovely and civilised as a Schubert quartet" -Daily Mail "Seth follows the heart's chang Leggi tutto
GoodReads.com
I have never gone as low and as fast in my opinion of a book as with 'An Equal Music'. After the first 25 pages, I felt that I'd stumbled on to something incredible (no doubt helped by the very simple writing, which was a refreshing change from Salman Rushdie's tediousness); but after a 100 pages it Leggi tutto
GoodReads.com
As you take your seat and the room becomes hushed with anticipation your eyes are on the performer. Not any performer but the one in the quartet you came to hear. He plays second violin. Few people like to play second seat. You don't get do play all those fancy solos. He loves his violin. It's been Leggi tutto
GoodReads.com
Bemused between 2.5 and 3 stars so let's go with 2.5!🌟 Undisappointingly beautiful proses led me to the very last page of this melancholic tale or else I'm quite certain that I would have dnf'd this one. Now, the book revolves around a quartet in London where the lead violinist Michael reminisces ab Leggi tutto
GoodReads.com
I was surprised by how much i loved this book. It's blow off your travelling companions and curl up in your youth hostel until you finish it good. It's finish it and then wish you hadn't so you could read it again for the first time good. The tension in the love story is addictive. But what I loved
GoodReads.com
The smell of rosin on a bow, the satisfaction of slow scales played with a partner, the sleepy somnolence of working a piece through in your head just before sleep - I miss these things. I forget them too. Vikram Seth lent them back to me this week. I've read An Equal Music before, quickly. This rea Leggi tutto
GoodReads.com
There are things I loved about this book and things I did not love, but the bottom line is that after finishing it I sat for 15 minutes and just pondered it. That's good. I have read a few reviews stating a disdain for the narrator - he's whinny, he's selfish, he's annoying. Yes, those things are tr Leggi tutto
GoodReads.com
Aggiungi la tua recensione
Altri libri di Vikram Seth
Il Libraio per te
Scopri i nostri suggerimenti di lettura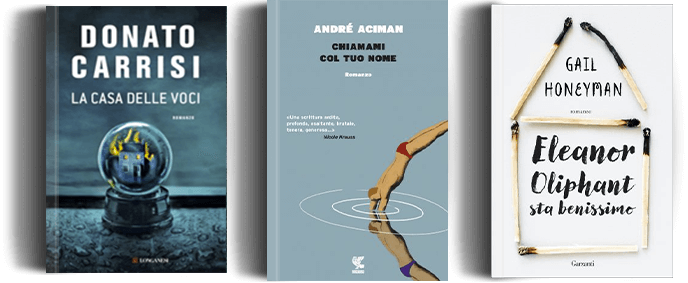 Ancora alla ricerca del libro perfetto?
Compila uno o più campi e lo troverai