Tutta colpa dell'acido
Tutti i formati dell'opera
Acquistalo
Sinossi
Una serie di racconti di Irvine Welsh composti nell'arco di un decennio, a partire dai primi anni Novanta, e usciti all'epoca in antologie e pubblicazioni ormai quasi introvabili. Cinici o indifesi di fronte alla spudorata incommensurabilità del mondo, i protagonisti di queste storie sono sempre animati da una scrittura fresca e ispirata, carica di quell'irresistibile forza esilarante che redime ogni peccato nell'universo amaro dell'autore di Trainspotting.
ISBN: 8860884640
Casa Editrice: Guanda
Pagine: 310
Recensioni
This book was great! I've become a huge fan of Welsh and I really enjoyed these new/old stories involving various characters in his universe. The novella at the end, I am Miami, is like a sequel to both Porno and Glue. Juice Terry is one of Welsh's best characters and I found this new adventure of h Leggi tutto
GoodReads.com
Welsh is back. It's time for me to blather aboot this eminently readable collection of Welsh's short stories, spanning from 1994-2000. And what a cracker it is, too. Written in Welsh's typical vernacular, complete with his idiosyncratic sense of spelling and grammar, Reheated Cabbage captures the ess Leggi tutto
GoodReads.com
A reeking heap of a treasure.
GoodReads.com
I am a committed Irvine Welsh fan. I think what he does with the Scottish dialect is incredibly creative. I have never read another author who I could so clearly hear while I am reading. It is a pretty fun experience. Plus, he is very funny, in an incredibly dark way. The other thing he does which I Leggi tutto
GoodReads.com
Extremely entertaining collection. Like many others, I was a Welsh obsessive as a mid-90s teenager: many of the pieces collected here are welcome reminders of the thrill I experienced first reading him. Only one, 'The Rosewell Incident,' is a misstep: hated it back in '96ish, when I first read it, a Leggi tutto
GoodReads.com
Excellent collection of short stories. Of course, I Am Miami was my favorite.
GoodReads.com
ridiculous and super fun. I read the whole thing on a plane trip from Durham to San Diego (layover, Kansas City). I didn't even realize the christmas dinner story was about begbie, but of COURSE it was. i think i am miami was my favorite. the whole collection starts off with a real bang with the fau Leggi tutto
GoodReads.com
How do people who are not Scottish or brought up in Scotland manage without a glossary? Some of the truncated rhyming slang would be impossible to guess (eg the 'hampden' is hampden roar (scotland's national football stadium) and therefore means 'score'. zorba - zorba the greek- 'seek' - how some sa Leggi tutto
GoodReads.com
It sometimes happens that story collections turn out to be a bit lumpy in the sense that the pieces not always complement each other smoothly. This is one of those. However, each story on its own is great, especially the first – what a masterpiece! I have never laughed so much about such a tragic ev Leggi tutto
GoodReads.com
26/100 (2018 Reading Challenge) I am a sucker for my favourite authors & plus even attempted unbiased interviews have bias creeping through. This was a reread, the highlights are definitely the Begbie story & the Juice Terry one. I tend to lean towards the returning characters. Yet the rest are still Leggi tutto
GoodReads.com
Aggiungi la tua recensione
Altri libri di Irvine Welsh
Il Libraio per te
Scopri i nostri suggerimenti di lettura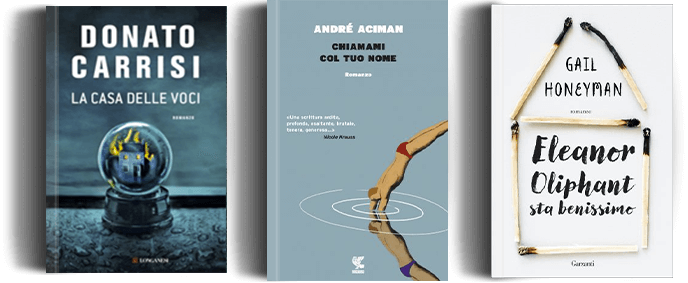 Ancora alla ricerca del libro perfetto?
Compila uno o più campi e lo troverai