La scienza di Mondo Disco
Tutti i formati dell'opera
Acquistalo
Sinossi
All'Università Invisibile un esperimento è appena andato storto e ora i maghi si ritrovano a spiare un cosmo con un pianeta sferico al centro (che chiamano Mondo Tondo perché lì la materia sembra accumularsi in sfere anziché in dischi piatti retti da tartarughe): un posto straordinario dove bizzarramente né la magia né il comune buon senso sembrano avere una sola possibilità contro la logica. Quel pianeta, ovviamente, è il nostro. E Mondo Tondo è la Terra. E mentre i maghi la guardano evolversi, noi seguiamo la storia del nostro universo. Con l'aiuto dei due grandi scienziati Ian Stewart e Jack Cohen (un matematico e un biologo specializzato in embriologia e riproduzione), Pratchett dà vita a un libro in cui alla trama fantasy ambientata a Mondo Disco si alternano parti scientifiche scritte con vivacità e leggerezza ma profonda accuratezza. Età di lettura: da 11 anni.
ISBN: 8862561555
Casa Editrice: Salani
Pagine: 464
Recensioni
The Science of Discworld (Science of Discworld #1), Terry Pratchett, Ian Stewart, Jack Cohen When a wizardly experiment goes adrift, the wizards of Unseen University find themselves with a pocket universe on their hands: Roundworld, where neither magic nor common sense seems to stand a chance against Leggi tutto
GoodReads.com
Unfortunately the Science in this book was too basic for me, but I must applaud the authors for their approach through Discworld. Now, what kept me reading was the story of the wizards. I must point out that it was difficult not to cheat and skip over all the science chapters. But I would have enjoy Leggi tutto
GoodReads.com
Real review to follow. Once upon a time, there was Discworld. There still is an adequate supply. Discworld is the flat world, carried through space on the back of a giant turtle, which has been the source of, so far, twenty-three novels, four maps, an encyclopaedia, two animated series, t-shirts, sca Leggi tutto
GoodReads.com
Back in the late 90s, there was a whole slew of "Science Of...." books. The science of Star Trek, X-Files, Star Wars, all of them did their best to explain the fantastic in terms of what we already knew about science. They weren't trying to disprove these worlds - saying that warp speed is impossibl Leggi tutto
GoodReads.com
Imagine sitting down to read a book from your favorite author. At the end of the first chapter your friend takes away the book and replaces it with a transcript of the show Cosmos with Neil deGrasse Tyson. You like Cosmos and Mr Tyson is interesting so you read it. At the first break, your friend ta Leggi tutto
GoodReads.com
The Science of Discworld is an odd sort of Discworld book. Based on the name, I had thought it was going to delve into more detail about the fictional workings of the Discworld. Like, say, how the giant turtle and the elephants stay alive outside of an atmosphere or how water on the Discworld gets r Leggi tutto
GoodReads.com
Discworld runs on magic. Roundworld runs on science. I repeat: Roundworld runs on science.
GoodReads.com
My girlfriend tried to buy this book for me while we were browsing a second hand bookshop. I said "No thanks" and I said it firmly because I really don't like those series tie in books that people write which might have the original authors name on the cover but are actually written by second rate h Leggi tutto
GoodReads.com
Recommended for people who have had the following thoughts: "I've heard a lot about this Discworld business, but I wish it had, like, science, you know?" "I love Discworld, but I wish there was a book that was even more of the wizards of Unseen University being dicks to each other." "I love popular sci Leggi tutto
GoodReads.com
Don't expect your typical lighthearted novel as you'd normally get from Terry Pratchett. Instead, you will find a hilarious, whimsical look at the deep scientific theories and explanations of how scientists believe our universe and world works. If you've avoided topics like gravitational forces, qua Leggi tutto
GoodReads.com
Aggiungi la tua recensione
Altri libri di Terry Pratchett
Il Libraio per te
Scopri i nostri suggerimenti di lettura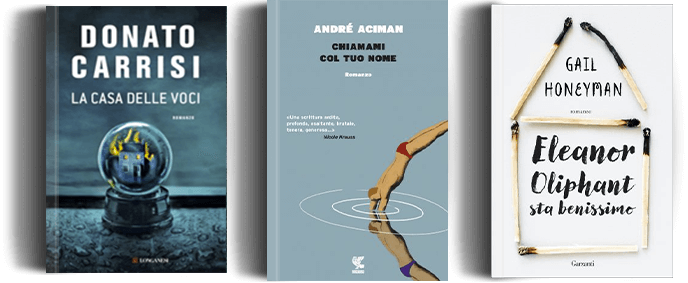 Ancora alla ricerca del libro perfetto?
Compila uno o più campi e lo troverai