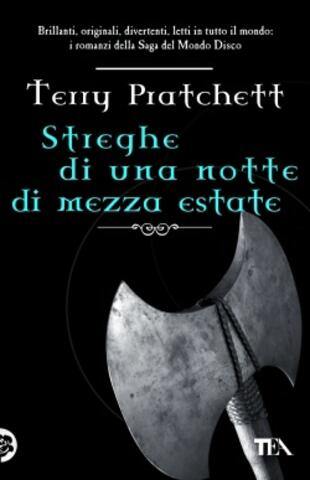 Streghe di una notte di mezza estate
Tutti i formati dell'opera
Acquistalo
Sinossi
Sin dai tempi più remoti, elfi e fatine hanno riempito di sé fiabe e racconti, saltellando leggiadramente tra i mondi per esaudire i desideri degli umani, trasformare zucche in carrozze e persuadere principi distratti a sposare fanciulle perse nei boschi. Be', sono tutte balle. Gli elfi sono meravigliosi perché incutono meraviglia; stupefacenti perché stupiscono; maliardi perché emanano malia; incantevoli perché fanno incantesimi; pazzeschi perché fanno impazzire la gente. Chi ha detto che sono buoni? Gli elfi sono cattivi. E per colmo di sfortuna stanno tornando a Lancre, dove non ci sono più streghe, a parte Nonna Weatherwax, Tata Ogg e Magrat Garlick. Che dovranno sudare sette camicie, indossare numerose armature, volare a cavallo di una scopa insieme a un nano e trasformarsi in sciame di api per cavarsela e salvare Mondo Disco...
ISBN: 8850234376
Casa Editrice: TEA
Pagine: 334
Recensioni
Ritual magic is gone mad, even more lunatic than the lucky fool, in a Shakespearean mythology overload. The idea of the special, magic days inspired by natural phenomenon, astrology, and seasons is as old as humanity, but in this case, it goes a bit hawire and crop circles are just the beginning. Unsu Leggi tutto
GoodReads.com
"Witches can generally come to terms with what actually is, instead of insisting on what ought to be." As anyone who knows me can attest to, I tend to gush over Pratchett's books, with all his wit and wisdom and the ability to create incredibly clever and very serious humor rooted in uncomfortabl Leggi tutto
GoodReads.com
Elves on the Discworld. In Guillermo del Toro's 2008 film Hellboy 2, the Elvin character Prince Nuada makes a point about humans remembering why they fear the dark. These elves are dark creatures, thoroughly unfaeirie like and even un-Tolkien like. Terry Pratchett's 1992 Discworld novel (the 14th) Lor Leggi tutto
GoodReads.com
Review to follow tomorrow, hopefully 😬 So another fabulous, hilarious romp through the special world, that is the Discworld. In Lancre, King Verence is getting ready for his wedding to the witch Magrat. Guests have been invited, celebrations are being prepared, plays are being practised (which may no Leggi tutto
GoodReads.com
i agree wholeheartedly, this is my FAVORITE of the Witch series. I love Granny v Lily in "Witches Abroad," but if you delighted in Mrs. Weasley gettin all Sigourney Weaver on Bellatrix L in the last Harry Potter, YOU'LL LOVE the whole last third of the book. i squirmed with glee as soon as Magrat pu Leggi tutto
GoodReads.com
Lancre, Granny's "turf". Very bad idea to invade here and challenge a certain witch. BWAHAHAHAHAHAHA. In this 14th volume of the Discworld series our three witches Granny Esme Weatherwax, Nanny Githa Ogg and Magrat return after their adventure in Genua to find all preparations made for a certain roya Leggi tutto
GoodReads.com
Another delightful tale in The Witches subsection of Prachett's amazing Discworld series, the fact that it immediately follows on from Witches Abroad made it even more enjoyable. I really love spending time with these characters in particular. There's so many aspects that make this series great and th Leggi tutto
GoodReads.com
The great Re-Read of Discworld continues... with the witches. :) This is a pretty direct followup from Mag's romantic adventure with the king-to-be and culminating in the grand wedding between the two. As weddings go, every grand personage of the Discworld (or so it seems) has been invited to the we Leggi tutto
GoodReads.com
My 1000th read here on GR and first 5 stars this year (not counting re-read).
GoodReads.com
Part of the Pratchett reread with the SpecFic Buddy Reads group. This book has Granny Weatherwax, Nanny Ogg and Magrat Garlick returning home to Lancre from their time away (see Witches Abroad ). Magrat gets to finally resolve her situation with King Verence and begin dealing with her post-Witch situ Leggi tutto
GoodReads.com
Aggiungi la tua recensione
Altri libri di Terry Pratchett
Il Libraio per te
Scopri i nostri suggerimenti di lettura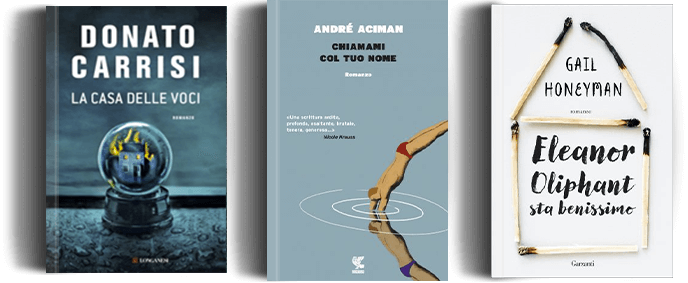 Ancora alla ricerca del libro perfetto?
Compila uno o più campi e lo troverai