Che la caccia abbia inizio
La notte del predatore
Tutti i formati dell'opera
Acquistalo
Il maestro mondiale del romanzo d'avventura.
la Repubblica
Il re dell'avventura è sempre in vetta.
Corriere della Sera
Sinossi
Da quando la sua amatissima moglie, Hazel Bannock, è stata barbaramente uccisa, Hector Cross non ha più pace. Uno solo dei due colpevoli è rimasto in vita: Johnny Congo, psicopatico violento, estorsore e assassino, responsabile dell'inferno in cui è piombato l'ex maggiore dei SAS.
Ora che il criminale è stato assicurato alla giustizia, Hector lo vuole morto, e con lui il governo degli Stati Uniti.
Congo è rinchiuso in un carcere di massima sicurezza e conta i giorni che lo separano dall'esecuzione. Gli restano poche settimane, e vuole scappare; lo ha già fatto in passato, sa che può farlo di nuovo…
Intanto, l'attività della Bannock sembra essere entrata nel mirino di un doppio attacco, dietro il quale si nascondono interessi ramificati e letali. Nel suo ruolo di responsabile della sicurezza della multinazionale, Hector si prepara a intervenire, accompagnato dalla sua squadra. Quello che sembrava un gioco da ragazzi si rivela però una missione che mette a dura prova Hector, costringendolo a fare i conti con i propri limiti fisici ed emotivi, proprio ora che uno spiraglio di luce tornava a illuminare la sua vita sentimentale. Ma Hector non ha intenzione di fermarsi prima di aver preso in trappola la sua preda...
ISBN: 8850251939
Casa Editrice: TEA
Pagine: 484
Recensioni
A Mente Lacrau Ora aqui está um thriller que cumpre: Tem acção, aventura, "twists and turns" e decorre a um passo acelerado, que o torna difícil de poisar. E quanto a mim tem um plus -- traça um perfil psicológico dum psicopata, que me soou deveras convincente! O autor penetrou no emaranhado complexo da Leggi tutto
GoodReads.com
I received this book for a Goodreads Giveaway. Thank you to the authors, Wilbur Smith and Tom Cain, and the publisher, Harper Collins, for the opportunity. This has in no way impacted my judgement and all opinions are my own. Predator is the third installment in the Hector Cross crime series, which I Leggi tutto
GoodReads.com
"The best revenge is to be unlike him who performed the injury." ----Marcus Aurelius Wilbur Smith, the bestselling author, pens his latest thriller from his Hector Cross series called, Predator that is also contributed by the internationally bestselling author, Tom Cain. This book centers around t Leggi tutto
GoodReads.com
Okay. I've had enough. My favorite fiction writer of all time is no more. I don't know what has happened, but the Wilbur Smith I know who would keep me on the edge is gone, replaced by something, I'm not sure what, but I will read no more of these. This fills me with great sorrow. I may have to rere Leggi tutto
GoodReads.com
This is NOT a Wilbur Smith novel! It is a sorry substitute for one. Wilbur has said that he sincerely followed the advice of his first publisher and Mentor Charles Pick to "Write only about those things you know well." anmd that "Since then hehas written only about Africa..." Well, this novel is not Leggi tutto
GoodReads.com
The hunt begins... Fast-paced-ongoing action, interesting characters, and a big journey from the meanders of Africa to Alaska, Arabia, USA and Europe, following the main character and his team in his adventures and misadventures as a Bannock oilfield industry security chief. This is not my type of b Leggi tutto
GoodReads.com
I thought the book was really poorly written. The ebook copy I had (from OneClick Digital) did not have any chapter markers and had numerous grammatic and spelling errors. But the worst part was the way the story line jumped around and the plot holes. The author spent a lot of time telling us about
GoodReads.com
"Predator" is an action-packed thriller that continues after the death of Hector Cross's wife , the killing of vicious and ruthless Carl Bannock and the handing over of Johnny Congo an extortionist and multi- murderer to legal justice. Life for Hector returns to normal with his girlfriend Jo Stanley Leggi tutto
GoodReads.com
This is what is usually called a thriller. Not a psychological one, just a thriller. It seems to be the term used by diverse adventure/action stories, where death is always lurking around, with men prone to violence and description of this violence. I have just defined what prevents me from enjoying Leggi tutto
GoodReads.com
Nastiya could have been a much more interesting character. i wanted to know more about her. More detail of her fathers character and him playing more of a part in the overall story would have been a welcome addition also. Her sisters character was so tepid I can't even recall her name although I on
GoodReads.com
Aggiungi la tua recensione
Altri libri di Wilbur Smith
Il Libraio per te
Scopri i nostri suggerimenti di lettura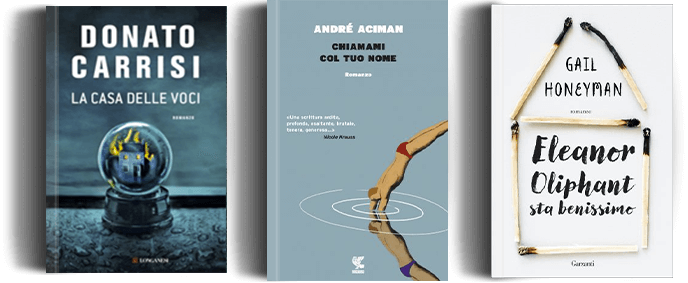 Ancora alla ricerca del libro perfetto?
Compila uno o più campi e lo troverai