I dodici segni
Tutti i formati dell'opera
Acquistalo
Sinossi
New York, due di notte. Un vagone della metropolitana corre semivuoto sotto la città. A bordo, sei figure stanche, una delle quali è Jack Reacher, l'eroe solitario che ha scelto una vita da vagabondo per le strade d'America. Mentre cerca di ammazzare la noia, Reacher nota qualcosa di strano in uno dei suoi compagni di viaggio, una donna seduta in fondo al vagone. Tutto nel suo comportamento sembra corrispondere alle caratteristiche contenute nell'elenco stilato dai servizi segreti israeliani per individuare un terrorista suicida. Fiutato il pericolo, Reacher le si avvicina e si qualifica, mentendo, come poliziotto; ma quando le chiede di togliere lentamente la mano dalla borsa che tiene in grembo, la donna, al posto del pulsante di un detonatore, estrae una pistola e si suicida. Questa morte assurda e inspiegabile, l'intervento immediato di uomini del New York Police Department e dell'FBI, nonché la scoperta che la donna, Susan Mark, era un'impiegata del Pentagono, spingono Reacher, come sempre testardo e solo contro tutti, a addentrarsi nel mistero per poter vederci chiaro?
Un action thriller senza respiro, che ci porta nel cuore delle più grandi paure del mondo occidentale, fino a un inaspettato, sorprendente finale.
ISBN: 8830430781
Casa Editrice: Longanesi
Pagine: 411
Recensioni
Gone Tomorrow (Jack Reacher, #13), Lee Child Gone Tomorrow is the thirteenth book in the Jack Reacher series written by Lee Child. It is written in the first person, and first published on 2009. It's 2 am, and Jack Reacher is travelling on the New York City Subway. He notices a suspicious looking pas Leggi tutto
GoodReads.com
Superbly fantastic and definitely worth reading. Lee Child has outdone himself once again with this thirteenth installment of Jack Reacher series. Unmistakably, Gone Tomorrow falls into the 'exceptional read' category. For me, this book had a very riveting and ingenious plot, and with each unforeseea Leggi tutto
GoodReads.com
This one's hard to review because any little detail I reveal might turn out to spoil a surprise for someone. I will say this was an exciting, satisfying read. Much more like his earlier Reacher books that got us hooked. Once you get past a certain point in the book, there's no good stopping point. Y Leggi tutto
GoodReads.com
You know that game you can play where "The Karate Kid" becomes a lot funnier if you just imagine that Mr. Miyagi is stoned the whole time? You don't? Well, now you do. Anyway, I've devised my own little game, and I play it every time I read a Lee Child thriller. I imagine that his hero, Jack Reacher, Leggi tutto
GoodReads.com
My Rating: 2.9/5 It's a good book. Boring half the time though and repetitive. I expected more.
GoodReads.com
Another outstanding Reacher ... Lee Child never fails to write powerful, tense action
GoodReads.com
This book was brilliant. I couldn't put it down. The action was there right from the beginning and didn't let up throughout the whole story. The plot was fast paced, which made it a real page turner. The main character is one of those people that you can't help but like, despite the fact that he's a Leggi tutto
GoodReads.com
I like the Jack Reacher series but my goodness this was tedious. I kept putting it down and not wanting to go back to it. Reacher is on a New York train when he sees a woman who meets all the usual requirements for a suicide bomber but when he sticks his snout in, the woman whips out a gun and kills Leggi tutto
GoodReads.com
Book 13 in the Jack Reacher series. Another high action, heart pumping Jack Reacher thriller. Jack just can't help himself, no matter what the situation he just has to get involved. On this occasion Jack is sitting on an underground train at 2 am, as you do, when he sees a woman acting strangely, just Leggi tutto
GoodReads.com
4 stars Warning: There are brutal torture scenes at about 38% and 72% through the book. I skipped them. As usual with my reviews, please first read the publisher's blurb/summary of the book. Thank you. There's a lot of holes in this, and excessive detail a bit too often (a well-known Child flaw), b Leggi tutto
GoodReads.com
Aggiungi la tua recensione
Il Libraio per te
I libri scelti in base ai tuoi interessi
Il Libraio per te
Scopri i nostri suggerimenti di lettura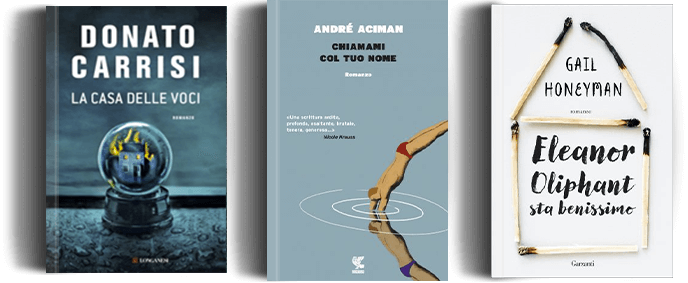 Ancora alla ricerca del libro perfetto?
Compila uno o più campi e lo troverai