Inarrestabile
Tutti i formati dell'opera
Acquistalo
Innarrestabile è in assoluto il miglior thriller della serie
The Washington Times
Sinossi
IL NUOVO, ELETTRIZZANTE CAPITOLO DI UNA SERIE BESTSELLER: OLTRE 1 MILIONE DI COPIE IN ITALIA
Autore dell'anno - British Book Awards 2019
Jack Reacher sta visitando una piccola cittadina del Wisconsin, quando nota all'interno della vetrina di un banco di pegni un anello commemorativo di un anno accademico: West Point 2005. Un anno difficile per diplomarsi: si era nel pieno dell'intervento militare in Iraq e poi in Afghanistan. L'anello è piccolo, da donna e al suo interno presenta le sue iniziali incise. Reacher si domanda quali sfortunate circostanze l'abbiano portata a rinunciare a qualcosa per cui ha dovuto lavorare quattro duri anni e si mette in testa di scoprirlo. Di ritrovare la donna e di restituirle l'anello. In fin dei conti «Perché mai non dovrebbe?». Ha inizio così l'estenuante viaggio che porterà Reacher attraverso il Midwest, passando da un bar malfamato nella parte deprimente di una cittadina a un sudicio incrocio nel mezzo del nulla, incontrando lungo il percorso motociclisti, poliziotti, delinquenti, scagnozzi e un investigatore privato specializzato in casi di persone scomparse, vestito in giacca e cravatta pur trovandosi nella parte più sperduta del Wyoming. Più Reacher indaga e più inizia a capire, più la vicenda si fa pericolosa. Salta fuori infatti che l'anello è solo la punta dell'iceberg di una storia ben più oscura. Forze potenti fanno la guardia a un vastissimo impero criminale. Ci sono limiti che è meglio non tentare di superare. Ma anche sfidare Jack Reacher non è mai una buona idea…

ISBN: 8830452327
Casa Editrice: Longanesi
Pagine: 400
Recensioni
Jack Reacher. You could call him Bigfoot. You could call him The Hulk. But you could never call him Tom Cruise.
GoodReads.com
There once was a character named Reacher Who whupped on bad dudes like a creature Now Reacher's a shell of his once former self With writing so lame, so timid, so tame Jack's damn near a pacifist preacher. Child loves to bore us with lists And gives Reacher chickens for fists His glory days are done Reacher Leggi tutto
GoodReads.com
Lee Child is back with the twenty-second high-impact Jack Reacher novel that pulls on various aspects of current affairs, while addressing some large tears in the military fabric of the United States. While strolling through a Wisconsin town, Reacher comes across a petite West Point ring from the gr Leggi tutto
GoodReads.com
This is one of the best Jack Reacher books ever. It's not even in comparison to the last two so-so books. It is simply one of the best and has everything in it that has made us fall in love with Reacher and follow the 6'5", 250 pound former military policeman who ambles across America with no real d Leggi tutto
GoodReads.com
The year is 1997, Heathrow terminal 4, and by some luck I bought, Killing Floor, the riveting and action-packed start to the JR series and now, 20 years and 22 books on with the latest being The Midnight Line, I mourn the loss of the real and enigmatic JR.In all honesty, I think I've outgrown this c Leggi tutto
GoodReads.com
The Midnight Line is all about honor. Jack Reacher comes upon a West Point ring in a pawn shop and wants to return it to it's owner. The book is set in the wide open Midwest and Lee Child makes you feel as if you are there. The dialogue is smart and very entertaining. Terrific repertoire. The series Leggi tutto
GoodReads.com
I really enjoyed this twenty second outing with Jack Reacher. It started out smart and funny and developed into an excellent story. Of course Jack's latest girlfriend from the last book disappeared instantly. Not surprising really since he doesn't own a suitcase let alone a house. Not good relationsh Leggi tutto
GoodReads.com
I listened to this on audio, this is not a series I have read but I was looking for something light which I thought this might be. There was plenty of action and a story triggered by Reacher discovering a West Point ring in a pawn shop, which he decides to find the owner of and return. It was great
GoodReads.com
Before I get any fans upset about my review, a three star from me denotes a good book. So that stated I will say I know this series has millions of fans who would probably read a grocery list written by Mr. Child. My husband is a fan and we thought we'd have a little buddy read. He has read all of t Leggi tutto
GoodReads.com
I'd taken a brief sojourn from the Reacher books. For a while they'd felt samey and contrived. The big man was also starting to feel way too predictable with his habits, his and his incessant coffee drinking and the like. And not only that, the stories were now clearly formulaic and, frankly, dull. Leggi tutto
GoodReads.com
Aggiungi la tua recensione
Il Libraio per te
I libri scelti in base ai tuoi interessi
Il Libraio per te
Scopri i nostri suggerimenti di lettura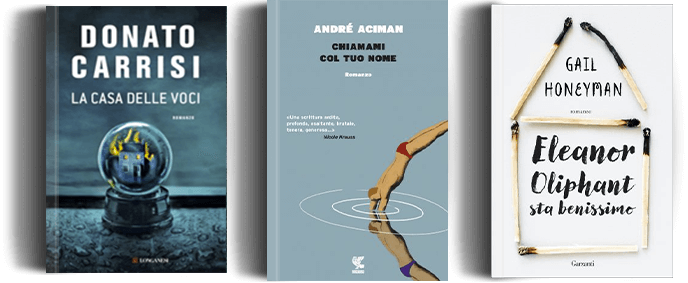 Ancora alla ricerca del libro perfetto?
Compila uno o più campi e lo troverai