LE SEI PIETRE SACRE
Tutti i formati dell'opera
Acquistalo
Sinossi
Dopo aver ritrovato i sette frammenti della punta d'oro massiccio della Piramide di Giza, Jack West è convinto di potersi godere un meritato riposo in Australia, insieme con Lily, la sua figlia adottiva. Ma, quando un membro del suo team lo contatta per avvertirlo di un pericolo imminente, West capisce subito che superare le Sette Prove è stato soltanto l'inizio: il mondo ha ancora bisogno di lui e dei suoi fidati compagni. Questa volta la missione consiste nell'individuare sei leggendari diamanti ? i Pilastri ? e incastonarli nelle altrettanto leggendarie Sei Pietre Sacre: soltanto così sarà possibile contrastare un'immensa fonte di energia che finirebbe per distruggere completamente l'umanità. Nel breve arco di nove giorni, il gruppo di West dovrà decifrare l'enigma di Stonehenge e violare le camere segrete delle piramidi, sopravvivere a un inseguimento sulle montagne della Cina e a una tribù cannibale in Congo?
ISBN: 8842915599
Casa Editrice: Nord
Pagine: 512
Recensioni
Action! Adventure! Honestly, I don't usually go in for this kind of novel unless pressured by friends or I am just watching some SF adventure, but I can see the appeal. More than that, even. The pacing is always great and while it's not *exactly* a serial adventure right out of the 30's, it has all t Leggi tutto
GoodReads.com
Book two in the Jack West series. This book redefines the meaning of 'Action Packed'. 400 hundred pages, give or take, of the most death defying non stop action you can ever imagine. I have to admit that there were times when I wished that the author (Matthew Reilly) would take his foot off the pedal Leggi tutto
GoodReads.com
This was lent to me by a friend, so I did try my best to enjoy it. But this kind of action-adventure-movie transformed into a book just isn't really my thing. Not only the increasingly ridiculous situations the characters find themselves in - "Block of stone about to fall and crush me? I will block
GoodReads.com
Matthew Reilly is very quickly becoming a favourite author of mine. This is a fast-paced, page-turning, character-loving, thrilling journey through some exotic places with some fantastic archaeology, history and geography to boot. The end of this book left me adding more Matthew Reilly novels to my TB Leggi tutto
GoodReads.com
Whenever I read a review for a Matthew Reilly book I am immediately putting the reviews into one of two categories. Category G - they got it. Category M - missed the point. Reilly is one of the best at writing books that could be an action movie directed by Bay or Bruckheimer. They are meant to be a Leggi tutto
GoodReads.com
Matthew Reilly's writing is the written equivalent of someone showing you something, then bringing it so close to your face so as to almost hit you, repeatedly. I don't understand why he thinks his audience is so stupid. Literally every page has about 4 or 5 words that are italicised; he often re-de Leggi tutto
GoodReads.com
Just like the first book in the series, I couldn't put this one down. Mattew Reilly really knows how to rope in his audience and keep them on the edge of their seats with non-stop action and characters that are easy to love. Stephen King's Dark Tower series has always been my favourite book series b Leggi tutto
GoodReads.com
I will be burning this book right after Im done writing this review. As long as I can remember, it never took me this long to finish any book but this one did it for me, I would open this book, read a page and then snap it shut because it required an intellectual level of a teaspoon for someone to h Leggi tutto
GoodReads.com
A big sequel to Seven Deadly Wonders, and possibly even more intriguing than the first. Once again I choose to describe it as "Dan Brown meets Indiana Jones" in a story full of great bits of history and mythology. You have to suspend belief perhaps a bit more than is normal for a thriller, but this
GoodReads.com
I thought it was my lucky day: a friend of mine recently came back from Europe and gave me a book, which had been let behind on the seat of a plane. The Six Sacred Stones, by Australian author Matthew Reilly. I had never read any of Reilly's books, in spite of his huge success, and I was kind of cur Leggi tutto
GoodReads.com
Aggiungi la tua recensione
Altri libri di Matthew Reilly
Il Libraio per te
Scopri i nostri suggerimenti di lettura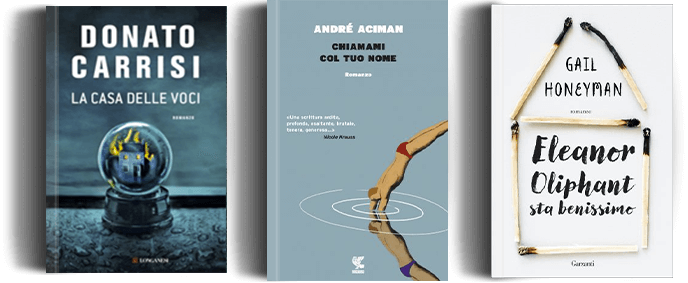 Ancora alla ricerca del libro perfetto?
Compila uno o più campi e lo troverai