Incontro in Egitto
Tutti i formati dell'opera
Acquistalo
Sinossi
Claudia Hampton, bella, famosa e intrepida corrispondente dall'Egitto durante la Seconda guerra mondiale, e celebrata studiosa di storia negli anni successivi, sta morendo. E decide di raccontare la storia della sua vita, dei suoi amori e delle sue sconfitte: "Ma la cronologia mi irrita. Non c'è cronologia dentro di me. Io sono una miriade di Claudia che si muovono si mescolano e si dividono come scintille di luce sulla superficie dell'acqua". E così i ricordi cominciano a prendere forma in modo apparentemente disordinato, a comporsi in un mosaico di eventi e avvenimenti che coprono quasi un secolo di esistenza, dagli anni della sua infanzia, il primo dopoguerra, fino all'attualità dei nostri giorni.
ISBN: 8882466604
Casa Editrice: Guanda
Pagine: 216
Recensioni
[U]nless I am a part of everything I am nothing. We are like waves in a vast ocean moving forward to break upon the shore and vanish, yet the ocean remains. Each wave has it's own narrative, each person a starring role in the story of their own lives, yet all of us are a collective ocean of minor and Leggi tutto
GoodReads.com
"The voice of history, of course, is composite. Many voices; all the voices that have managed to get themselves heard. Some louder than others, naturally. My story is tangled with the stories of others – Mother, Gordon, Jasper, Lisa, and one other person above all; their voices must be heard also, t Leggi tutto
GoodReads.com
The narrator announces this is to be a history of the world. What she means, we soon learn, is that it will be a history of the world as experienced by her. We have all been exposed at certain times of our life to moments of history which mysteriously remain an essential part of who we are. Perhaps
GoodReads.com
A very personal take on history If I ever met Ms. Penelope Lively, it'd go one of two ways: I'd embarrass myself, falling over her with syrupy praise, thanking her with babbling, awkward effusiveness for creating such a masterpiece OR I'd tell her with the bitterness of a withered crone that read
GoodReads.com
Utterly compelling historical novel that plays with time and perspective in fascinating ways. Claudia Hampton sets out to tell the history of the world. And she does exactly that. Only it's her own private world she describes, with all its secrets. Lively does a masterful job of shifting perspective Leggi tutto
GoodReads.com
Claudia Hampton speaks to me of wars fought in distant lands, of the ever-persistent forward march of humanity in the quest for collective betterment, of stories unknowingly buried forever in the catacombs of time and never unearthed, of the people we carry in our hearts wherever we go, of the histo Leggi tutto
GoodReads.com
I liked this when it wasn't posturing. But I felt it postured a lot. And largely fell short of its admirable ambitions. I generally felt Lively is probably a more conservative novelist at heart and this was her attempt at pushing back her boundaries, the literary equivalent of an habitually conventi Leggi tutto
GoodReads.com
Wow. Just wow. The nerdiness quotient in how I picked this book up is off the charts (it was quoted in an article I was reading for my thesis) but I can honestly say I have rarely made so wise a geeky decision. To read the summary on the back in a bookstore, I doubt I would have decided to read it.
GoodReads.com
The more I think about and talk about this book, the more impressed I am by it. It won the Man Booker Prize in 1987 but had bad reviews. It was selected as the book from the 1980s to go up for the Golden Man Booker Prize this year, and despite the fact that it didn't ultimately win, I feel like that Leggi tutto
GoodReads.com
This is one of these situations where I just loved this book so much that I don't think my review will be able to contain all my enthusiasm for it. It is only now, I realise how close I came to never reading this. It is not really a book that advertises exactly what it is, (I had vague notions of ro Leggi tutto
GoodReads.com
Aggiungi la tua recensione
Altri libri di Penelope Lively
Il Libraio per te
Scopri i nostri suggerimenti di lettura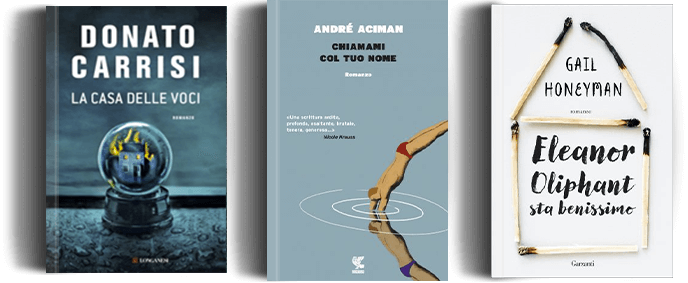 Ancora alla ricerca del libro perfetto?
Compila uno o più campi e lo troverai