Tartarughe divine
Tutti i formati dell'opera
Acquistalo
Sinossi
Brutha è il Prescelto. Il suo dio gli ha parlato, sebbene, ehm, sotto forma di tartaruga. Brutha è un ragazzo semplice. Non sa leggere. Non sa scrivere. È bravino a coltivare i meloni. E i suoi desideri sono pochi e ragionevoli. Vuole rovesciare una tentacolare Chiesa corrotta. Vuole evitare un'orribile e sanguinosa guerra santa. Vuole fermare la persecuzione di un filosofo che ha avuto il coraggio di suggerire che, contrariamente al dogma della Chiesa, Mondo Disco fluttua veramente nello spazio sul dorso di una gigantesca tartaruga (Il che è vero, ma la Quisizione non ha nessuna intenzione di ammetterlo...). Lui vuole la pace, la giustizia e l'amore fraterno. Lui vuole che la Quisizione smetta di torturarlo adesso, per favore. Ma soprattutto ciò che vuole davvero, più di ogni altra cosa, è che il suo dio elegga un altro Prescelto... Il romanzo di Terry Pratchett, è una dissacrante, amara satira contro i totalitarismi di ogni genere.
ISBN: 8862565046
Casa Editrice: Salani
Pagine: 347
Data di uscita: 19-05-2011
Recensioni
It´s one of Pratchett´s best works, retelling what has happened, happens, and will happen as soon as faith goes mad, uncontrolled, and vicious, tries to expand it´s sphere of influence and doesn´t care about the foundations and rules, contradicting its own commandments. The idea of the manifested pow Leggi tutto
GoodReads.com
This was the first Pratchett book I read, and I'm glad of it. While it has the humor and satire that is inherent in all of the Discworld books, it also has something else - something to say. It was evident, even from the first time I read this book, that Pratchett had put some real heavy thinking in Leggi tutto
GoodReads.com
Check out my new youtube channel where I show my instant reactions to reading fantasy books seconds after I finish the book. In a series with hits and misses, this one is a world series winning grand slam While I am a big fan of Discworld , this book is probably my favorite book of them all. And th
GoodReads.com
One of Pratchett's best Discworld novels. Pratchett delivers a brilliant parody of religion in this early (the 13th) standalone. In the land of Omnia, the great god Om is worshiped and all who don't are subject to the Quisition – a satire of the political/theological Inquisition. His high priest Vorb Leggi tutto
GoodReads.com
Bulgarian review below/Ревюто на български е по-долу"YOU HAVE PERHAPS HEARD THE PHRASE, he said, THAT HELL IS OTHER PEOPLE?""Yes. Yes, of course."Death nodded."IN TIME, he said, YOU WILL LEARN THAT IT IS WRONG." It makes you contemplate so many things. Beyond religion too. There were so many passages Leggi tutto
GoodReads.com
This is another of my rereads of a Discworld novel by Terry Pratchett and let me tell you it was an absolute joy to return to the flat planet on the back of four elephants on a giant turtle. The author goes to town on this parody and satire on religion, and our history and contemporary present, achi Leggi tutto
GoodReads.com
So this is book 13 in my continuing monthly saga of reading all the Discworld novels. And what a good entry in the saga this was. (As an aside i am a little behind in my reading timetable, as I was meant to finish this in January. My challenge shows me ahead, but that is only because I listened to a Leggi tutto
GoodReads.com
Small Gods (Discworld, #13), Terry Pratchett The Great God Om tries to manifest himself once more in the world, as the time of his eighth prophet is nigh. He is surprised, however, when he finds himself in the body of a tortoise, stripped of his divine powers. In the gardens of Omnia's capital he addr Leggi tutto
GoodReads.com
The high and mighty Om , has been stuck as a tortoise for over three years now. Odd really that this should happen with a country full of zealous believers at His disposal. They're devout enough to wage war in His name. At the same time, they seem to have trouble hearing His request for more lettuce Leggi tutto
GoodReads.com
One of the Discworld novels that doesn't belong to any character sub-series, Small Gods is nevertheless one of the best ones I've read so far. Terry Pratchett was a humanist. That is to say, he wasn't religious. He apparently distinguished between religion (as in: religious institutions such as The C Leggi tutto
GoodReads.com
Aggiungi la tua recensione
Altri libri di Terry Pratchett
Il Libraio per te
I libri scelti in base ai tuoi interessi
Il Libraio per te
Scopri i nostri suggerimenti di lettura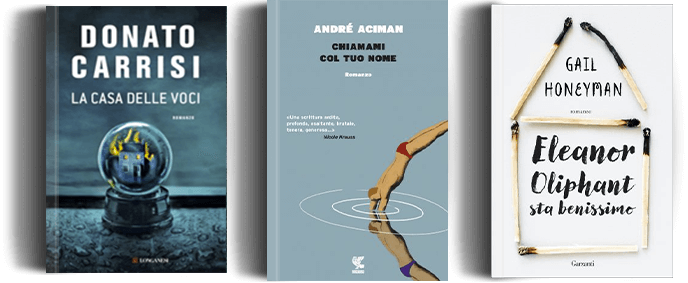 Ancora alla ricerca del libro perfetto?
Compila uno o più campi e lo troverai