La regina dei dannati
Tutti i formati dell'opera
Acquistalo
Sinossi
Dopo seimila anni di tenebrosa immobilità, Akasha, già sovrana della valle del sacro Nilo, madre di tutti i vampiri e Regina dei Dannati, si è destata dal suo sonno, liberando le più oscure forze del male sulla Terra. Il suo mostruoso disegno di dominio del mondo dei vivi e dei non-morti deve essere fermato o l'intera umanità sarà distrutta. Toccherà al vampiro Lestat, demone senza età che ammalia i mortali sotto le spoglie di una rock star, contrastare i poteri innominabili che obbediscono ad Akasha. Lui ha osato sfidarla, risvegliandola da un sonno immemore e svelandone il segreto nelle sue canzoni, lui dovrà sconfiggerla, prima che sia troppo tardi.
ISBN: 8850236360
Casa Editrice: TEA
Pagine: 510
Recensioni
Of all of the vampire chronicles this is by far my favorite. If you have seen the movie and were not impressed. It's ok because neither was I. The movie is nothing like the book in any way. The book goes into detail and answers a lot questions. Goes into detail of the family tree and tells you how A Leggi tutto
GoodReads.com
This was the book that pretty much killed my desire to read anything more by Rice. Only 3 books into the Chronicles and I was already weary of her style. As it was, the book was so dull that it took me ages to finish it. I despised a great deal of the new characters and their stories, but as usual,
GoodReads.com
I read a lot of Anne Rice in the 80s, both her Vampire Chronicles and her Mayfair Witches series. I always find her very readable and there is always some dark beauty in her prose. However, like most series the quality tend to drop off after three or four volumes, the authors either begin to repeat
GoodReads.com
This was the best one of them all. It fills in all the holes and makes for a fascinating read. The only character who didn't seem to fit in with the story was the Baby character who killed her mother and father. The only thing I could figure out was that she gave us Anne Rice's ideas of the afterlif Leggi tutto
GoodReads.com
The Queen of the Damned is the third book of the successful "Vampire Chronicles" saga by the author Anne Rice. For me, it's a novel that is impossible to understand without reading "Lestat, the vampire". In this chapter, Rice immerses you in the bowels of the origin of vampires and the myths and leg Leggi tutto
GoodReads.com
I kept waiting for it to get interesting but it never did. It got stupider and stupider until I thought my brains were leaking out. If I were on a desert island with nothing to read but this book, I would scratch out old 80's pop lyrics with a twig in the sand before trying to read this dreck again. Leggi tutto
GoodReads.com
La reina de los condenados ha despertado finalmente, Akasha la madre de todos los vampiros ha dejado su letargo y tiene una misión en mente, acomodar todo el caótico mundo en el que vivimos, pero como los humanos que han tenido esa idea, y que padecen de un terrible exceso de soberbia, ella tiene u Leggi tutto
GoodReads.com
I like books. I like reading them, writing them, sleeping with every word I have ever read staring down at me in a legacy of comforting language. I have only ever in my life put down two books without finishing them, and throughout this whole torturous affair I had to continuously remind myself that Leggi tutto
GoodReads.com
I didn't enjoy this book quite as much as the first two in the series but it is a thoroughly entrancing read nonetheless! Rice has such a way with words, she writes so beautifully and it amazes me more with each book I read by her. I enjoyed the more historical aspect of this one, getting to know th Leggi tutto
GoodReads.com
The Vampire Chronicles — Anne Rice's seminal work — keeps getting better. While I was lukewarm on Interview With the Vampire (though my reading of its sequels has deepened my appreciation of that dark little novel), I quite enjoyed The Vampire Lestat and was blown away by The Queen of the Damned . Th Leggi tutto
GoodReads.com
Aggiungi la tua recensione
Il Libraio per te
Scopri i nostri suggerimenti di lettura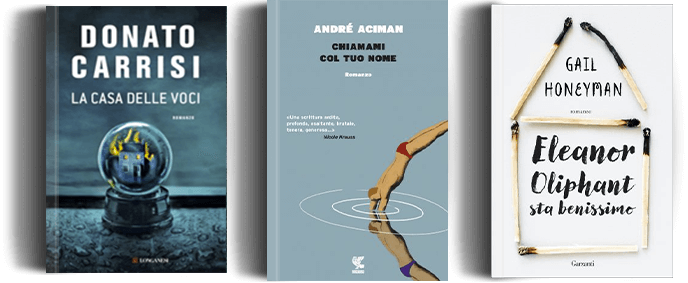 Ancora alla ricerca del libro perfetto?
Compila uno o più campi e lo troverai