Risveglio
Tutti i formati dell'opera
Acquistalo
Sinossi
Il racconto torbido e seducente di un risveglio sessuale

Vittima di un perfido incantesimo, la principessa Bella ha dormito per cent'anni e tutti coloro che hanno tentato di svegliarla sono morti nell'impresa. Ma poi è arrivato lui, il Principe, affascinante e spietato, e Bella si è svegliata dal suo sonno secolare. Ora lei gli appartiene totalmente, ne è diventata la schiava, e dovrà seguirlo alla corte della regina Eleonora, madre del principe. Qui, in un ambiente raffinato e perverso, altri giovani di sangue reale imparano a conoscere il piacere e il dolore. Sopraffatta dal desiderio e dalla passione, Bella diventa la favorita del Principe e della sua amante, la crudele Donna Giuliana, e sperimenta i rigori della Sala d'Addestramento e le spietate prove della Sala delle Punizioni. Ma alla corte l'aspetta anche un sentimento nuovo, che ha gli occhi dolci e profondi di un altro schiavo come lei. L'amore però è proibito agli schiavi e la punizione per chi vi cede può essere molto crudele… Anne Rice, la regina dei vampiri, si cimenta questa volta con le mille sfumature dell' eros.
ISBN: 8830436089
Casa Editrice: Longanesi
Pagine: 237
Data di uscita: 07-03-2013
Recensioni
I want to bleach my brain after reading this. No, I'm not a prude (I'm a gynecologist, I've seen and heard EVERYTHING). It's just THAT BAD. Public service notice: This book has been brought to you thanks to the generous sponsorship by the word 'spanking'. Which is repeated so many times it almost do Leggi tutto
GoodReads.com
WARNING: ANIMATED .GIF DUMP, just because I can't take this book seriously. Finished, and I am so glad that this book is now out of my life and hidden away. This book elicited very strong emotions from me, from disbelief to WTF to OMG enough with the spanking already! in as little as 30 pages. I've m Leggi tutto
GoodReads.com
Oh no,no,no,no,no,no......NO!! What in the name of Holy Mother was that??? A JOKE??? Because seriously,if it is then call me dumb but I don't get it!! Now first of all,let me clarify that I love erotica and the fact that this story was supposed to be an erotic-retelling of Sleeping Beauty, captured
GoodReads.com
First off: Are reviewers here doing their job when reading? Aren't we supposed to abandon our preconceptions when opening a book? On that note, this is one of those books. In order to fully enjoy it, I have some recommendations: 1) This series IS NOT EROTICA. This is full blown pornography. If we def Leggi tutto
GoodReads.com
I was hoping for a more grown up version of the classic Sleeping Beauty tale. Holy Moly! This isn't at all what I expected, and while I am not a prude by any stretch of the imagination, this book was way too intense for me. According to some, I'm not open minded or enlightened enough to appreciate it Leggi tutto
GoodReads.com
I got this in a boxed set one Christmas from my GRANDMOTHER. She knew I collected fairy tales and their adaptations. I'm fairly certain she had no idea the books were erotic. I think she just saw "Sleeping Beauty" and assumed I'd want it. She wanted to borrow it from me when I was done. I kept prete Leggi tutto
GoodReads.com
Instagram || Twitter || Facebook || Amazon || Pinterest 💙 I read this for the Unapologetic Romance Readers ' New Years 2018 Reading Challenge , for the category of: Fairytale Retelling Romance . For more info on this challenge, click here . 💙 When I was a preteen, I was out with my mom having brunch Leggi tutto
GoodReads.com
So my friend sent me an article about "50 Shades of Grey", mentioning that real erotica experts thought 50 was crap and "Sleeping Beauty" was the real thing. Because I am nothing if not thorough, I bought Sleeping Beauty #1. WHAT. THE FUCK. No. NO! NONONONONO. Who on earth thought THIS would be a good Leggi tutto
GoodReads.com
I can't help comment/review this book from the perspective of someone who has read it before and has recently read it again. As a whole I like to think of the trilogy like a flower. The first novel is the bud and then by the time you get to the end of the third novel it's in full bloom. Claiming star Leggi tutto
GoodReads.com
Ummm...I don't even know where to start. This book was definitely a far cry from the 'Sleeping Beauty' I remember from childhood. LOL! I love a good, dark, erotic story, but this was just bizarre. I had to create a new shelf for this one, named 'WTF did I just read'. Aside from the overzealous paddl Leggi tutto
GoodReads.com
Aggiungi la tua recensione
Il Libraio per te
I libri scelti in base ai tuoi interessi
Il Libraio per te
Scopri i nostri suggerimenti di lettura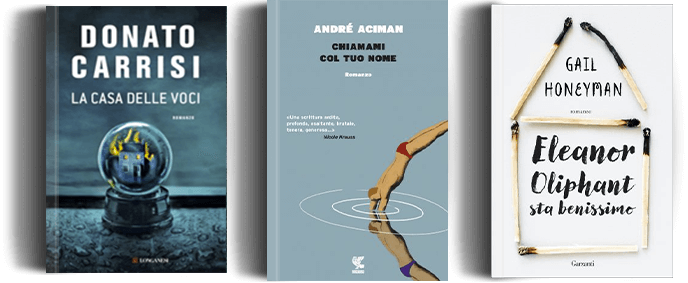 Ancora alla ricerca del libro perfetto?
Compila uno o più campi e lo troverai