Il ricercato
Tutti i formati dell'opera
Acquistalo
Sinossi
Lee Child: sempre al numero 1 delle classifiche USA e UK
Amato da tutti i colleghi scrittori per il suo stile ipnotico e incalzante:
"Il miglior autore contemporaneo di narrativa crime." - Haruki Murakami
IL ROMANZO
In una desolata contea del Nebraska, un uomo fa l'autostop nella notte. Ha il naso rotto e le poche auto che passano non lo guardano nemmeno. È Jack Reacher, ex poliziotto militare, che vive ormai alla giornata ed è diretto in Virginia. Finalmente, un'auto decide di fermarsi: a bordo ci sono due uomini e una donna, tutti in uniforme aziendale. Colleghi di lavoro in trasferta? Probabile, ma c'è una strana atmosfera in auto, la donna in particolare è molto tesa e silenziosa, e con l'arrivo di Reacher le cose prendono una piega sempre più inquietante. Intanto, a pochi chilometri da lì, è stato scoperto un omicidio: un uomo brutalmente ucciso in una vecchia stazione di pompaggio. Un testimone ha visto due uomini con le giacche sporche di sangue allontanarsi di gran fretta e ha avvertito lo sceriffo. Ma la vittima non è un cittadino qualsiasi: per lui si mobilitano subito l'FBI, l'Antiterrorismo e perfino la CIA. Inizia così una vera e propria caccia all'uomo, in cui si profila sempre più netta l'ombra della minaccia terroristica internazionale. Guidato dal suo radicato istinto all'azione, Reacher finirà per trovarsi coinvolto in una pericolosa vicenda, mettendo ancora una volta a rischio la propria vita…
ISBN: 883044202X
Casa Editrice: Longanesi
Pagine: 400
Recensioni
Not one of his best, but still satisfying for us Reacher fans. Cannot visualize pipsqueek Tom Cruise as Jack Reacher.
GoodReads.com
A Wanted Man (Jack Reacher, #17), Lee Child A Wanted Man is the seventeenth book in the Jack Reacher series written by Lee Child. It was published on 30 August 2012 in the United Kingdom. The novel is a sequel to Worth Dying For, despite its predecessor being The Affair which is a prequel novel. The Leggi tutto
GoodReads.com
This book was so bad that it made me crabby to read it. I am such a fan of the Reacher series that I can't believe how awful and painful of a read this was. The story is painfully slow ... and boring. No exaggeration, Reacher is in a car on the world's most boring car ride for the first 30 chapters
GoodReads.com
Ok, I like Jack Reacher novels. They're formulaic, completely predictable, and the action scenes are fun, in a shoot-em-up kind of way. I do continue to have a slight problem with his juvenile taunting, which often deteriorates into "yo mamma" territory, but maybe that's just me. What I really need
GoodReads.com
On the positive side, it's a Reacher book. On the negative side, it's not the same Reacher I have grown to enjoy reading. First, it starts where Worth Dying For ended. The problem with that is there was a prequel in between and I have very little recollection of the plot of WDF, which itself was a co Leggi tutto
GoodReads.com
Love all the Jack Reacher novels. Always fun and plenty of action.
GoodReads.com
Late one night in the middle of winter, Jack Reacher is standing by the road on an Interstate highway cloverleaf in the middle of nowhere, Nebraska. It's cold, there's very little traffic, and he's trying to hitch a ride that will get him to Chicago, from where he can make his way by bus or train to Leggi tutto
GoodReads.com
If a six-foot-five, two-hundred and fifty pound hobo with a busted nose manages to hitch a ride with strangers at night you can probably make a safe bet that something is amiss. Turns out there is more to his new traveling companions than meets the eye and Jack Reacher finds himself on a car ride th Leggi tutto
GoodReads.com
I really did not want to read the reviews for this book. So I waited a long time before finally adding it to my "read" list and then looking to see how many stars it got. I was right to wait, because as I predicted the 3 star reviews are starting to get on my nerves. Maybe there's just no pleasing p Leggi tutto
GoodReads.com
Just finished. Worst Reacher book ever. Why ? 1. He throws his first punch on page 327. 2. Has Lee Child accepted payment from McDonalds for product placement ? (count the number of times he mentions it in this book. Compare it to all his other books combined) 3. He throws his second punch on page 3 Leggi tutto
GoodReads.com
Aggiungi la tua recensione
Il Libraio per te
Scopri i nostri suggerimenti di lettura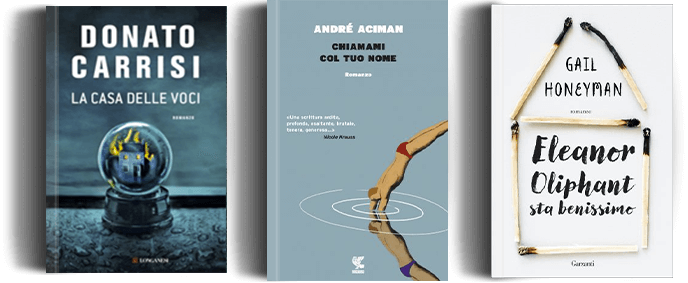 Ancora alla ricerca del libro perfetto?
Compila uno o più campi e lo troverai