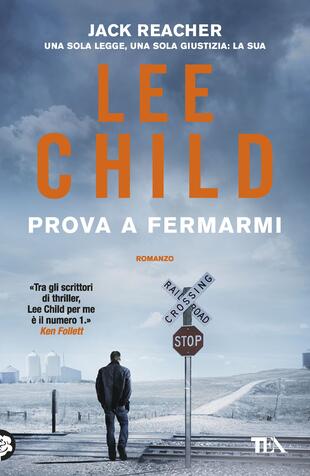 Jack Reacher: una sola legge, una sola giustizia. La sua.
Prova a fermarmi
Tutti i formati dell'opera
Acquistalo
Jack Reacher è uno dei personaggi più affascinanti tra quelli in circolazione.
Stephen King
Tra gli scrittori di thriller, Lee Child per me è il numero 1.
Ken Follett
Sinossi
Mother's Rest. Un piccolo paese in mezzo a un immenso campo di grano, popolato da individui scontrosi e lunatici. Jack Reacher si chiede il perché di quel nome particolare, ma nessuno sembra intenzionato a dare spiegazioni. Lungo la strada, Reacher incontra una donna visibilmente turbata: Michelle Chang. La giovane sembra averlo scambiato per un altro e, chiarito il malinteso, si confida: l'uomo con cui stava seguendo un'investigazione privata è scomparso da giorni e, ormai, Michelle teme il peggio.
Incuriosito dalla vicenda, Reacher decide di affiancarla nella ricerca e inizia a indagare. Quanto potrà essere complicato, dopotutto. Invece, ancor prima di rendersene conto, verrà risucchiato in una corsa disperata tra Los Angeles, Chicago, Phoenix e San Francisco. Attraverso i più oscuri recessi della rete dovrà vedersela a ogni passo con assassini e criminali... fino a tornare a Mother's Rest, dove dovrà affrontare il suo peggiore incubo.
Forse il giorno in cui aveva conosciuto Michelle avrebbe dovuto voltarsi e ignorare il caso. Sarebbe stato più semplice. Ma la regola per Jack Reacher è sempre la stessa: se vuoi fermarmi... provaci!

ISBN: 8850249888
Casa Editrice: TEA
Pagine: 412
Recensioni
Holy crap. I am running away with Jack Reacher. I don't care if I never get to wash my clothes or eat regular meals.
GoodReads.com
Number 20 in the Jack Reacher series and one of the best out of all of them! This Jack is slightly different from the usual and I wonder if Lee Child is planning on letting him have a relationship and stay in one place a while in the next book. I very much enjoyed his interactions with Chang and lau Leggi tutto
GoodReads.com
Make Me (Jack Reacher, #20), Lee Child Make Me is the twentieth book in the Jack Reacher series written by Lee Child. It was initially published on 8 September 2015 by Delacorte Press. The novel is written in the third person. "Why is this town called Mother's Rest?" That's all Reacher wants to know. Leggi tutto
GoodReads.com
Yes! Now this is a Jack Reacher book. Everything the last book wasn't. It starts with Reacher getting off a train in the small town of Mother's Rest. He's curious about the name and thinks he might spend a day or so there, checking out any local museum, getting the story from the locals, etc. But th Leggi tutto
GoodReads.com
Perhaps I have grown past Lee Child in this genre but I suspect it has more to do with the fact that once I loved Jack Reacher as described by Lee Child. I loved that he was a vagabond, someone who disliked the military for what it had done to him, someone who hated guns and didn't look for trouble
GoodReads.com
Pity poor Jack Reacher. It's like the guy can never get even ten minutes to himself to relax and enjoy life before he stumbles into some grave crisis that only someone as talented as Jack Reacher could ever hope to sort out and set right. In this case, Reacher is riding in a train through the vast he Leggi tutto
GoodReads.com
I do love Jack Reacher. Make Me is the 20th in Lee Child's Jack Reacher series and a good one. This time he is paired with Michelle Chang, ex-FBI and now a private investigator. I really enjoy reading about Reacher's relationship with women. The series always has strong female partners. Jack Reacher Leggi tutto
GoodReads.com
I proudly admit, right up front, that I am a genuine, card-carrying Reacher Creature. I will follow Reacher wherever he goes. I will read all future books and see all future movies. This book did not disappoint. Right from Chapter One, Reacher is in trouble, even though he doesn't know it yet. The s Leggi tutto
GoodReads.com
The 20th book in the Jack Reacher series by Lee Child. Having read and enjoyed the previous 19 in the series it was inevitable that I would read this one. All the books in this series have lots of action and this was no exception. A decent story and the book kept me interested throughout but never q Leggi tutto
GoodReads.com
Make Me is the 20th novel in Lee Child's iconic Jack Reacher Series. Having been slightly disappointed with the last couple of books in one of my favorite series, I was looking forward to this latest addition. I have grown to love Jack Reacher since I read the 1st book in the series….. a military co Leggi tutto
GoodReads.com
Aggiungi la tua recensione
Il Libraio per te
I libri scelti in base ai tuoi interessi
Il Libraio per te
Scopri i nostri suggerimenti di lettura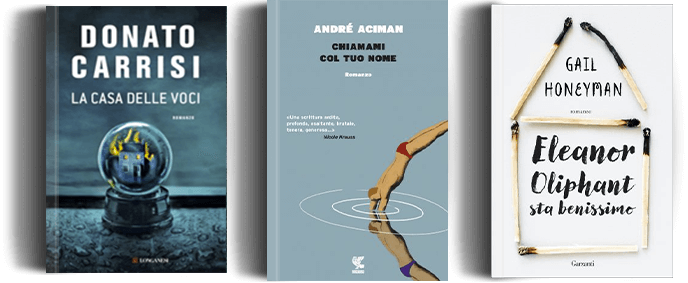 Ancora alla ricerca del libro perfetto?
Compila uno o più campi e lo troverai