LE SETTE PROVE
Tutti i formati dell'opera
Acquistalo
Sinossi
Nell'antichità erano sette; sette imponenti opere che si erano meritate il nome di Meraviglie del mondo. Oggi ne rimane soltanto una, la più enigmatica: la Piramide di Giza. Pochi tuttavia sanno che, 4500 anni fa, quel maestoso monumento era sovrastato da una punta d'oro massiccio, che, secondo una leggenda, avrebbe garantito potere e prosperità a chi ne fosse venuto in possesso. Per quel motivo Alessandro Magno aveva diviso la punta in sette pezzi e aveva nascosto ciascun frammento all'interno delle stesse Meraviglie, assicurandosi che nessuno potesse mai trovarli. Ma adesso quei sette frammenti sono diventati l'obiettivo principale sia dei governanti delle nazioni più potenti sia di spietati gruppi di terroristi internazionali.
ISBN: 8842914584
Casa Editrice: Nord
Pagine: 450
Recensioni
OH - GOOD - GRIEF. That's all I can say here. I started out with an open mind, I was looking forward to this book, I like action adventure and I'll forgive a lot if the book has a good action feel. Also, I'm a fantasy fan so I'm practiced at "suspending disbelief", I'll swallow a lot with a shrug and Leggi tutto
GoodReads.com
To the person who wrote this PoC™ slightly not very good story: who the fish are you, and what have you done with the guy who wrote Ice Station ?! You cannot be Matthew Reilly . That is just impossible. Because, seriously, this book here? It feels like it was written 30 years ago. By my 13-year-old ni Leggi tutto
GoodReads.com
I say it's SF, but that's only because I haven't bothered to add an Action/Adventure category. For this is what it is! Yeah, robot arms and flying suits and all, but best of all, and adventure to pick up your 5000 year old Legos or Amon Ra is gonna smite you! Say what? Is that even in this book? Well, Leggi tutto
GoodReads.com
This book was so completely terrible, so absolutely lacking in anything resembling worth, that I simply had to talk about it. It is so bad that I couldn't believe it, and kept reading with the sole purpose to find out how bad it could really get, and so I could tell everybody I knew how totally, com Leggi tutto
GoodReads.com
Seven Deadly Wonders introduces a new character by Matthew Reilly to me, Jack West Jr. It's very hard to follow in the footsteps of Shane 'Scarecrow' Schofield, because, well, he's the man! But I have to say I really do like Jack. What's not to like about him? He's a fun character. Honorable, intell Leggi tutto
GoodReads.com
A few weeks ago someone in my apartment building left a bunch of old magazines and recipe books in the lobby on a shelf that acts as a kind of internal charity shop. Amongst the 2008 editions of Marie Claire magazines was this book. Judging the book by its cover I assumed it would be god-awful pop f Leggi tutto
GoodReads.com
You either love it or hate it... Reilly's writing style is reminiscent of the fight scenes in the TV Batman series of the sixties... Bam- He leapt onto the helicopter from the tree -Zoom Relentless, totally implausible high octane scene followed by well, ditto... and then once more and just when you need Leggi tutto
GoodReads.com
What do you suppose would happen if an adventure novel got viciously mugged by a big fish tale? Probably something a lot like this. Now listen, if you want paeans to technology, stick to Clancy. Odes to science? Crichton's your man (Miss you already, Michael). But for sheer exuberance, not to mentio Leggi tutto
GoodReads.com
I couldn't cope with the appalling writing style. He writes a line - - and carries it on. And I could have played bingo with the sheer number of the word 'suddenly.' Worst crime? Ending one chapter with: "Jack had made a terrible mistake" And starting the next one with "No, he hadn't" WHAT?!
GoodReads.com
The adventure of Indiana Jones The exotic locations of The Bourne Identity The underworlds of The Da Vinci Code The action of James Bond The mystery of Tomb Raider The terror of The Mummy An easy 5 stars.
GoodReads.com
Aggiungi la tua recensione
Altri libri di Matthew Reilly
Il Libraio per te
Scopri i nostri suggerimenti di lettura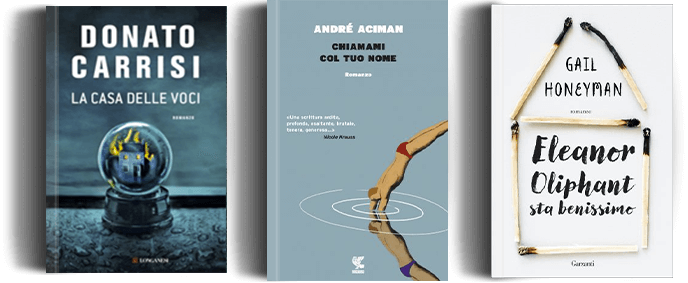 Ancora alla ricerca del libro perfetto?
Compila uno o più campi e lo troverai