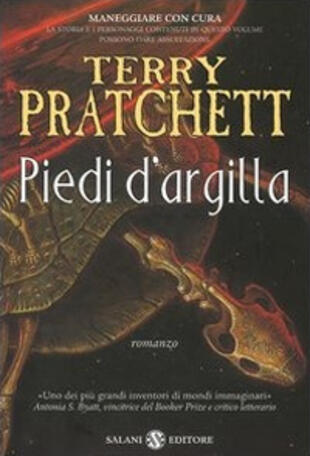 Piedi d'argilla
Tutti i formati dell'opera
Acquistalo
Sinossi
Chi è l'assassino che si aggira per Ankh-Morpork? Di lui si sa solo che lascia dietro di sè delle curiose tracce di argilla bianca. Il comandante delle Guardie è determinato a fermarlo, ma lui e i suoi uomini (e i suoi troll, e compagnia bella) non riescono a cavare un ragno dal buco. Persino quando una delle vittime viene uccisa con una pagnotta. Persino quando l'indagine porta a un golem in pensione, a un drago vampiro e a un lupo mannaro vegetariano... In sintesi, il fantasy come lo avrebbero scritto i Monty Python: esagerato, satirico e spietato.
ISBN: 8884515157
Casa Editrice: Salani
Pagine: 352
Data di uscita: 24-03-2005
Recensioni
In my opinion, this is the book where Pratchett *really* hits his stride in terms of the city watch books. The characters are established, the setting is solid, and Pratchett is solidly in control of his craft here. As I said before (or at least meant to say) the second book about the city watch was Leggi tutto
GoodReads.com
Golem slavery surrounding a conspiracy investigated by special City Watch forensic experts while a silent revolution takes place. Golems, Hephaistos´ machines, and similar mythological stuff are examples of ancient storytellers dealing with the always current "They are stealing our jobs" problem. Dep Leggi tutto
GoodReads.com
Check out my new youtube channel where I show my instant reactions to reading fantasy books seconds after I finish the book. One of the best Pratchett books, and possibly the funniest book ever written. It took Terry Pratchett a decent number of books to really hit his stride, and while he certain
GoodReads.com
This may be the funniest Discworld novel. And definitely one of the best. Terry Pratchett, ever the clever turn of phrase artist, is here in rare form. This is literally chock full of puns, clichés, similes, metaphors and enough droll word play to make Nabokov choke a chicken. His easy, almost swagger Leggi tutto
GoodReads.com
What interests me most about Terry Pratchett is that he explores (with great subtlety and wit) issues that other fantasy and speculative writers only pay lip service to -- racism, sexism, identity politics. Pratchett's hero, Sam Vimes, dislikes everyone: Dwarves, trolls, werewolves, gnomes, and, mos Leggi tutto
GoodReads.com
Feet of Clay (Discworld, #19; City Watch, #3), Terry Pratchett This book is a fantasy novel by British writer Terry Pratchett, the nineteenth book in the Discworld series, published in 1996 for the first time. The story, follows the members of the City Watch, as they attempt to solve murders apparent Leggi tutto
GoodReads.com
More tomorrow 😀😀 So where do I start with this novel, easy answer is to read any of my reviews for previous Sir Terry Pratchett Discworld novels. Seriously Sir Terry manages to maintain an unbelievable standard of humour and writing whilst developing a theme that lasts for over 40 books (i think). A Leggi tutto
GoodReads.com
This book was my FIRST EVER read of Terry Pratchett works. I put 5 star rating because this book introduced me to a wonderful universe and a great author. Discworld Watch Lineup by Ligeias-Ghost from Deviant Art I highly recommend to read editions that have illustrations of coat-of-arms that appeared Leggi tutto
GoodReads.com
"Глинени крака" е роман за относителността. За расовата и половата, но най-вече за относителността на свободата. Това е и роман за различието в гледните точки. Все пак доброто и злото са само въпрос на гледна точка. Разбира се, не на последно място, е роман и за Смърт на мишките. Тери Пратчет развива Leggi tutto
GoodReads.com
I really enjoy the City Watch novels because every character is a hoot. Vimes is off the hooch, Nobby is about to be crowned king, and there are truly mysterious murders going on. And attempted murders. Of Vetinari, no less. This is one of those super-solid Discworld novels. Pratchett has his thing g Leggi tutto
GoodReads.com
Aggiungi la tua recensione
Altri libri di Terry Pratchett
Il Libraio per te
I libri scelti in base ai tuoi interessi
Il Libraio per te
Scopri i nostri suggerimenti di lettura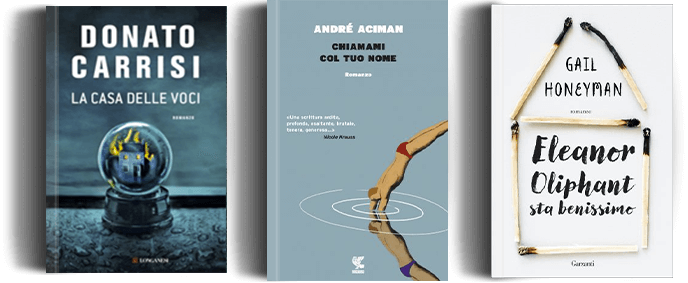 Ancora alla ricerca del libro perfetto?
Compila uno o più campi e lo troverai