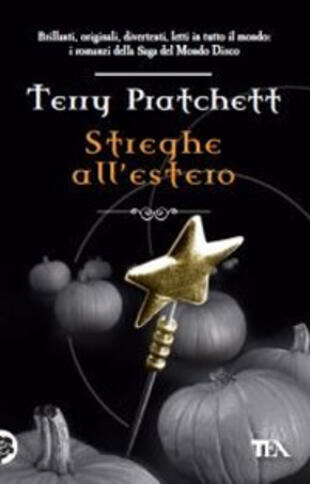 Streghe all'estero
Tutti i formati dell'opera
Acquistalo
Sinossi
C'era una volta una fata madrina di nome Desiderata che aveva un cuore d'oro, una mente saggia e una scarsissima capacità di fare piani a lungo termine. Così, quando Morte venne per lei, si trovò a dover lasciare la sua figlioccia nelle mani di un'altra ' molto ma molto meno buona e saggia ' fata madrina sostituta... Così adesso spetta alle tre streghe Magrat Garlick, Nonna Weatherwax e Tata Ogg il compito di saltare sulle loro scope (almeno quelle su cui non bisogna prendere la rincorsa per farle decollare) e dirigersi verso la lontana Genua, per fare in modo che una povera servetta strapazzata dalle sorellastre non sposi il principe dopo il gran ballo di corte. Il compito, pur sembrando abbastanza semplice, si rivelerà decisamente più complesso del dovuto. Già, perché viaggio, nani, vampiri e lupi mannari a parte, pare proprio che le servette debbano sposare i principi. Tutto ruota intorno a questo. E non si può combattere contro un lieto fine. Almeno fino a oggi...
ISBN: 8850224702
Casa Editrice: TEA
Pagine: 272
Recensioni
Watch the abyss behind the seemingly harmonic fairy tales while Magrat Garlick starts earning her reputation as one of the tightest young witches beside Tiffany Aching. Pratchett uses postmodernism https://en.wikipedia.org/wiki/Postmod... to deconstruct, satirize, and exaggerate many of the stereotypic Leggi tutto
GoodReads.com
Hilarious. This made me think of the 1988 John Landis film starring Eddie Murphy Coming to America. Not that either story are very much similar at all, except that the most charismatic part of each was the mesmerizing interaction between the characters. Just as Eddie Murphy and Arsenio Hall (who each Leggi tutto
GoodReads.com
Best in Witches series so far. I won't bother with review instead here are some of my favorite quotes People think that stories are shaped by people. In fact, it's the other way around People whose wishes get granted often don't turn out to be very nice people. Wisdom is one of the few things that look Leggi tutto
GoodReads.com
Woo-hoo! Witches on a roadtrip! The gals go on an adventure to stop a wedding, and end up learning what a pain in the posterior it is to travel by broomstick. Along the way, they indulge in bananana-flavored cocktails and some riverboat gambling, enjoy the running of the bulls, and hop into some fairy Leggi tutto
GoodReads.com
Review to follow, soon, honest, I promise 😬 Ok so this is the last book I shall read and review this year, and what a way to end the year ( I shall wax more lyrical about my year in books in my "year in books" ha ha). I first read some Discworld novels back in the early/mid 90s and thoroughly enjoyed Leggi tutto
GoodReads.com
This is the 3rd adventure with my favourite witches starring a colourful cast of characters such as the here introduced Mrs. Gogol as well as Mr. Casanunda (yes, it is who you fear) in addition to the almost always cheerful Nanny, the always grumpy but ultimately "good" Granny and the always disheve Leggi tutto
GoodReads.com
Re-read 5/24/18: Second read! And MORE WITCHES. Well, voodoo, too! What happens when stories just INSIST that witches come over and to the other side? What, with all the wolves misunderstanding that they're not men and dwarves trying to steal Nanny Og's shoes and ALL THOSE MAGIC MIRRORS! And in the e Leggi tutto
GoodReads.com
Oh I forgot how much fun this book was. Traveling with the witches had me laughing nonstop while thinking about how travelers behave and appear to others. And all the things about stories and their desire to happen and end. So good!
GoodReads.com
This is the third book in the Witches subseries of Discworld . The last time I enjoyed a Discworld book this much was when I read the second Witches book, Wyrd Sisters . I'm not sure if I'm far enough into Discworld to proclaim my favorite subseries yet, but Witches is the top contender. As with the p Leggi tutto
GoodReads.com
This is also one of my favorites in all of Discworld, I think Nanny and Granny are at their height in this book as far as their back-and-forth dialogue. The two play so well off of each other in this one it still tickled me even though this must be my 20th re-read of this particular novel. This book Leggi tutto
GoodReads.com
Aggiungi la tua recensione
Altri libri di Terry Pratchett
Il Libraio per te
Scopri i nostri suggerimenti di lettura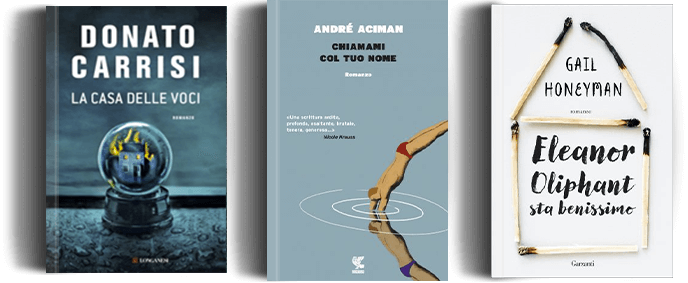 Ancora alla ricerca del libro perfetto?
Compila uno o più campi e lo troverai