Il colore della magia
Tutti i formati dell'opera
Acquistalo
Sinossi
In un mondo sorretto da quattro elefanti magici che poggiano sul guscio di una tartaruga gigante, ha inizio la più stramba, scatenata ed esplosiva delle avventure: il viaggio dell'ingenuo Duefiori attraverso le meraviglie e le bizzarrie del Mondo Disco.
ISBN: 8850220243
Casa Editrice: TEA
Pagine: 224
Recensioni
I haven't reviewed this because I read it so long ago that all I can remember is I loved it. I'll take our very old and battered copy (bought in 1987) to the hospice this weekend when I go with Celyn and see if I can't refresh my memory. RIP, Sir Terry. 'DON'T THINK OF IT AS DYING,' said Death, 'JUST T Leggi tutto
GoodReads.com
Reading The Color of Magic is akin to eating an entire bowl of ice cream just a little too fast...sure, it may cause your head to hurt at times, but the sweet rewards make it all worth it! Filled with ambitious wizards and ruthless assassins, the city of Ankh-Morpork has survived many dangers in the Leggi tutto
GoodReads.com
The Rincewind starts blowing up his ego in the first installment of the epic Discworld. The establishment of one of the sub series of the Discworld, around Rincewind, sorcerers, and the Unseen University, deals with insurances, Hrun the barbarian, role playing games, living furniture, different fanta Leggi tutto
GoodReads.com
Before picking it up, I'd heard that The Colour of Magic was funny. Now that can mean just about anything because, let's face it, comedy is the most subjective of arts. Funny is a deeply personal thing. The "funny peculiar" and the "funny ha-ha" might not be the same from person to person or even to Leggi tutto
GoodReads.com
And so it begins … Sir Terry Pratchett's wildly imaginative Discworld series begins with the 1983 publication of The Color of Magic. I have been reading science fiction and fantasy for a long time and somehow I managed to not read any of his works until I came in late to the party. A friend suggested Leggi tutto
GoodReads.com
I will officially be reading the entire Discworld series!
GoodReads.com
The Color of Magic (Discworld #1), Terry Pratchett The Color of Magic is Terry Pratchett's maiden voyage through the now-legendary land of Discworld. This is where it all begins -- with the tourist Twoflower and his wizard guide, Rincewind. تاریخ نخستین خوانش: ماه می سال 2016 میلادی عنوان: مجموعه جهان Leggi tutto
GoodReads.com
This must be the exception that proves the rule. For years I've been adamantly advocating reading series in publication order, whether a coherent story or a set of standalones. In Discworld , that simply doesn't seem to be the best solution. Everyone seems to suggest that a new reader should not star Leggi tutto
GoodReads.com
I'm pretty sure people have told me about Pratchett and his Diskworld series before, usually working in the phrase "He's the Douglas Adams of fantasy" into the description. But the problem was that I always felt that I had had enough of Adams after the third Hithiker's Guide to the Galaxy book, and
GoodReads.com
Oh what fun, review to follow 😊😉 So here is my review. I first read this I'm guessing some time around 1990, and then went on to read the sequels as they were released,until sometime around the millennium, when for various reasons I moved house and lost around 5000 books 😱 Anyway I haven't read anothe Leggi tutto
GoodReads.com
Aggiungi la tua recensione
Altri libri di Terry Pratchett
Il Libraio per te
Scopri i nostri suggerimenti di lettura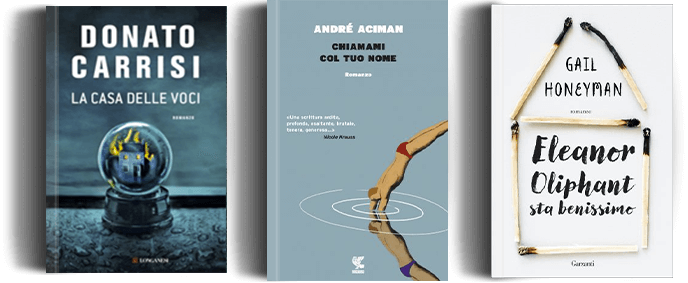 Ancora alla ricerca del libro perfetto?
Compila uno o più campi e lo troverai