Punto critico
Tutti i formati dell'opera
Acquistalo
Sinossi
Alle ore 5.18 di un lunedì mattina il volo 545 della Transpacific Airlines entra misteriosamente in stallo sopra il Pacifico. Dopo attimi di terrore, a un passo dalla catastrofe, riesce nella disperata impresa di completare una manovra di emergenza, atterrando a Los Angeles con il suo carico di morti e feriti. Qual è stata la causa dell'incidente? Un errore dei piloti? Un difetto strutturale del velivolo, un avveniristico modello destinato a rivoluzionare il trasporto passeggeri? Oppure un atto di sabotaggio? Inizia così un drammatico intrigo, ricco di sorprese e colpi di scena, che coinvolge le multinazionali dell'aeronautica, le compagnie di assicurazione e qualche giornalista senza scrupoli.
ISBN: 8811149541
Casa Editrice: Garzanti
Pagine: 432
Recensioni
Rating: 3.5 breathless stars of five I really hate flying. I'm not scared of it, I just dislike being herded into inky-dinky seats meant for short people by ill-tempered sky-waiters who charge for pillows and booze, and then I have to pay more than I used to make a week for the privilege of being sea Leggi tutto
GoodReads.com
I was reminded of this book again,as a PIA passenger jet crashed in Karachi two days ago,killing 97 people. In Crichton's book,a plane is struggling to land,and sends out a distress call,asking for forty ambulances to be available for possible casualties.It is a compelling start to this techno thrill Leggi tutto
GoodReads.com
I read this book aloud to my husband during the past week or so, and parts of it were very dramatic, but other parts (all those charts!) were a bit dull even though we knew they were important. I don't know how a narrator for an audio version would read them, I either handed the book to Marco and le Leggi tutto
GoodReads.com
Mike gave me this book when we visited him, Anna, and Kaley at their Woodbridge apt--jesus it must be 3 or 4 (or 5?) years ago. I remember how funny he was about it. Convo went something like this: ------------ MS: Hey Jay - I got this book for you to have me: Oh really? Well, what's it about? MS: Pfft. Leggi tutto
GoodReads.com
This is my first Crichton since the Andromeda Strain written so many years ago. Another reason to ignore the professional critics who have not been terribly kind to Crichton in the past few years. I really liked this book. It has a marvelous blend of science, information and a good plot that keeps t Leggi tutto
GoodReads.com
As someone who worked most of my life in Aerospace, on the supersonic B-1 bomber, and then on several Titan missile and launch vehicle programs, I found the book well researched. There were a few times when I said to myself, "In what manufacturing area would THAT occur?" But he's right on with the i Leggi tutto
GoodReads.com
I will be putting up my review of Stoner tomorrow, I promise; I need to fine tune it some. But more to the point, Airframe was a book that I enjoyed quite some time back. My mother is a huge fan of Crichton, and as a result, we have his whole collection at home. I was about 15 when she (mother deares Leggi tutto
GoodReads.com
Read this a while ago. Back then I probably would have given it four or five stars, but tastes change. I remember starting to read this, while sitting in a plane, about to hurl itself down a runway to take-off and thinking "How stupid can I be?" If you want some well written, fast paced entertainmen Leggi tutto
GoodReads.com
When Michael Crichton is good he is very, very good but this effort is just plain horrible. The only reason I finished it is due to my obsession about not wanting to miss anything. I found myself reading the first sentence of paragraphs and skipping the rest to move more quickly to the end. I don't
GoodReads.com
One of those books that I liked but did not like enough. Like most of his other books, this one is well researched by Crichton but I guess not enough to hold my full attention. The beginning was "fun", for a lack of a better word (how fun can airplane accidents be?!?) and even the whole technology m Leggi tutto
GoodReads.com
Aggiungi la tua recensione
Altri libri di Michael Crichton
Il Libraio per te
Scopri i nostri suggerimenti di lettura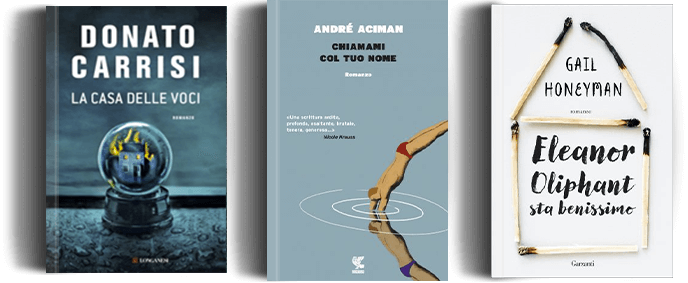 Ancora alla ricerca del libro perfetto?
Compila uno o più campi e lo troverai