Il mondo perduto
Tutti i formati dell'opera
Acquistalo
Sinossi
Da questo bestseller lo straordinario film di Steven Spielberg
Sono passati sei anni dal disastro, mantenuto segreto, di Jurassic Park. Sei anni fa quello straordinario sogno scientifico si è concluso con una drammatica catastrofe: i dinosauri sterminati, il parco distrutto, l'isola chiusa a tempo indeterminato.
Ma cominciano a circolare strane voci: qualcosa vive ancora… e quando inequivocabili resti animali vengono trovati lungo il litorale del Costa Rica, il matematico Ian Malcolm – miracolosamente sopravvissuto al disastro di Isla Nublar – e l'egocentrico paleontologo Richard Levine si mettono sulle tracce della verità.
Dopo lo straordinario successo di Jurassic Park, la saga dei dinosauri continua: una emozionante avventura ai confini della realtà fa rivivere le atmosfere del più grande capolavoro di Michael Crichton.
ISBN: 8811602289
Casa Editrice: Garzanti
Pagine: 440
Recensioni
I find a lot of people discuss the "resurrection" of Ian Malcolm in their reviews, and I'd like to throw in my two cents. It's true, Malcolm is mentioned as dead at the end of Jurassic Park. To be exact, Muldoon is telling Grant what's happened to everyone else as they're flying away in the helicopt Leggi tutto
GoodReads.com
The story goes that Steven Spielberg flush with the success of the first Jurassic Park movie, itself an adaptation of a Michael Chrichton novel, decided to try and repeat his success by commissioning the author to write a sequel to his original novel (which the first movie was based on) which they c Leggi tutto
GoodReads.com
WOW, this was disappointing. I remembered going into this book that I had enjoyed the film version of the original Jurrasic Park far more than the book -- a rather unusual situation for me. I had a slight feeling of apprehension, but I ignored it. Even if I hadn't, though, it wouldn't have prepared m Leggi tutto
GoodReads.com
The Lost World is not a very good book. The story is a slog to start and the characters are very weak. So weak that if any of them had actually been eaten by the constantly hungry dinosaurs I would've been like: shrug. As the story progressed and I waited impatiently to find out: would they actually Leggi tutto
GoodReads.com
This might turn out to be one of my favorite books of all time. I feel like there was so much to love. I don't care if he was just cashing in on the success of the Jurassic Park movie. I'm not even mad that Malcolm's death was retconned. What I'm mad about, is that Hollywood took a beautiful book an Leggi tutto
GoodReads.com
4.5 I read Jurassic Park in July of 2017 and really enjoyed it, so I have no idea why it took me close to 2 years to get to The Lost World (which I buddy read with my friend Rian!) but I finally got to it, and I loved it even more than the first book! I never watched the movies growing up, so I watc Leggi tutto
GoodReads.com
I will start my review by saying that I did not enjoy this novel nearly as much as the first book, Jurassic Park. While this was an incredibly easy and fast read, I would have preferred if Crichton had cut roughly a hundred pages of additional information that, in my opinion, did not add to the stor Leggi tutto
GoodReads.com
2.5 stars Me for the first 60% of the book: I've never really liked the second Jurassic Park movie. I changed my mind. There are worse things, like the book the movie was adapted from. I actually applaud the writers, because fixing this mess took talent. Guess it helped ignoring the entire book apart Leggi tutto
GoodReads.com
Trigger warnings: violence, blood, death, gore, near drowning, gore, animal death, seriously you guys there's so much gore. 11/11/2018 Sticking with 4.25 stars this time. I love this story a lot, and it's really interesting to see all the ways that Spielberg took a surprisingly solid story and turned Leggi tutto
GoodReads.com
This one was just "meh". This is one of the rare instances where I will say that I prefer the movie over the book. Ugh, and the scientific babbling that went on...yikes, it was brutal for me. Would've liked more action and gore. Still love Crichton though.😊
GoodReads.com
Aggiungi la tua recensione
Altri libri di Michael Crichton
Il Libraio per te
Scopri i nostri suggerimenti di lettura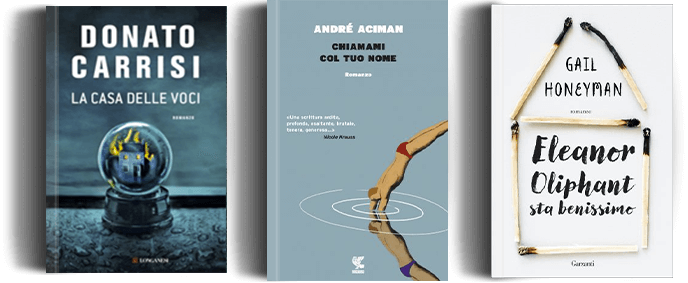 Ancora alla ricerca del libro perfetto?
Compila uno o più campi e lo troverai