Awakened
Tutti i formati dell'opera
Acquistalo
Sinossi
Da quando Heath è morto, mi sento come svuotata. Stavamo insieme da sempre, da prima che o ricevessi il Marchio e diventassi la famosa Zoey Redbird, la novizia vampira più dotata della Storia. È per questo che volevo accettare la proposta di Sgiach - la regina dei guerrieri - di restare sempre sull'isola di Skye. Credevo infatti che solo in quel posto sperduto sarei riuscita a dimenticare il dolore. Poi, però, Stevie Rae mi ha contattata per riferirmi una notizia sconvolgente: uno dei nostri migliori amici è morto. Sebbene non possa dimostrarlo, lei è certa che sia stato ucciso da Neferet. Purtroppo nessuno le crede: in effetti, chi sospetterebbe della Somma Sacerdotessa della Casa della Notte di Tulsa? Tuttavia io so di cosa è capace quella vampira...
ISBN: 885023533X
Casa Editrice: TEA
Pagine: 318
Recensioni
I'm sorry, but I've had just about enough of HoN. Zoey annoys me, the way they write Stevie Rae's accent ticks me off (I'm a Southern Girl), Kramisha sounds uneducated (we know she is educated) and the way the Casts portray Jack and Damien suggests that they've never actually met any gay men. I swor Leggi tutto
GoodReads.com
Book Review ***contains spoilers*** Pros 1. Rephaim was finally turned into a human being and OH MY GOD they finally kissed!!! Idk I can't really expressed my emotions about it. I really love that part, aaaaaaaaaawwwwww, it was just so sweet and I cried reading it. 2. Heath was back and it was very shoc Leggi tutto
GoodReads.com
After the last book, I am so excited for this one. Stark and Zoey are definately going to end up together. No doubt about it. But Stevie Rae and Rephaim. I want Rephaim to turn into that boy he was in Aphrodite's vision. Stevie Rae deserves to be with the one she loves! Ugh. Neferet and Kalona. No o Leggi tutto
GoodReads.com
Yikes- this series really is a train wreck! I really gave up all hope of these books getting better about five books ago but I've made it to book eight and just can't look away from the disaster. They are so bad it's almost amusing. Firstly, I find it highly ironic that the Casts dedicated this book Leggi tutto
GoodReads.com
What the...? If this is supposed to be Rephaim then why does he have a nose? It clearly states in one of the books he has a beak? I'm starting to think this is Kalona. Dang. Hopefully Stevie Rae and Stark get their happy endings and I hope to god that Dallas electrecutes himself. That would just be
GoodReads.com
A couple of months ago, I was obsessed with the House of Night. But so many books have passed my hands between then and now. Now I wonder what I saw in them that just clicked. I've heard that others disliked the series from the start because the language was unrealistic and a couple of characters tr Leggi tutto
GoodReads.com
Well. What can I really say? The House of Night was the first vampire book series I had read and while it has a good plot, I feel like the books have spiraled down to disappointment since Untamed released. None of these recent books have had the feel to them that Chosen and Betrayed had. Stark is a t Leggi tutto
GoodReads.com
Warning: There is a lot of negativity in this review. Please don't get all "If you don't have anything nice to say DON'T SAY IT AT ALL!" Please. The point of reviewing is to share one's personal thoughts of the book. The point is to share the opinions even when they differ from others. Because they'r Leggi tutto
GoodReads.com
i can't wait till this book comes out! im so excited. i would love to see more stevie rae & rephaim. i just love that nothing can break them apart. not him being apart of darkness. and the fact that she follows light. i just think its so adorable! CANT WAIT!!!! best books i've ever read. and i dont just say Leggi tutto
GoodReads.com
Right... so this is the book in which 1. Two more important characters die. I felt so sad for both of them. (view spoiler) [Actually for Jack I was sobbing when I read what that bitch Neferet did. Zoey'mother's death was somehow milder. (hide spoiler)] 2. One important character is back from the dead. Yeah! I loved this complicati Leggi tutto
GoodReads.com
Aggiungi la tua recensione
Il Libraio per te
Scopri i nostri suggerimenti di lettura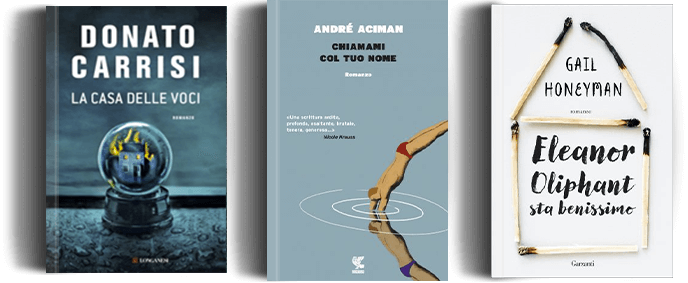 Ancora alla ricerca del libro perfetto?
Compila uno o più campi e lo troverai