Burned
Tutti i formati dell'opera
Acquistalo
Sinossi
Mi chiamo Stevie Rae Johnson e ho appena ricevuto una notizia sconcertante: l'anima di Zoey Redbird è rimasta intrappolata nell'Aldilà. In breve tempo, lei sarà morta. Per sempre. Ed è tutta colpa di Neferet: l'ex Somma Sacerdotessa è diventata la consorte di Kalona, l'angelo caduto che vuole dominare il mondo, e lo ha indotto con l'inganno a recarsi nel regno dei morti per dare la caccia a Zoey. I professori della Casa della Notte pensano che non ci siano più speranze, ma io sono la sua migliore amica e non l'abbandonerò.
ISBN: 8850234333
Casa Editrice: TEA
Pagine: 406
Recensioni
I really don't know why I keep reading these books. Maybe I'm hoping they'll get back to being as good as the first five books in the series. They were, I don't know, cozy . But not anymore. The whole point of this book is to deal with the events that happened at the end of Tempted . And really, that's Leggi tutto
GoodReads.com
These books are fine and all but has anyone else realized that there are going to be TWELVE of them in total?! After Burned you have Stolen, Burdened, Touched, Cloaked and Wanted. No wonder they are starting to tell the story from multiple perspectives. (Speculation is now at fifteen books). Loving t Leggi tutto
GoodReads.com
P.C. Cast has gone way beyond the talent she has shown in previous books in her writing of the most recent installment of the House of Night series. The multiple perspectives, introduced in the 6th book worked masterfully in telling this book's unique story. The way that the storyline is told is bot Leggi tutto
GoodReads.com
I absolutly loved the book before this book. The only problems I had with it were that.................. 1.) Zoey and Stark didn't seem like they got enough time together which made it seem like they were growing apart. 2.) Stark and Zoey need to be together. Period. 3.) I am zo glad Heath died. He
GoodReads.com
I swore to myself that the last House of Night book would be my last. I just couldn't take Zoey and her multiple annoying boyfriends and her just as annoying friends. When Burned came out, I figure "what the hell, it looks relatively Zoey relationship free" Well, yes it was relatively that, but I gu Leggi tutto
GoodReads.com
Just want to see how the story end.
GoodReads.com
I love this series. I have never felt so connected to a set of characters. Whenever I'm reading one of these books I always feel like I'm right there and that zoey and her gang are my friends. These books bring me happiness, sadness, anger, serenity, & laughter. I always regret finishing one and alw Leggi tutto
GoodReads.com
The book starts right after the dramatic events that happened at the end of Tempted. So expect again lots of teenage drama in this book. Heath is gone and Zoey's soul has been shattered. She is transferred to the Otherworld where she has only a few days to return or be lost forever. Everyone will try Leggi tutto
GoodReads.com
***SPOILER ALERT!!!*** Zoey's soul is shattered and it will only take two people in her life to save her soul; Heath and of course Stark. To be honest, I pretty tired of the whole 'I can't leave you Heath! I love you!' I was jumping up and down on my bed when Stark finally was part of her life. Aprodi Leggi tutto
GoodReads.com
i cant wait till this comes out!! the end was way too suspencefull! ahhhhhhhh! i cant wait till may!
GoodReads.com
Aggiungi la tua recensione
Il Libraio per te
Scopri i nostri suggerimenti di lettura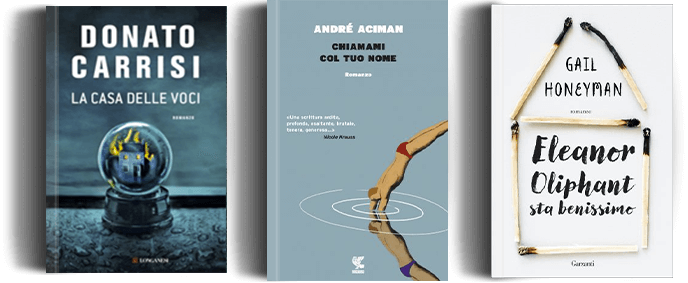 Ancora alla ricerca del libro perfetto?
Compila uno o più campi e lo troverai