Hunted
Tutti i formati dell'opera
Acquistalo
Sinossi
La mezzaluna blu tatuata sulla fronte è il mio Marchio. La Casa della Notte è la scuola in cui prepararmi alla Trasformazione in vampiro. Un segno e un luogo che mi hanno dato una marea di guai, ma che mi hanno anche fatto sentire protetta, al sicuro. Però ormai niente sarà più come prima. La colpa è di Neferet, la Somma Sacerdotessa, che ha risvegliato Kalona, un potentissimo immortale, per mettere in atto un piano che va oltre la follia: annientare la razza umana. Soggiogati dalla sua incredibile bellezza, gli studenti e gli insegnanti sembrano non rendersi conto del pericolo. Ma io e i miei amici sappiamo bene quale malvagità si celi dietro quel fascino: i terribili demoni-corvo che hanno invaso il cielo di Tulsa e che si nutrono di anime, infatti, sono i suoi figli! E allora ci siamo nascosti nei tunnel in cui vivono i novizi rossi, i ragazzi che hanno rifiutato la Trasformazione, tornando dalla morte con un tatuaggio cremisi. Liberatisi dell'influsso di Neferet, sono diventati nostri alleati e hanno deciso di usare i loro straordinari poteri per aiutarmi. Perché io sono Zoey Redbird, la novizia vampira più dotata della Storia, l'unica che possa salvare il mondo...
ISBN: 8842916889
Casa Editrice: Nord
Pagine: 394
Data di uscita: 07-10-2010
Recensioni
Good Grief, how many boyfriends does one girl need? It's starting to get a little ludicrous.
GoodReads.com
Maybe I'm just not in my normal-teenage-girl state of mid @ the moement but I did not like this book. Seriously, the writing annoyed me ALOT for the first hundred pages(like, you know how they're always talking about how Zoey never curses, well she cursed a little bit in a beginning and they ALL sti Leggi tutto
GoodReads.com
This review contains spoilers for earlier books in the series and mild spoilers for HUNTED. HUNTED is very much a "middle" book in the House of Night Series, a bridge between the first and second halves of Zoey's story. Zoey and her friends are hiding from the reincarnated fallen angel Kalona ad his Leggi tutto
GoodReads.com
Okay, so the House of Night series is seriously one of the most guilty pleasure-ish young adult series I've read. Emphasis on the guilty part. You know when you go to the airport, and you're waiting at your gate for your flight, and you look over at the little old lady sitting next to you? She might Leggi tutto
GoodReads.com
Condensed, edited version taken from my blog. Not long ago I finished reading the fifth instalment in the Cast's House of Night Series, Hunted. This is about the point where I give a frustrated sigh. Oh my, is it a frustrated sigh. First of, there is a story in there somewhere. An interesting story tha Leggi tutto
GoodReads.com
I enjoy the House of Night series but the repetitiveness is starting to get really annoying.Yes we know Jack and Damien are gay. Yes we know Shaunee and Erin are "twins",one black and the other white.Yes we know Aphrodite is a bitch and that Stevie Ray is a country girl.We DON'T need to be reminded
GoodReads.com
This is the book in which Kalona pretends to be a good guy. And he also wants Zoey. "You know what I want, my love. I want you.""I am not your love.""Of course you are." He moved this time, stepping so close to me that I could feel the chill that came from his unsubstantial body. "My A-ya." But Zoey d Leggi tutto
GoodReads.com
Reviewed by LadyJay for TeensReadToo.com Zoey Redbird is back in the fifth installment of the HOUSE OF NIGHT series. When last we left Zoey, all hell (literally) was breaking loose inside the vampyre school. I am sad to say that her predicament has gone from bad to worse. Neferet, current High Priest Leggi tutto
GoodReads.com
To see full review and to vote on whether or not I continue my quest to read this series click here . Sometimes I don't even know why I bother. I am a goal oriented person. Seriously, I have like post it notes on my desk with day goals, week goals, year goals, life goals...you get the picture. And bein Leggi tutto
GoodReads.com
I tried to finish this. I really did. But when the main character of a book annoys you so much you can hardly stand turning the page, something's got to give. I mean, COME ON. How many guys does Zoey need? It was just getting a bit ridiculous. I was happy when it seemed that Zoey was happily dating
GoodReads.com
Aggiungi la tua recensione
Altri libri di P. C. Cast
Il Libraio per te
I libri scelti in base ai tuoi interessi
Il Libraio per te
Scopri i nostri suggerimenti di lettura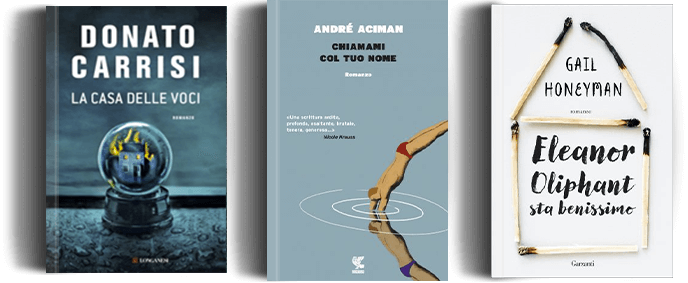 Ancora alla ricerca del libro perfetto?
Compila uno o più campi e lo troverai