Polvere alla polvere
Tutti i formati dell'opera
Acquistalo
Sinossi
Anita Blake, Risvegliante per conto dell'Animators Inc. e Sterminatrice di vampiri, ha ricevuto un nuovo incarico: per risolvere una disputa terriera, deve resuscitare un certo numero di cadaveri - vecchi di duecento anni sepolti in una fossa comune. Non è certo un lavoro di routine, ma quando Anita arriva a Branson, nel Missouri, si rende conto che è addirittura più impegnativo di quanto sembrasse. Per di più, la sua strada s'incrocia con quella di un serial killer: tre ragazzini sono stati trovati in un bosco, orrendamente massacrati, e una ragazza è stata rinvenuta nel suo letto, completamente prosciugata del suo sangue.
ISBN: 884291374X
Casa Editrice: Nord
Pagine: 459
Data di uscita: 21-04-2005
Recensioni
"Why do I put up with you? You insult me at every turn." Well, LKH broke the formula with this book. Anita actually TAKES a client and leaves St. Louis to head to Branson, Missouri, where she is being paid to raise an entire graveyard to see who owns the property (because, of course, Anita is the onl Leggi tutto
GoodReads.com
So, the name of this book is Bloody Bones, right? Well, it is named after a restaurant in the book called Bloody Bones. I have to wonder how many of us would be willing to eat at a place with that name. Seriously, they need to fire the person who came up with that one, cuz yuck. and mooing... Oh, and Leggi tutto
GoodReads.com
I Got a Hot date with my girlfriend Anita...She's All mine!!And my friend Shelly just let me borrow her copy of this book!!Rawhead and Bloody Bones"Anyone who doesn't believe that the forest is a deadly place has never been lost in one."
GoodReads.com
A perfectly supernatural spooky read for October, there's something easily readable about the Anita Blake series. With another interesting mystery and a great set of fantastical characters, this series keeps drawing me back in... It also seemed more gorier too! Whilst asked to raise an entire graveya Leggi tutto
GoodReads.com
Although I never really learned to like Anita Blake, she was always tolerable ~ until Bloody Bones. Didn't Anita complain about all of the Were's alpha fight/dominance nonsense in Lunatic Cafe? Really, she is no better than the Were's here. If you take out all of the "I'm a bigger badass than you ar Leggi tutto
GoodReads.com
Anita is such a badass as usual!
GoodReads.com
"Come to me, child, and I will always be with you. I will hold you forever." - Serephina 3rd Listen: "There is no real safety." - Anita Blake 2nd Listen: "...the nightmares live on." Oh yes, they do. This was one of the scariest Anita Blake novels, and nearly Richard free! The most terrifying mon Leggi tutto
GoodReads.com
Bloody Bones is one of the more brutal outings in this series. A huge portion of the book follows Anita Blake as she's working and this time she's called in on a case that is particularly gruesome. Three teen boys are brutally slain, a young teen girl is left for dead and a young boy has been kidnap Leggi tutto
GoodReads.com
The creativity that seeps into Laurell Hamilton's book is astonishing. With that said, Bloody Bones is one of her books in the Anita Blake, Vampire Hunter series that really doesn't do it for me. There are parts of this book that make you read super fast in anticipation of how a scene will turn out Leggi tutto
GoodReads.com
I keep giving the series only 2 stars, yet keep reading. Why? Because I like the plot. However, Hamilton's writing style just makes me skim through large chunks of the story until I get to the interesting bits, so it's a love-hate relationship. I like the love triangle between Richard, Anita, and Jea Leggi tutto
GoodReads.com
Aggiungi la tua recensione
Altri libri di Laurell K. Hamilton
Il Libraio per te
I libri scelti in base ai tuoi interessi
Il Libraio per te
Scopri i nostri suggerimenti di lettura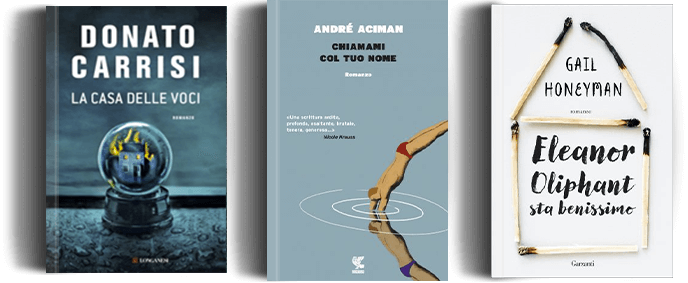 Ancora alla ricerca del libro perfetto?
Compila uno o più campi e lo troverai