Cerulean sins
Tutti i formati dell'opera
Acquistalo
Sinossi
La traumatica rottura con Richard è ancora una ferita aperta per Anita Blake. Ed è quindi il bisogno di avere una vita sentimentale stabile che la spinge a impegnarsi in una relazione normale? anche se, per una negromante che di lavoro resuscita i morti, "normale" significa frequentare Micah, un leopardo mannaro, senza però rinunciare alle irresistibili tentazioni incarnate da Jean-Claude, il Master della Città, e dal suo bellissimo e seducente luogotenente, Asher. È inevitabile che un equilibrio così fragile sia destinato a spezzarsi e, infatti, l'inatteso arrivo dall'Europa di Musette, la temuta rappresentante del Consiglio dei Vampiri, trascina prima Jean-Claude e poi la stessa Anita in un vortice d'intrighi e lotte di potere dai risvolti imprevedibili. Inoltre, quando St. Louis viene scossa da una serie di brutali omicidi, la situazione diventa ancora più torbida: Anita capisce subito che le morti sono opera di una creatura della notte e gli indizi la portano ben presto a sospettare proprio di Musette. Tuttavia la cacciatrice deve agire con la massima cautela, per evitare che le sue indagini abbiano conseguenze devastanti per lei e, soprattutto, per i suoi amanti: perché con le sue mosse si è conquistata l'attenzione della Madre di Tutte le Tenebre, l'essere oscuro che ha generato le stirpi dei licantropi e dei vampiri?
ISBN: 8842916811
Casa Editrice: Nord
Pagine: 514
Recensioni
I started the Anita Blake series knowing what I was getting into. I had heard the bad buzz, but I also heard that the earlier books were solid good urban fantasy badass heroine writing. And I gotta say, that is true. I loved the first 10 books in the Anita Blake series. Loved them. Obsidian Butterfl Leggi tutto
GoodReads.com
In my defense, I've been trying to make bookshelf space, weeding out books I bought (and read) years ago. But it's hard to part with them--after all, then-me must have liked them for some reason, right? Currently, most of the Anita Blake series is in a box in the basement, but I brought this one up
GoodReads.com
Why I did I not like this book? I suppose it could have been the fact that a once kick ass heroine is now a sex fiend. However, Anita is Hamilton's character, and Hamilton has the right to change the character. I just wish she had done it in a more believable way. Why, for instance, can't Anita cont Leggi tutto
GoodReads.com
Vampire games, how fun! In this book we get another sadistic insane vampire coming into town to rape, pillage, and torture, and Jean Claude gets to host her. Anita knows that their pleasant "visit" will turn into a blood bath, but she is trapped by all of the rules of vampire society. If Jean Claud
GoodReads.com
"Most people don't find me funny at all." Anita Blake meets a guy in her office. Gasp, shock, horror, she actually accepts his job. She then raises a zombie. Asher arrives to tell her "Surprise! Musette, Belle Morte's cronie, is here!" She rushes to Jean-Claudes to get in a p!ssing match with Musett Leggi tutto
GoodReads.com
As much as I love the Anita Blake series, this is another book that I really don't get too excited over. Blood. Gore. Sex. Lies. Deception. It has it all, but I found myself skimming and reading as quickly as possible just to get to the next book. And regardless of how fast I read, I still found mys Leggi tutto
GoodReads.com
"Nothing turns to hate so bitter as what once was love." – Anita Blake in Cerulean Sins . You tell 'em, Laurell K. Hamilton, cause ooo, were your fans mad at you after that book (see reader reviews at Amazon.com). Well, it started with Narcissus in Chains , but I guess they were willing to allow that o Leggi tutto
GoodReads.com
There are only so many times one can read about Jean-Claude's deep blue eyes before you feel like clawing them out just so that it will be mentioned no more. The same goes for Asher's beautiful golden head of hair…one more mention of that and I will be sorely tempted to leap into the book armed with Leggi tutto
GoodReads.com
Okay, first of all I love the series, big fan of Anita Blake! But this book, dear lord I did not enjoy this, it was a mixed salad of 50 ingredients. It was messy, hard to go with the flow and it left me with the constant 'move on' feeling. Chapter after chapter of the same scene that kept having twis Leggi tutto
GoodReads.com
I looked at him, and he was pale alabaster with that black, black hair, those blue eyes. The folds and hollows of his body exposed to the overhead lights were as beautiful and familiar to me as a favorite path that I could walk forever and never tire of. I stared at Jean-Claude, and it wasn't the bea Leggi tutto
GoodReads.com
Aggiungi la tua recensione
Altri libri di Laurell K. Hamilton
Il Libraio per te
Scopri i nostri suggerimenti di lettura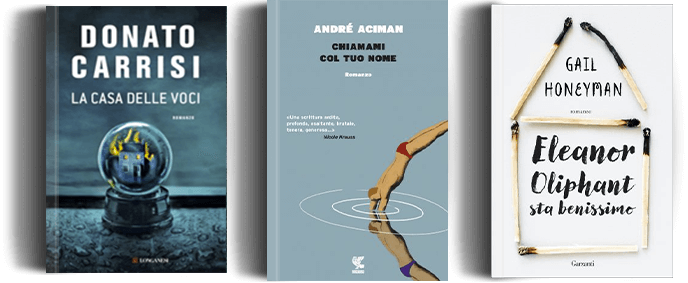 Ancora alla ricerca del libro perfetto?
Compila uno o più campi e lo troverai