Agatha Raisin e il modello di virtù
Tutti i formati dell'opera
Acquistalo
Sinossi
Difficile far funzionare un'agenzia investigativa! Soprattutto se si ambisce ad avere casi spettacolari e invece ci si vede affidati incarichi modesti. Poi, all'improvviso, una ragazzina scompare e un marito geloso chiede chiarezza su strani comportamenti della moglie. Afflitta da un crescente male all'anca - dovuto all'età? Agatha non vuole neanche pensarci! - e dalla solitudine, Agatha deve constatare che gestire un'agenzia investigativa non è granché eccitante. Né molto redditizio, soprattutto se non si vogliono accettare indagini su infedeltà coniugali. Tuttavia è tale la penuria di lavoro che, quando Robert Smedley entra in agenzia deciso a provare che la moglie lo tradisce, Agatha accetta l'incarico. Mabel Smedley, però, sembra la moglie ideale. Agatha è sul punto di rinunciare, quando Robert viene avvelenato, lasciando Mabel erede di una fortuna. Con sorpresa di Agatha, la stessa vedova le chiede di scoprire chi ha ucciso il marito.
ISBN: 8898713568
Casa Editrice: astoria
Pagine: 250
Recensioni
I had the pleasure of listening to another Agatha Raisin adventure (#16!). There's not much else I can say about this series that I haven't already said. I do enjoy listening to Agatha's latest escapades. She can be both a fun and exasperating character. She's still too quick to fall in love with any Leggi tutto
GoodReads.com
Agatha Raisin stories are the epitome of cosy mysteries, incredibly easy to listen to and follow with characters who are, in the main, fun. In this case, the use of Penelope Keith for the audio book is a stroke of genius, as she is so relaxing to listen to and suits this cast of characters and story Leggi tutto
GoodReads.com
A great installment in the life of Agatha Raisin.
GoodReads.com
Hmmmm...It may have been the medicine fog I was in, but this was the first time I found myself let down by MC Beaton. I've so enjoyed discovering Agatha and her cronies, and that wonderful village in the Cotswolds. Somehow, this one came across a little formulaic (is that a word? Not sure.) I've bee Leggi tutto
GoodReads.com
Another great Agatha story! Lots of twists and turns and a couple new characters. I'm liking Charles having a bigger role in her life. Those two are a lot alike and kind of deserve each other. Haha.
GoodReads.com
Nonostante i suoi problemi, Agatha resta sempre la solita impicciona acida di sempre. La rivederemo insieme a Charles e sul finale ci sarà anche una sorprendente sorpresa! Questo piccolo particolare mi spinge a desiderare di poter leggere il seguito quanto prima, che sia in arrivo per Agatha un pacco Leggi tutto
GoodReads.com
J'ai eu grand plaisir à lire cette enquête d'Agatha Raisin... enlevée, pleine d'humour et de rebondisssements (un, deux, puis trois meurtres !), une des meilleures à mon avis. Plein de personnages dont pas mal de nouveaux mais aucune trace de James, ce qui est toujours un plus à mon avis !
GoodReads.com
The sixteenth Agatha Raisin book see Agatha continuing to run her new detective agency. These fun little novels have changed a little, now that Agatha has her agency, the action centres around that more than in Carsley, and she has several members of staff who help her out. We also have 3 seperate ( Leggi tutto
GoodReads.com
Read them! All of them. All 23. They are simply fabulous! I love them and love Agatha Raisin. The stories are set in the English Cotswolds - which is where I'm from, so that makes them extra special, but I cannot recommend them highly enough. If you want to read about an opinionated, outspoken, head Leggi tutto
GoodReads.com
Not as much of Agatha as usual; more of her detective agency characters. Good drama but I figured it out in the first chapter (or second). Agatha's angst has worn me out. I want more of Sir Charles and her: he keeps her honest and real. And now, at the last sentence, we have James Lacy come back to
GoodReads.com
Aggiungi la tua recensione
Altri libri di M.C. Beaton
Il Libraio per te
Scopri i nostri suggerimenti di lettura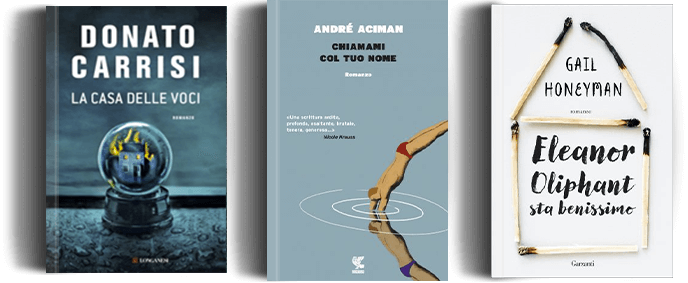 Ancora alla ricerca del libro perfetto?
Compila uno o più campi e lo troverai