I sonetti
Tutti i formati dell'opera
Acquistalo
Sinossi
Introduzione di Nemi D'Agostino
Prefazione di Romana Rutelli
Traduzione di Maria Antonietta Marelli
Testo originale a fronte
Composti in vena ora lirica e meditativa, ora ironica e irridente, talvolta in tono confidenziale, talaltra come gioco letterario, I sonetti, come riconobbe Wordsworth, sono l'unica chiave attraverso la quale Shakespeare ci ha «dischiuso il suo cuore». Nel loro insieme, i 154 componimenti pubblicati nel 1609 dall'editore Thomas Thorpe senza il consenso e la revisione dell'autore, si interrogano sulla fugacità del tempo, sulle contraddizioni del mondo, sulla natura e sulle pene dell'amore dando voce a una ricchissima gamma di stati d'animo, sentimenti, emozioni: le risposte sono mille e nessuna, in un gioco di ribaltamenti, impennate e rinvii che è la cifra di questi versi immortali.
ISBN: 8811363349
Casa Editrice: Garzanti
Pagine: 400
Data di uscita: 06-08-2003
Recensioni
Shakespeare's Sonnet XVIII (abridged) You're hot. But not as hot as this poem. Shakespeare's Sonnet CXVI (abridged) I'll love you even when you are sixty four Or my name's not Heather Mills. Shakespeare's Sonnet XCIV (abridged) Stay cool man. Peace. Like, flower power, y'know?
GoodReads.com
Sonnets = Shakespeare's Sonnets, William Shakespeare Shakespeare's sonnets is the title of a collection of 154 sonnets by William Shakespeare, which covers themes such as the passage of time, love, beauty and mortality. The first 126 sonnets are addressed to a young man; the last 28 to a woman. Sonne Leggi tutto
GoodReads.com
Shakespeare has almost become synonymous to drama, we all know the fact. However, the lyrical quality that he was born with (even his life was lyrical, wasn't it?) bestowed immense poetry to his plays and perhaps, those plays led to the sonnets we are singing even today. Is there any sonnet sequence Leggi tutto
GoodReads.com
This is my favourite Shakespeare sonnet: Sonnet 29 When, in disgrace with fortune and men's eyes,I all alone beweep my outcast state,And trouble deaf heaven with my bootless cries,And look upon myself and curse my fate,Wishing me like to one more rich in hope,Featured like him, like him with frie
GoodReads.com
Book Review William Shakespeare wrote hundreds of sonnets over three decades, mostly from the 1580s through 1610. I'm assuming most everyone has read a few of his sonnets, given they are usually required reading in high school. There is something to love in every single one of them. There
GoodReads.com
Less notorious than his plays, Shakespeare's sonnets assimilate a secret map with hidden clues that lead to precious treasures. The intimate, even confessional tone of the 154 rhymes urges the eager reader to believe that the poetic voice is The Bard himself, who playfully volunteers the key to unlo Leggi tutto
GoodReads.com
There is no fundamental issue to call this book a great one. Shakespeare is really different from other poets. The style and composition of words in a beautiful pattern makes him look beyond the ordinary league. His sonnets secretly deliver manifold messages. From joy to the seriousness.
GoodReads.com
I have known Shakespeare wrote sonnets. I had also bought a pocketbook of them from my visit to Shakespearean birthplace in Stratford-upon-Avon. But honestly, I really didn't give much thought on reading it until I was impelled by a group read. I'm really glad that I read it and thankful to the grou Leggi tutto
GoodReads.com
Ever intimate in tone, Shakespeare's sonnets reflect upon the relationship between love and power, in addition to considering the many forms attempts to ward off oblivion might take. Most of the sonnets are addressed to the so-called Fair Youth (1-126), some to the Dark Lady (127-154), but all the s Leggi tutto
GoodReads.com
For we which now behold these present days,Have eyes to wonder, but lack tongues to praise. This Pow'rful Rhyme Eternal Tennyson is famously to have declared Shakespeare 'greater in his sonnets than in his plays'. While the reader who might not soar as easily along the paths described by these
GoodReads.com
Aggiungi la tua recensione
Altri libri di William Shakespeare
Il Libraio per te
I libri scelti in base ai tuoi interessi
Il Libraio per te
Scopri i nostri suggerimenti di lettura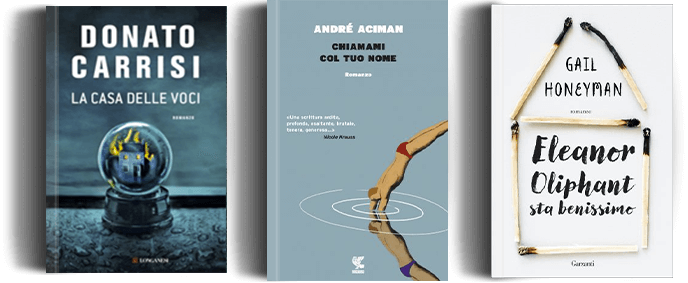 Ancora alla ricerca del libro perfetto?
Compila uno o più campi e lo troverai