Cimbelino
Tutti i formati dell'opera
Acquistalo
Sinossi
Cimbelino, rappresentato in vita dell'autore ma pubblicato solo postumo nel 1623, è un dramma romanzesco che curiosamente combina un episodio di storia britannica all'epoca della dominazione romana con una novella del Decamerone. Protagonista del dramma è la bella e innocente figlia di Cimbelino, Imogene, che si trova al centro di una complessa rete di forze che vorrebbero imporle le nozze con il figlio della matrigna. Solo dopo un'innumerevole serie di equivoci, travestimenti, colpi di scena e agnizioni, Imogene riuscirà a riabbracciare il marito Postumo, a ricongiungersi con il vecchio padre e a propiziare una nuova alleanza tra romani e britanni. Pièce di grande efficacia scenica e squisito lirismo, <>iCimbelino è una straordinaria espressione dell'opera dell'ultimo Shakespeare e dello suo sforzo di mescolare e sovrapporre diversi generi letterari, dal teatro alla fiaba.
ISBN: 881181104X
Casa Editrice: Garzanti
Pagine: 288
Recensioni
I've read this play three times, and I've found that the longer since I last read it, the better I imagine it to be. In theory, it's a great play: the political situation, involving the tribute an emerging British nation must pay to a "Roman" empire has interesting Jacobean parallels in continental
GoodReads.com
"Fear no more the heat o' the sun,Nor the furious winter's rages;Thou thy worldly task hast done,Home art gone, and ta'en thy wages;Golden lads and girls all must,As chimney-sweepers, come to dust.Fear no more the frown o' the great;Thou art past the tyrant's stroke:Care no more to clothe and eat
GoodReads.com
Book Review 3 out of 5 stars to Cymbeline , a play written in 1611 by William Shakespeare . I read this during a Shakespeare course in college and then watched a film version. My review covers both. There seems to be a very dark aura surrounding the characters and the setting. All of the c
GoodReads.com
Sprawling and dreamlike, Shakespeare's lesser known romance mixes some of his most stunning verse with a convoluted narrative and wooden characters. The plot is so intricate that it thwarts attempts to effectively condense or summarize it: it takes its inspiration from a tale in Holinshed's Chronicl Leggi tutto
GoodReads.com
When I first started reading this play, another reviewer pointed out that "it's like Shakespeare just said fuck it, I'm using every good idea I ever had in one play," and, damn, she was right. Cymbeline is such a wild ride from start to finish that never ceases to be thrilling. It has elements of Ot Leggi tutto
GoodReads.com
Imagine that characters from previous plays have ganged up on Shakespeare and threatened to sue him for libel--clearly, they would never behave in the way he suggests. They demand the real story be told. He offers a compromise: rather than go to the trouble and expense of rewrites and retractions, h Leggi tutto
GoodReads.com
"I cannot sing. I'll weep, and word it with thee,For notes of sorrow out of tune are worseThan priests and fanes that lie." - William Shakespeare, Cymbeline Not a great Shakespeare play. It has a few good lines and seems to follow the path cut by earlier jealousy plays like The Winter's Tale and Othel Leggi tutto
GoodReads.com
Bir şeyler söyle, okuduğumda Beni öldürecek darbelerin şiddetini azaltır belki sözlerin. 5/5⭐️⭐️⭐️⭐️⭐️ Bir arkadaşımın övgüleri üzerine bu kitabı çok merak ederek almıştım ve o kadar memnun kaldım ki umarım yorumumda yeterince anlatabilirim. Açıkçası kitabı şiir kitabı olarak hep aklımda tutmuştum. Yaz Leggi tutto
GoodReads.com
"Cymbeline" I considered a difficult play to stage until a surprisingly coherent version at the Huntington Theater, in 1991, directed by Larry Carpenter. My grad school classmate Peter Altman ran the Huntington back then. But reading it under the Trumpster makes all Iachimo's lies problematic; our c Leggi tutto
GoodReads.com
Cymbeline, is not one of Shakespeare's best known plays but it certainly one of the easiest to read. It mostly takes place in Roman-ruled Britain. It has an evil stepmother and her unworthy son, a princess, and prince and two lost princes. It has weird medicine, intrigue, and battles. It is full of
GoodReads.com
Aggiungi la tua recensione
Altri libri di William Shakespeare
Il Libraio per te
Scopri i nostri suggerimenti di lettura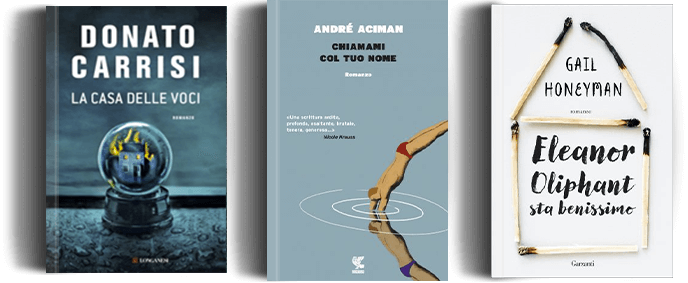 Ancora alla ricerca del libro perfetto?
Compila uno o più campi e lo troverai