LA DODICESIMA NOTTE
Tutti i formati dell'opera
Acquistalo
Sinossi
È l'ultima commedia giocosa, a tratti autenticamente farsesca, di Shakespeare, prima della stagione delle grandi tragedie e delle commedie nere. Composta intorno al 1600, ruota intorno al naufragio in Illiria dei gemelli Viola e Sebastiano e alle avventure scaturite dal travestimento maschile della fanciulla che, sotto il nome di Cesario, diventa paggio del duca Orsino e se ne innamora: è lei la vera protagonista della pièce, con la sua capacità di cogliere l'occasione e di affidarsi senza timori al caso e alla fortuna. Elegante e piena di grazia, la commedia trascina lo spettatore nella sua atmosfera magica e incantata in cui i contrasti più feroci si compongono armoniosamente. Eppure la malinconia di Orsino, il lutto della austera nobildonna Olivia e la beffa subita da Malvolio, suo triste e presuntuoso servitore al quale viene fatto credere di essere amato dalla padrona, anticipano la feroce fustigazione dei vizi umani che caratterizzerà lo Shakespeare più maturo, lasciando presagire una imminente "età dell'ansia": il sogno è finito e l'uomo deve tornare a fare i conti con la bufera della realtà.
ISBN: 8811364027
Casa Editrice: Garzanti
Pagine: 164
Recensioni
I wish I could've seen what performances of this play were like in Shakespeare's time. Since women couldn't be on stage, men had to play the women's roles, which means that the guy playing Viola had to also dress up as a man while acting like a woman. You have to wonder if the audience ever really k Leggi tutto
GoodReads.com
Twelfth Night; or, What You Will, William Shakespeare Twelfth Night, or What You Will is a comedy by William Shakespeare, believed to have been written around 1601–02 as a Twelfth Night's entertainment for the close of the Christmas season. The play centers on the twins Viola and Sebastian, who are s Leggi tutto
GoodReads.com
Twins: Freaky or Fun? Twelfth Night is Shakespeare's answer to that age-old question. While I was listening to this, I had no idea that Viola & Sebastian were twins. As far as I knew, they were just siblings. But, apparently, they were (<--if I had read the blurb, I would have known this). And apparent Leggi tutto
GoodReads.com
This is my favorite ridiculous show and so I'm beginning this with a chart: pink: marriage blue: crush on green: flirts with So, yeah, this is a really really funny play, and a play with a lot of good puns, etc etc etc, and it is for that reason that it is entertaining. But this show is comp
GoodReads.com
Now a strange astonishing thing or two happened, off the west coast of the Balkans, ( Illyria) in an undetermined age, aristocratic identical twins a boy and a girl well around twenty, give or take a few years were lost at sea, shipwrecked by a powerful storm. Presumed drowned by the other surviving Leggi tutto
GoodReads.com
The treatment of Malvolio is a little too cruel, Belch and Aguecheek are a little too coarse, and the resolution is a little too abrupt, and so this excellent Shakespearean comedy falls a little short of perfection. Still, the poetry about music and the songs themselves are wonderful, Viola and Orsi Leggi tutto
GoodReads.com
"Twelfth night" is probably the most well rounded of all the Shakespearean comedies I have read so far, both for its structure and thematic scope, which is close to the darkest side of his best tragedies. Evading the somewhat shallow hedonism of his earlier comedies, the perplexed reader encounters Leggi tutto
GoodReads.com
Book Review 4 out of 5 stars to Twelfth Night , a comedy written in 1601 by William Shakespeare . There are more reviews written about Shakespeare than either of us know what to do with, on, over or about. So you're not getting a review from me. What I will say is the following: Love him or
GoodReads.com
Reading Shakespeare is almost like going down into the basement of literature and examining the foundations. So often I find the origins of what has become trite and overdone, and yet Shakespeare was the fountain from which so much springs. This is especially true of Twelfth Night, it is apparent th Leggi tutto
GoodReads.com
"Some are born great, some achieve greatness, and others have greatness thrust upon them." This was fun. The thing is that comedies are always more fun on a stage. Ultimately, so are tragedies. Shakespeare created a hilarious story of love, confusion and foolishness. There is a lot of genderbending an Leggi tutto
GoodReads.com
Aggiungi la tua recensione
Altri libri di William Shakespeare
Il Libraio per te
I libri scelti in base ai tuoi interessi
Il Libraio per te
Scopri i nostri suggerimenti di lettura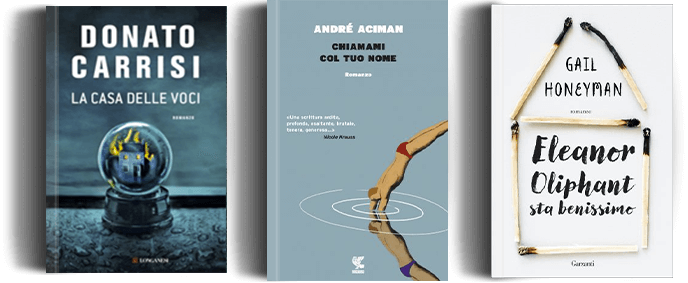 Ancora alla ricerca del libro perfetto?
Compila uno o più campi e lo troverai