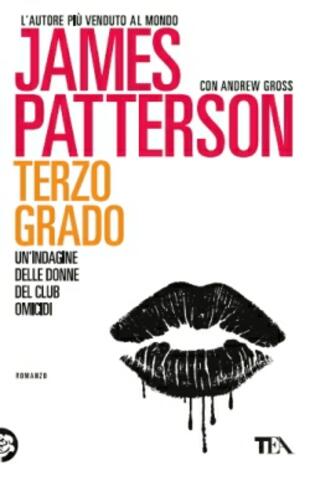 Terzo grado
Tutti i formati dell'opera
Acquistalo
Sinossi
Il tenente Lindsay Boxer assiste per caso all'esplosione della casa di Morton Lightower, un imprenditore del settore informatico, in cui rimangono uccise tre persone. Il volantino lasciato sul luogo del delitto accusa Lightower di essere uno speculatore e sfruttatore dei poveri. Un misterioso indizio annuncia altre morti e Lindsay chiama le amiche a raccolta per risolvere il caso. La partita contro il killer è aperta...
ISBN: 8850236050
Casa Editrice: TEA
Pagine: 260
Data di uscita: 17-07-2014
Recensioni
This is a Cop Mystery/Thriller, and it is the third book in the Women's Murder Club series. I will not summary the plot because most of the summery would be spoilers if you have not read 1,2 or this book in the series. I have to say this made me sad because a character I loved got killed. The charac Leggi tutto
GoodReads.com
Book Blog | Bookstagram This book was all cheese. The story line was cheese. The dialogue was cheese. And the romance was mega cheese. But, let's face it: most of us aren't reading these novels for the literary brilliance. The Women's Murder Club series is my favourite to hate-read of Patterson's. They Leggi tutto
GoodReads.com
"3rd Degree" by James Patterson is the third book in the Women's Murder Club series. Having read the previous two I was looking forward to this one. Unfortunately I've ended up skipping chapters just so I didn't have to record it as unfinished. I found it very disappointing, the plot within the story Leggi tutto
GoodReads.com
This third installment in the Women's Murder Club features a social justice narrative. Unfortunately, the people who are trying the right the evils of the world have resorted to violence. An exploding townhouse, a ricin poisoning, and more bombing. Lindsey and her girls are working as quickly as the Leggi tutto
GoodReads.com
Book 3 in the Women's Murder Club series published 2004. 3.5 stars I wonder to myself sometimes just how much or how little the co-author, in this case Andrew Gross, is part of the creative process. Is there truly a collaboration between the writers or is this just a marketing ploy? But I digress, as f Leggi tutto
GoodReads.com
HELP - I NEED HELP. I had 20 likes thanks to you all, and something has happened to them all and now I only have one. If possible, could you please re-insert? Thanks! Not begging. Thanks!!!! WOW!!! I've been reading these very much out of order, and to finally read Book #3 "3rd Degree" has been very Leggi tutto
GoodReads.com
I got to the part where Jill-the-scapegoat's body was just found and I rolled my eyes and gave up. Not even the actual mystery part of the story makes me care enough to keep going. This is some seriously lazy writing and I am done with this series. The plot - terrorists trying to save the world from i Leggi tutto
GoodReads.com
When it comes to rating books on Goodreads: For me, every book starts out as a 3 star book. It then has from the first page to the last page to give me reasons to add or remove stars. I was surprised to find myself rating book two 5 stars, only to follow that up with a 3 star rating for book three.
GoodReads.com
Another excellent installment of Women's Murder Club series by James Patterson and Andrew Gross . Enjoyed it just as much as the first time I listened to it on Audible audio book. Narrator Carolyn McCormick is pretty good, too. Very sad ending, though.
GoodReads.com
I am continuing to love these books as fast and fairly mindless page turners! The premise of terrorizing the 1% was so much more interesting than the last book. I was totally wrong about who the mastermind was which always gives a book more brownie points. I also stayed a lot more interested in this Leggi tutto
GoodReads.com
Aggiungi la tua recensione
Altri libri di James Patterson