So che mi stai guardando
Tutti i formati dell'opera
Acquistalo
Non riesco a credere a quanto sia bravo Patterson, qualunque sia il suo protagonista è sempre ben costruito.
USA Today
Sinossi
BOOKSHOTS
Una serie innovativa di romanzi originali
VELOCI AVVINCENTI NUOVI

Venite a volare con me, non preoccupatevi, non vi faccio cadere...

Confinata nel suo appartamento, poiché affetta da una rara allergia alla luce solare, Tricia Celano osserva il mondo attraverso il suo drone personale, che ha battezzato Amelia. Ma un giorno Amelia le mostra qualcosa che non doveva vedere... Un delitto strano, perverso. Tricia, senza prove né indizi, si mette sulle tracce del killer, un killer che sa di essere stato visto...
ISBN: 8850248148
Casa Editrice: TEA
Pagine: 160
Recensioni
Half a "crap-tastic" star !!! The 2017 Jeez Louise Award I lied to you and I lied to me. Last summer I tried one of James Patterson's Bookshot books The Hostage and the little novella ended up being a semi-decent 2.5 star read. I tried this little business book venture and decided these cookie cut
GoodReads.com
A fast-paced and suspenseful read that has you thinking about the positive and negative implications technology has in our lives. Look up, you never know who might be watching!
GoodReads.com
"People always see what they want to see. They're not trained to observe the truly unexpected." This was my second BookShot. I was very hyped about it. But I think it just creates a lot of suspense from the beginning and couldn't wrap up well in the end. CHARACTERS Mrs. Patricia (Lea
GoodReads.com
Just when I thought Patterson would run out of BookShot ideas, he returns for another collaboration with Duane Swierczynski to reveal this timely piece that meshes technology with something from the thriller genre. Tricia Celano is forced to live inside during daylight hours, as she suffers from a r Leggi tutto
GoodReads.com
I think this is my all time favorite of the Bookshots so far!
GoodReads.com
The Shut-in I wasn't so sure about this story when I started out but I actually really liked it after all. I'm extremely enjoying all of these great short stories from James Patterson. What a good idea BookShots turned out to be!
GoodReads.com
Suffering from agoraphobia and allergic to the sun, a young marketing analyst, Tricia Celano has never left her apartment since she finished college. Her connection to the outside world is through a flying drone and enjoying the street views from above. Then one day, she witnesses the murder of a ho Leggi tutto
GoodReads.com
Another very good Bookshot.
GoodReads.com
4.5 stars - This is one of the 'book shots' novellas that James Patterson co-writes with others (this time with Duane Swierczynski) and I really enjoyed it. Tricia is a young woman trapped in her apartment due to a rare allergy to the sun and a phobia about going out in the dark. She enjoys life vica Leggi tutto
GoodReads.com
Aggiungi la tua recensione
Altri libri di James Patterson
Il Libraio per te
I libri scelti in base ai tuoi interessi
Il Libraio per te
Scopri i nostri suggerimenti di lettura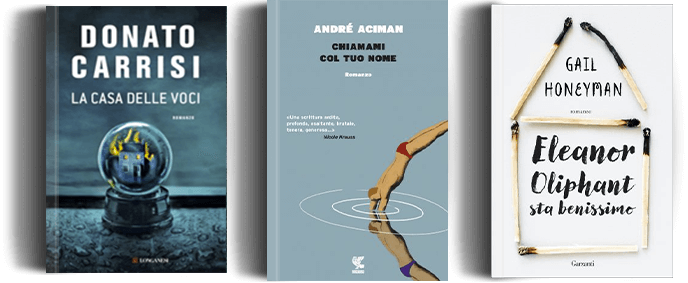 Ancora alla ricerca del libro perfetto?
Compila uno o più campi e lo troverai