MAXIMUM RIDE: ANGEL
Tutti i formati dell'opera
Acquistalo
Sinossi
Max, Fang, Iggy, Nudge, Gasman e Angel sono stati le cavie di un esperimento genetico che ha mutato per sempre il loro DNA. Costantemente braccati dai loro stessi creatori, i ragazzi sono costretti a combattere non solo per se stessi, ma anche per la salvezza del mondo intero. È ormai passata una settimana da quando Fang se n'è andato, una settimana che Max ha trascorso chiusa in casa, nella più cupa disperazione per aver perso il grande amore della sua vita. Tuttavia, essendo il capo dello stormo, lei deve comunque reagire e riprendere ad assolvere i suoi doveri. Tra cui c'è pure quello d'insegnare a volare a Dylan, ultimo acquisto del gruppo nonché "creato" apposta per essere il suo compagno ideale. E, sebbene detesti ammetterlo, deve riconoscere che ultimamente Dylan è l'unico che riesca a strapparle un sorriso. Confusa, Max sente di aver bisogno di tempo per riflettere, e l'occasione le si presenta nel momento in cui il dottor Hans convince i ragazzi a recarsi in Germania per visitare il suo laboratorio di ricerca. Max rifiuta il passaggio in aereo e ne approfitta per un volo in completa solitudine. Quel viaggio però si rivela una trappola: mentre sono sull'oceano, qualcuno prende in ostaggio tutti i passeggeri. E solo Max può salvarli.
ISBN: 8842919284
Casa Editrice: Nord
Pagine: 277
Data di uscita: 14-06-2012
Recensioni
SPOLIERS. LOTS AND LOTS OF SPOILERS. *for all reading this, I want you to know that I am an avid, crazy- obsessed max ride fan. its just that this one installment... well, you'll see.I might update this later, when I sound more normal and get the disapointment out of my system.* and since it's MR, I Leggi tutto
GoodReads.com
Finished this so long ago but never reviewed. SO MANY FLAWS!!!!!!!!! Love Maximum Ride, but really James Patterson, I'm beginning to hate you. Flaw 1: Max and Fang were in LOVE. They were best friends before that and would tell each other ANYTHING. Once they see each other in this book they have nothi Leggi tutto
GoodReads.com
nooooooooooooo is not fair is iggy's turn !!!!! >:( People in James Patterson's personal page he posted the first 8 chapters of Angel and they were... disturbing you'll see when you finish chapter 8.
GoodReads.com
Also posted on STRANGEMORE.COM. Oh schnikes. James Patterson is now using the word " imprint " now. God help us all. Well, considering the imprinting in this book is from one teenager to another and that they are actually BIRD mutants (the term imprint originated from the act of a baby bird bonding with Leggi tutto
GoodReads.com
I'm just wondering how many more books in this series there are going to be. Even the description admits it: "evil scientists are still trying to convince Max that she needs to save the world..." STILL?! Come on Mr. Patterson, how much more can you drag this out? Seriously, here are my suggestio
GoodReads.com
Max and Fang are gonna get to see each other before the whole twenty years spiel? Phew. Impending love triangle... O_o For me, the Voice may have said that Dylan was Max's genetic match, but Fang will always be her soulmate.
GoodReads.com
NOOOOOOOOOOOOOOOOOOOOOOOOOOOO ANGEL IS GETTING A BOOK?!!!!!!!!!!!!!!!!!!!!!!!!!! But the she-demon is evil she nearly got the flock killed and caused Max and Fang to break up for 20 years!!!! Yet she gets a book. What are you thinking J.P. Max is believing that Dylan is her perfect match, seriously that Leggi tutto
GoodReads.com
This was one of the first books that taught me what makes a bad book (I was 14 when this book was released). Before this point, I had read books in the past that I didn't like, but I never thought it was a bad book... until this abomination was released. Terrible writing, horrific character assassina Leggi tutto
GoodReads.com
Quick Warning, contains spoilers from book 6 Ok so I have been waiting for this book since... well since 'Fang' came out!! I love this series, but I have to say that... 'FANG' WAS THE WORST BOOK EVER!!! Why? I'll tell you why: Number 1: Fang fricking left!! WTF!! How could he? ~sob~ I nearly cried, an Leggi tutto
GoodReads.com
**CONTAINS SOME SPOILERS. YOU SHOULD SERIOUSLY READ THE PAST BOOKS IF YOUR GONNA READ THIS ONE.** Well, maybe a two-and-a-half? I don't have high hopes for this book, really. Fang was just... Extremely extended Drabble. Just saying. I mean, I loooove Fang himself. Reading the first four books, I thoug Leggi tutto
GoodReads.com
Aggiungi la tua recensione
Altri libri di James Patterson
Il Libraio per te
I libri scelti in base ai tuoi interessi
Il Libraio per te
Scopri i nostri suggerimenti di lettura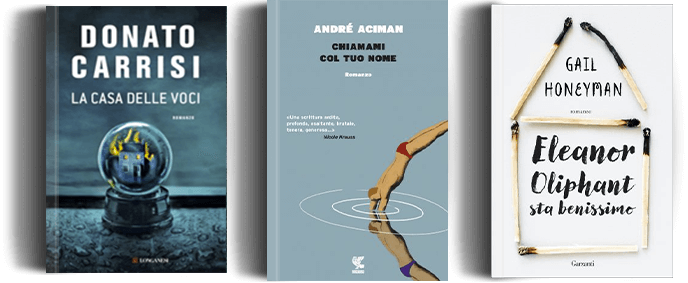 Ancora alla ricerca del libro perfetto?
Compila uno o più campi e lo troverai