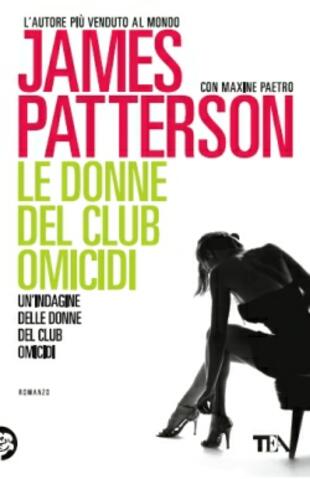 Le donne del club omicidi
Tutti i formati dell'opera
Acquistalo
Sinossi
Sono giovani, poco più che adolescenti, le vittime torturate e uccise nei sordidi alberghetti di un quartiere malfamato di San Francisco. Unico indizio nelle mani della polizia: una Mercedes nera notata più volte sul luogo dei delitti… Il caso è nelle mani del detective Lindsay Boxer, che per risolverlo può contare sull'aiuto della giornalista Cindy Thomas, del medico legale Claire Washburn e dell'avvocato Yuki Castellano, le «Donne del Club Omicidi».
ISBN: 8850236069
Casa Editrice: TEA
Pagine: 304
Data di uscita: 25-09-2014
Recensioni
James Patterson has joined up with Maxine Paetro in this 4th in the Women's Murder Club series and I'm pleased to say I enjoyed this much better than the last one which was written with Andrew Gross. Although I would have like to have seen more input from the other members of the club (this one was
GoodReads.com
The 4th book in the Women's murder club by Maxine Paetro and probably the best so far. Usual James Patterson proven formula, fast paced, short chapters etc.
GoodReads.com
If this isn't the last James Patterson book I read, I invite you to punch me in the face. I can't take these books seriously. There is no depth whatsoever to the characters, and after four books, I would expect to have more familiarity with them. Lindsay's romantic "relationships" are a joke. Dinner Leggi tutto
GoodReads.com
Another excellent instalment of the Woman's Murder Club series by Maxine Paetro .* I listened to this Audible audio book many years ago and all that I remembered was that I really, really liked it! Now I remember why! Fast paced and exciting the whole way through. And the revelation at the end was qu Leggi tutto
GoodReads.com
James Patterson 's books are either really good or just average and this was one of the really good ones. Short, choppy chapters made it fast reading and the thrilling story line made it a page turner that was impossible to put down. The identity of the murderers came completely from left field. I ha Leggi tutto
GoodReads.com
These books are in the category of "beach/vacation read,"-- they're a quick read but not the most thrilling of mysteries... I thought the first few were the best in the series. But if you like a book you don't have to think too hard to read, then these mysteries are for you.
GoodReads.com
Book 4 in The Women's Murder Club series published 2005 A light easy 4 star read This proved to be another book by JP that I enjoyed. There is never anything too difficult or too demanding in a JP book just easy, light entertainment. You've read it all before but it still holds your interest and the pag Leggi tutto
GoodReads.com
This is the 4th book in the Women's Murder Club series. I still think they killed off the wrong person in the last book, but I really enjoyed this book. Wow... There was a ton of action. I listen to the audiobook, and the narrator was really good. I enjoyed the audiobook. The book as short character Leggi tutto
GoodReads.com
This book in the Women's Murder Club series was very different from the first 3 books in the series. In this book, Lindsey is put on administrative leave during a trial while she is being investigated for shooting her police gun at two children. The charges are found to be bogus and Lindsey is found Leggi tutto
GoodReads.com
I love James Patterson. His style of writing is fun and easy to read. And the Women's Murder Club is great! That said, this book slugged in a few places. Lindsey's trial felt a bit bogged down, and the extra murder investigation didn't get as much of the story as it needed to build suspense. But, i
GoodReads.com
Aggiungi la tua recensione
Altri libri di James Patterson