Buonanotte, dottor Cross
Tutti i formati dell'opera
Acquistalo
Sinossi
BOOKSHOTS
Una serie innovativa di romanzi originali
VELOCI AVVINCENTI NUOVI

«Avresti dovuto rispondere alla prima chiamata. Adesso hai solo cinquantotto minuti per scoprire dove ho piazzato la bomba.»

Una telefonata anonima svela la presenza di un ordigno esplosivo nel cuore di Washington. È uno scherzo crudele o una reale minaccia? Quando Alex Cross e sua moglie, Bree Stone, scoprono l'agghiacciante verità, potrebbe essere troppo tardi...
ISBN: 8850248156
Casa Editrice: TEA
Pagine: 160
Recensioni
Quick, action packed read. One of the best Bookshots I've read. Kate was a nice addition to the story, I wouldn't mind reading more about her. An intriguing short story to hold you over until the next Alex Cross book comes out.
GoodReads.com
After a hiatus, I am back reading BookShots and revelling in some of the superior work that James Patterson has to offer with one of his original series, Alex Cross. While out running, Chief of Detectives Bree Stone (married to the aforementioned Dr. Cross) receives a call that a bomb is set to expl Leggi tutto
GoodReads.com
This was a good Bookshots with a very upsetting plot. It is a said fact that, for the most part, veterans do not get the care and respect needed for them to adjust back to civilian life. The lack of support for veterans is very upsetting and happens every day in countries around the world. This will Leggi tutto
GoodReads.com
Detective Bree Stone received the anonymous call advising of the IED set to explode at a certain time and the race was on. Special Agent with the FBI, Ned Mahoney, Bree and Alex Cross co-ordinated the search for the bomber, with the dog squad joining in. But the calls continued and the bomber was as Leggi tutto
GoodReads.com
I typically dislike novellas, because I feel plot is shortchanged, but I liked this one. A bomber is on the loose in Washington D.C. and keeps calling Chief of Detectives Bree Cross. We are given passing glimpses of the bomber, who is trying to draw attention to veterans' need for support services,
GoodReads.com
Detective Cross Good story. This could even make a good new series with Kate. It kept my interest until the end of the story.
GoodReads.com
A great, fast read with a surprisingly meaningful ending.
GoodReads.com
"Detective Cross" is a short story but keeps readers captivated until the end. A bomber with links to the VA sets off bombs around the Mall. He / she calls Bree each time and provides a warning so innocent bystanders can be evacuated from the site in time. One of Cross' patients, a female who spent
GoodReads.com
3.5 stars Detective Cross is a novella in the popular Alex Cross series by prolific American author, James Patterson. It apparently comes between the novella, Cross Kill and the full-length novel, The People vs Alex Cross. It is published under the BookShots: stories at the speed of life banner, and Leggi tutto
GoodReads.com
This is a book shot so it's a quick read. There isn't really a lot of character development although there is a new character Kate Williams, who I'd like to see more of in future books. Kate is a patient of Dr. Cross but at the end of the book she has become more of a friend and has made great strid Leggi tutto
GoodReads.com
Aggiungi la tua recensione
Altri libri di James Patterson
Il Libraio per te
I libri scelti in base ai tuoi interessi
Il Libraio per te
Scopri i nostri suggerimenti di lettura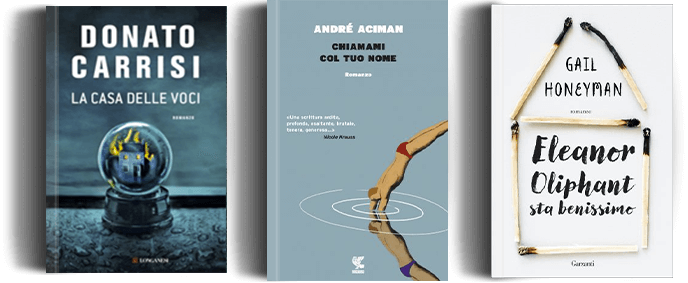 Ancora alla ricerca del libro perfetto?
Compila uno o più campi e lo troverai