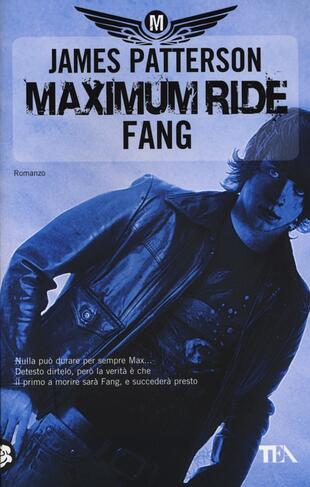 Maximum Ride. Fang
Tutti i formati dell'opera
Acquistalo
Sinossi
Max, Fang, Iggy, Nudge, Gasman e Angel sono stati le cavie di un esperimento genetico che ha mutato per sempre il loro DNA, rendendoli al novantotto per cento umani e al due per cento uccelli. Fuggiti dal laboratorio in cui sono cresciuti, e costantemente braccati dai loro stessi creatori, i ragazzi sono costretti a combattere non solo per se stessi, ma anche per la salvezza del mondo intero... La piccola Angel ha un'agghiacciante premonizione: Fang sarà il primo tra loro a morire. Max è sconvolta: non può immaginare una vita senza di lui. Fang è il suo braccio destro, il suo migliore amico, la sua anima gemella... Nel disperato tentativo di proteggerlo, abbandona per qualche tempo lo stormo che, istigato da Angel, inizia a mettere in dubbio il suo ruolo di capo. E tutto ciò accade proprio mentre i ragazzi devono affrontare una nuova, spaventosa minaccia. Il dottor Hans, proprietario di un laboratorio di ricerca, ha in serbo una terribile sorpresa per loro: Dylan, un quindicenne alato creato con l'unico scopo di diventare il consorte di Max. E, per realizzare il piano, Fang deve essere eliminato.
ISBN: 8850230613
Casa Editrice: TEA
Pagine: 304
Data di uscita: 28-02-2013
Recensioni
If Fang dies, I'm going to make Patterson rewrite the book. I really will. Fang dying would screw up the series, and unless Angel gains the power to bring back the dead, Fang HAS TO STAY ALIVE! Fax is one of the BEST parts of this series! Particularly since the Erasers, and the School and all those
GoodReads.com
Oh My God.. I just finished this book and I must say this...: I AM GONNA FRIKEN KILL FANG! I mean, the book starts out all right, with Max and Fang beeing all in love and stuff.. Angels a total creep.. Er, and Angel and Max does not get along well.. So at some point Dylan joins the flock and he does no Leggi tutto
GoodReads.com
Don't kill me for writing this, after all, it's the truth. I did NOT like this book at all. To tell the truth, starting from the fourth book, everything plummeted from O.K to BAD. The first three books were okay, they're not great, but tolerable. But the fourth book till this book was HORRIBLE! Why? B Leggi tutto
GoodReads.com
OK im new heer so im jst gonna speek mi mind: OMG!!!!!!!!!!!!!!!!!!!!!!!!!!!!!!!!!!!!!!!!!!!!!!!! NNNNNNNNNNNNNNNNNNNNNNNNNNNNOOOOOOOOOOOOOOOOOOOOOOOOOOOOOOOOOOOOOOO!!!!!!!!!!!!!!!!!!!!!!!!!!!!!!!!!!!!!! i swear i jst spent 20min crying over this! WAT?WAT.WAT! FANG DIES!?!?!? tht seriously CANNOT HAP Leggi tutto
GoodReads.com
OMG THE LETTER WAS SOOO SAD!!! Dear Max, You looked so beautiful today. I am going to remember what you looked like forever. And i hope you remember me the same way. Clean,haha. Im glad our last time together was happy, but im leaving tonight. Leaving the flock, and this time its for good. I dont know Leggi tutto
GoodReads.com
Hey fellow Maximum Ride Fans! Just thought you should know that if you look on jamespatterson.com not only can you read everything it's about but you can preview the first 6 chapters!!!! And I'm totally with a bunch of these people on the throwing of the book if Fang dies!!!!! I mean, he and max ju
GoodReads.com
This was probably the worst book out of the series. Angel is unstable, Max and Fang leave the Flock for a short while, Dylan comes into the picture and tries to get Max to himself(which he failed at), Angel sides with a mad scientist and becomes evil, Fang dies and comes back to life after he had be Leggi tutto
GoodReads.com
Faaaang! Noooo! Whyyyyyyyyyyy! That. Letter. OMG. "ARE YOU FANGALICIOUS?- I could never be as fangalicious as you'd want me to be." (hahaha) This was actually much better than the last two books. (#4, #5)Might write a review someday. ;)
GoodReads.com
I love the first three Maximum Ride Novels. But that's it. The Final Warning made was a 2 compared to the 10 of the Angel Experiment, Schools Out--Forever, and Saving the World and Other Extreme Sports. Max was a 3. Fang went down into the negatives. Does anyone else read FanFiction? Take a look at
GoodReads.com
So Fang goes bye-bye. Well guess what? There goes my interest in the next book too.
GoodReads.com
Aggiungi la tua recensione
Altri libri di James Patterson
Il Libraio per te
I libri scelti in base ai tuoi interessi
Il Libraio per te
Scopri i nostri suggerimenti di lettura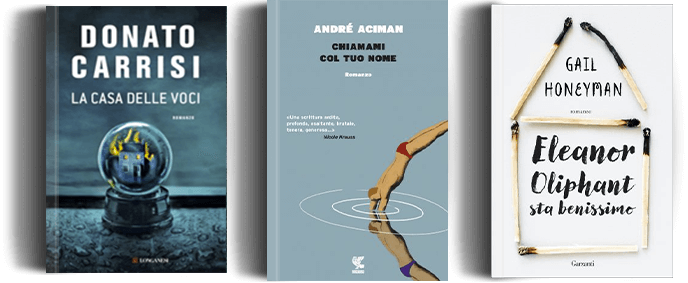 Ancora alla ricerca del libro perfetto?
Compila uno o più campi e lo troverai