Il Club di mezzanotte
Tutti i formati dell'opera
Acquistalo
Sinossi
Il «Club di mezzanotte», una misteriosa organizzazione criminale di individui senza volto e senza scrupoli, gente che ha soldi e potere a sufficienza per arrivare dove vuole, quando vuole: finanzieri, imprenditori, politici e militari. John Stefanovitch lo sa bene: il tenente della polizia di New York infatti ha pagato un prezzo altissimo nel tentativo di fermare uno dei più pericolosi membri dell'organizzazione, lo spietato Alexandre St. Germain, il «Danzatore della morte». Ora John non ha più nulla da perdere e attende soltanto l'occasione per vendicarsi. E quando incontra Sarah McGinnis, una brillante giornalista che da anni indaga sul Club, capisce che il momento è giunto: il momento di andare sino in fondo...
ISBN: 885025041X
Casa Editrice: TEA
Pagine: 320
Data di uscita: 14-06-2018
Recensioni
An average Patterson thriller muddled by inconsistent writing and sappy melodrama. Certain aspects of this book I really liked, but there were some scenes I found incredibly stupid. Like when a dying policeman who knows the identity of his murderer decides to spend his last half-hour on Earth catchi Leggi tutto
GoodReads.com
I'm being generous because it was early in Patterson's career. I liked the characters and they even had potential to see another book but the story was just not enough. It never took off and I think it could have. I didn't like the first Cross book but have loved most of the rest. This should have b Leggi tutto
GoodReads.com
The story is ridiculous and very melodramatic. A paralyzed detective hunts a mastermind sadistic psychopath who heads an international criminal empire called the midnight club. I found the characters all too perfect and unbelievable. I suppose it was one of his early efforts and he was learning his
GoodReads.com
First published in 1989, I somehow missed reading The Midnight Club by James Patterson, not to be confused with his series the Women's Murder Club. The protagonist in The Midnight Club is John Stefanovitch, a New York cop confined to a wheelchair after being shot and left for dead by the Grave Dancer Leggi tutto
GoodReads.com
In which Mr. Patterson tells a story about mafia and though it's better than the previous initial books it's still not that good I certainly liked it better than the first two books. People who don't read generally ask me my reasons for reading. Simply put I just love reading and so to that end I hav Leggi tutto
GoodReads.com
Very exciting! I always enjoy books like this that have action and suspense on almost every page. James Patterson is a master of adding unexpected twists and turns to his stories and "The Midnight Club" doesn't disappoint in this regard.
GoodReads.com
I've been a long time fan of James Patterson and have read most everything he has written...with the exception of his earliest novels. So, I'm trying to go back and read Patterson's earlier books. I have to say I was very disappointed in The Midnight Club. It just didn't live up to the quality I've
GoodReads.com
To put it simply, this was the best from Patterson. But from another perspective, I've noticed that debut novels are never really that good. To get right down to the point, the book was highly unbelievable and I'm under the impression Patterson has never held a gun before, let alone shot one. As des Leggi tutto
GoodReads.com
Неверовтан трилер! Заплет! Просто не можеш да оставиш књигу, а да не прочиташ шта ће се наредно десити. П.С.једина мана његовим књигама је што се читају буквално у јеном даху! Кренеш да читаш и заборавиш се... Leggi tutto
GoodReads.com
Aggiungi la tua recensione
Altri libri di James Patterson
Il Libraio per te
I libri scelti in base ai tuoi interessi
Il Libraio per te
Scopri i nostri suggerimenti di lettura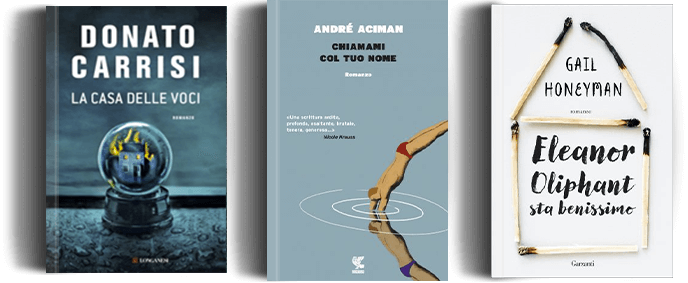 Ancora alla ricerca del libro perfetto?
Compila uno o più campi e lo troverai