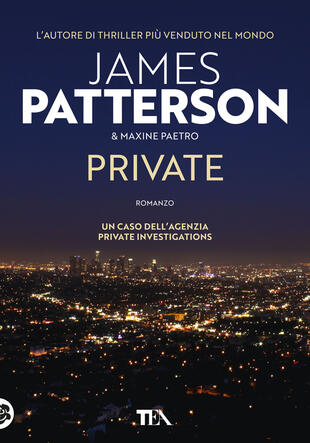 Private
Tradotto da: Andrea Carlo Cappi
Tutti i formati dell'opera
Acquistalo
Sinossi
Sono Jack Morgan, ex pilota dei Marines sopravvissuto per miracolo a una missione in Afghanistan dalla quale molti dei miei commilitoni e amici non sono tornati. Cerco di dimenticare i miei incubi buttandomi nel lavoro. Vivo a Los Angeles, dove dirigo la sede centrale della Private Investigations, forse la migliore agenzia di investigazioni del mondo. Lo dico senza falsa modestia, soprattutto perché con me lavora un team di esperti eccezionale: una profiler geniale, un'abilissima hacker, un tecnico scientifico al quale non sfugge nulla. Giochiamo fuori dalle regole, abbiamo a che fare ogni giorno con i segreti dei personaggi più influenti del pianeta e ci avvaliamo dei più moderni strumenti dell'indagine scientifica. E in questo modo abbiamo sempre vinto. Finora. Perché non bastava indagare su un caso di corruzione ai massimi livelli e su un assassino seriale che a Los Angeles ha già ucciso dodici ragazzine e non intende fermarsi… C'è stato anche il barbaro omicidio della moglie del mio migliore amico, l'adorabile Shelby Cushman: un'esecuzione in stile mafioso, incomprensibile per una ragazza solare che non aveva nulla da nascondere. Forse. Sono Jack Morgan, ex pilota dei Marines, e porterò a casa la pelle anche questa volta.
ISBN: 885025654X
Casa Editrice: TEA
Pagine: 304
Data di uscita: 20-02-2020
Recensioni
Only good thing about this book that it was free. Listened while walking, typical James Patterson, last book I bought and read was more than ten years ago, that was the only book I paid. Short, short chapters, choppy. Murder, sex, NFL score fixing.
GoodReads.com
I had gotten this audio book a while back as an Audible Daily Deal. I hadn't ever read anything by James Patterson and I figured that was the perfect opportunity to do so. My husband and I had to drive to Atlanta, so I chose this book, as I thought he'd enjoy it more than the paranormal fantasy stuf Leggi tutto
GoodReads.com
Very good start and then it fizzles out. At this point, it is clear that the Patterson collaborations are 100% written by the second author. Nevertheless, Paetro has done a good job with some of the books on the Women's Murder Club series (though she has also delivered some duds in that one). As a re Leggi tutto
GoodReads.com
Apparently the start of a 'male-led' Women's Murder Club series. While some of the story outlines were interesting... too many to follow, making it hard to fucus on the central storyline.
GoodReads.com
DNF at 30%. I've never read a James Patterson book and Audible was giving this one away. Beware freebies. This was like some dumb melodrama you watch for 5 minutes while channel surfing. War veteran inherits a posh PI firm that caters to the very rich and powerful. If this is Beverly Hills Private Inves Leggi tutto
GoodReads.com
Private is a book written by James Patterson (and Maxine Paetro) who is a well known author of crime thriller novels. Wow. Sorry James, but this is a really crappy book. The story line is all over the place, the characters are completely undeveloped and the "reveal" at the end is totally predictable Leggi tutto
GoodReads.com
Pretty good. I enjoyed the characters and the plots. I think I will still read the Michael Bennett and Alex Cross series before continuing this series, but I will continue it. Love the character of Jack and his colleagues. My quick and simple overall: only takes a few hours to read this book and is
GoodReads.com
When reading reviews, particularly on Amazon, I've noticed a lot of complaints about how the Patterson books are written. As a reader, what I care about is the end result. I want a good story. Sometimes, Patterson's formula works and sometimes it doesn't. I enjoy The Women's Murder Club series and t Leggi tutto
GoodReads.com
This was my first crime book that I have read and absolutely loved it. I have loved watching crime and thought I would give reading crime a go. From the first chapter I was hooked. Private are a great team and get the job done. In this book they were working three major cases.
GoodReads.com
Meh. Too long, too many story lines, not enough emotion. And who the heck puts an epilogue in then continues the story with more chapters? WTF Patterson?
GoodReads.com
Aggiungi la tua recensione
Altri libri di James Patterson
Il Libraio per te
I libri scelti in base ai tuoi interessi
Il Libraio per te
Scopri i nostri suggerimenti di lettura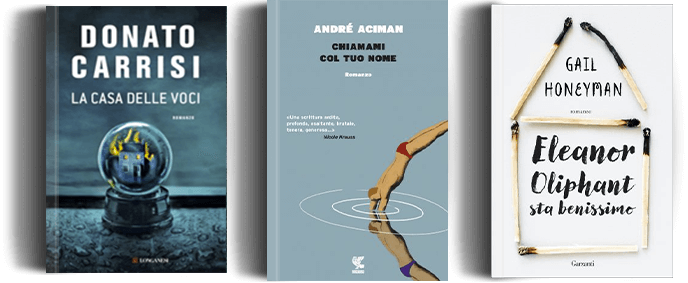 Ancora alla ricerca del libro perfetto?
Compila uno o più campi e lo troverai