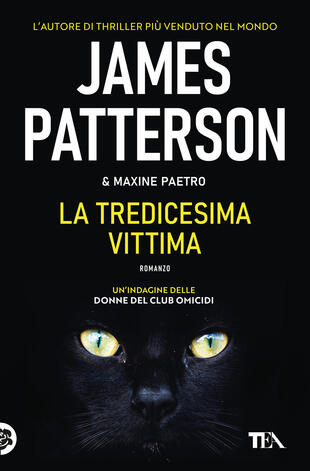 La tredicesima vittima
Tradotto da: Anna Maria Biavasco, Valentina Guani
Tutti i formati dell'opera
Acquistalo
James Patterson è il migliore. Punto.
Ian Rankin
James Patterson è lo scrittore più letto al mondo.
la Repubblica
Sinossi
Lindsay Boxer è una donna realizzata, una madre e una moglie felice. Ma è anche e soprattutto una detective in una città pericolosa come San Francisco, che non lascia tranquille né lei né le sue amiche, la giornalista Cindy Thomas, il medico legale Claire Washburn e l'avvocato Yuki Castellano. Quattro menti affascinanti che per passione e per mestiere hanno scelto di non dare tregua al crimine. L'ultimo, terribile assassino che tiene in scacco la città ha deciso di seminare morte e terrore uccidendo in maniera indiscriminata i clienti di una nota catena di fast food, senza lasciare alle Donne del Club Omicidi alcun indizio o movente. Qual è il suo misterioso piano di morte? Quale il sanguinario obiettivo che intende raggiungere? Ancora una volta la sfida con il male è difficile e pericolosa, quasi impossibile; Lindsay e le altre dovranno ricorrere a tutte le loro abilità e al loro coraggio per vincerla...
ISBN: 8850252218
Casa Editrice: TEA
Pagine: 314
Data di uscita: 15-11-2018
Recensioni
I used to love this series - and while I do still read it, the books as of late just haven't been as great. In terms of this one, I don't think having the three different plot lines worked well. The book jumped all over the place and impacted the overall flow negatively. Without spoiling anything, I Leggi tutto
GoodReads.com
I usually enjoy the Women's Murder Club books less than I do Patterson's other series, but Unlucky 13 was really good! So much happened that there really was never a moment when I wanted to put the book down. There were people exploding (really), an Alaskan cruise ship being taken over by 'pirates', Leggi tutto
GoodReads.com
This was by far one, if not favorite installment of the Women's Murder Club series. The crime plots are amazing in this book. Cindy and Yuki are put to the test in this book and boy, do they shine! I thoroughly loved this installment! My quick and simple overall: James Patterson series are quick and Leggi tutto
GoodReads.com
This book is not much different than the others, it just has a different story line. However, I've especially noticed in this one and the last one that they are trying to cram so much into one book that the end result feels very rushed. I'm not buying into Boxer's motherhood. I think she held Julie
GoodReads.com
This series: But I mean, it's addicting how bad these can be. I giggle, I roll my eyes, I scoff - I run the whole gamut of "feeling superior" reactions. It's no secret to anyone who has stuck it out with this series that these books have taken a hard dive from the top of the murder-mystery genre clif Leggi tutto
GoodReads.com
So disappointing!! I have read all of the series in order and always look forward to the next one, I usually fly through the book in a couple of days. This one was such a chore to plough through, 3 completely separate and unconnected "crimes" that were so far fetched, had little to no involvement with Leggi tutto
GoodReads.com
Patterson's successful Women's Murder Club series makes a great return with its 13th instalment. When Lindsay Boxer stumbles upon a case of true 'hunger pains'; ground beef patties packed with explosives, all traced back to a popular fast-food restaurant. Who's been spiking the meat and what's a rea Leggi tutto
GoodReads.com
3.5 ⭐️ rounded up to 4 I'm slowly working my way through this Women's Murder Club series. There is three different plot lines going on in this book. I was intrigued to find out why people had belly bombs, yes belly bombs, you did read that right. I did find it a bit far fetched though. Yuki and Brady Leggi tutto
GoodReads.com
Unlucky 13 by Maxine Paetro , 13th book in the Woman's Murder Club series, begins with homicide cop Lindsay Boxer's cell phone ringing. The person on the other end is Chief Medical Examiner for San Francisco and her best friend Clair Washburn. Clair says she is at the scene of a single car accident o Leggi tutto
GoodReads.com
Being called to a car accident on the Golden Gate Bridge was unusual for Detective Lindsay Boxer, but as soon as she saw the victims she understood why she and partner Detective Richie Conklin had been notified. There was no possible way the two young people in the vehicle had died from a simple veh Leggi tutto
GoodReads.com
Aggiungi la tua recensione
Altri libri di James Patterson
Il Libraio per te
I libri scelti in base ai tuoi interessi
Il Libraio per te
Scopri i nostri suggerimenti di lettura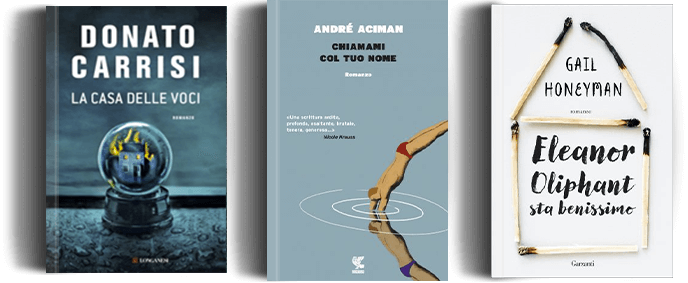 Ancora alla ricerca del libro perfetto?
Compila uno o più campi e lo troverai